Come ho già avuto modo di raccontare nei blog dei making of "The Goatee Club" Parte Uno e Due, ho realizzato alcuni disegni per la copertina del fanzine di Ralph Alfonso, "RALPH", precedentemente alla creazione dei film basati sulle sue poesie.
Creare questi disegni è stato un vero piacere, ho sempre ammirato i poeti della corrente Jazz and the Beat (come anche Cartoon Beatniks).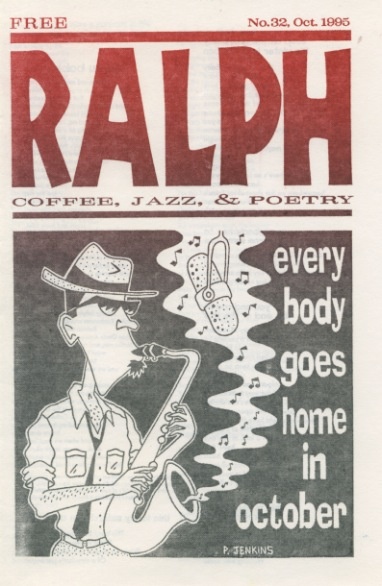 Ecco una delle copertine. Ralph ha aggiunto la frase "Ognuno torna a casa, a ottobre", stampando poi le fanzine con la sua Gestener. La stampante ha dato ai disegni un bella trama - e un aspetto "vissuto".

In questi disegni ho provato ad immortalare le pigre atmosfere del jazz. Ricordo di aver pensato alla musica di Lester Young, mentre ci lavoravo. Adoro il sax e i grandi del jazz come Joe Henderson, Coleman Hawkins, Lester Young, Benny Carter, come pure il compositore John Zorn - e il suo sax "cattivo". Ho realizzato un film basato su uno dei pezzi di John Zorn (nel gruppo Masada). Potete trovarne qualche frammento qui.
The Goatee Club è stata un'eccellente opportunità per disegnare. Ecco una diapositiva che mostra il poeta Ralph Alfonso nel film, sotto forma di cartone.
Ed ecco il film!
Ralph gestisce una galleria d'arte/coffee shop/negozio a Montreal, chiamato BBAM. Dateci un'occhiata, è davvero figo. Inoltre, tutta la musica di Ralph è disponibile su cd e in digitale. La sua etichetta è la Bongo Beat Records.