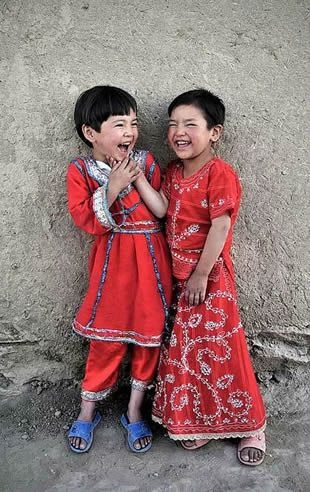 My grandmother used to say, "You never know the value of what you have until you lose it." But I was a stubborn granddaughter and I did not appreciate what I had. I did not know the day would come when my grandmother's words would ring very true.
When I was six, my mother died of a heart attack. At 11, I lost my father to an accident. After that I lived with my grandparents. But my sister was with me all the time, so I didn't grasp the loss I had suffered in my childhood. My sister and I are like best friends. We are more than just typical sisters. We tease each other, and we play like small, naughty children. We love each other, but sometimes we are warriors and fight until one of us wins. She is my only sister and I am glad to have only her. If I had many sisters I would not know which one I loved the most.
In our culture, when a girl gets married, she moves to her in-laws' house forever. I never thought I would have to say good-bye to my sister for the last time, that she would forever after be only an occasional guest in our house, that we would never again share those silly and childish all-night conversations. Whatever we had gone through during the day we shared at night: we talked about what we ate, whom we saw, and some small secrets from school.
I remember the wedding preparations. It was my one-and-only sister's wedding party. The preparations took about three months and thankfully I had a summer break from my university. At first I was too busy to think about having to say good-bye to her. I was ordering my clothes, going shopping, and spending my days outside. We had lots of guests coming from other countries, like London and Sweden, and I was also busy with them.
Afghans have two parties as part of a wedding: one is on the wedding day, and the other is the night before the wedding, called Henna Night. On that night, I was too excited about my outfit and the compliments I received. I was wearing a dark red Indian dress with jhumka (Indian earrings), and had makeup on my face.
When the day of the wedding party arrived, I was as excited as I had been the night before. My sister, however, looked sad. When she looked at me, I saw tears drop from her big and beautiful eyes. On her lips was a smile I knew wasn't real, but used to cover her unhappiness. By the end of the night, I was feeling like a lost puppy. I wanted to weep and hug my sister who was about to leave me forever. She was going to live in London, where her husband's job was. She never wanted to live abroad and never wanted to leave me, but this is the destiny that separated us from each other.
As the ceremony neared its end, I had still not really thought about having to say goodbye to my sister, who meant everything to me. She was my mother, my father, my sister, my best friend and most importantly, my soul mate. Then the moment arrived: the moment of sorrow, the moment of the last good-bye, and the moment my grandmother had told me about long before. I never thought of losing her until that moment. I felt my heart was melting as I watched her crying in her beautiful white dress. I could not control my tears anymore. I hugged her. Then, my tears stopped and for a moment I could feel nothing.
Later, as I wept loudly in the hall, some people told me I should pray for my sister to have a happy marriage instead of just crying. I barely heard them above the crying of my heart. I wanted to be left alone in a dark room with my thoughts and emotions. No one could understand what I felt in that moment.
Life is never predictable, and change is the rule of life. Sometimes we have to accept the hard path life makes for us. We have no other option. My sister has always been a guide, a protector, a great supporter, a best friend for me after I lost my parents, but now I have to accept that she is far from me. I have to be strong and learn to take care of myself. It has been a year since I've seen her. My sister lives in London, and misses me as much as I miss her. We talk to each other through social networking sites and Skype. I really hope to see her soon.