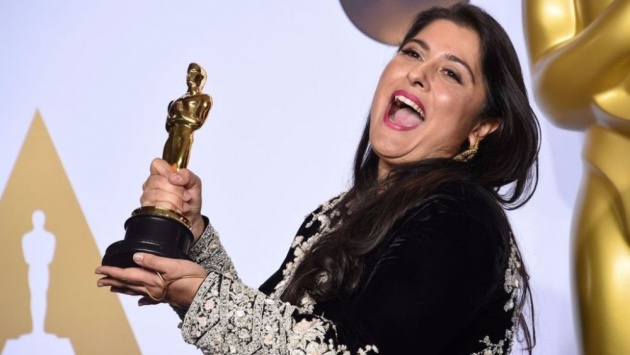 Source: Google
Pakistan is the country where there no shortage of big talents. Among these big talents one of a big name is Sharmeen Obaid Chinoy. She is a filmmaker, activist and journalist. She is the first Pakistani who has won two times Academy Award (Oscar) for her movies named "Saving Face" in 2012 and "The Girl in the River: The price of Forgiveness" in 2015. She is also Emmy Award holder for her documentaries films named "Front line" (World) in 2002 and "Pakistan's Taliban Generation" in 2009 as well. In 2007 she won Broadcast Journalist of the Year. Sharmeen Obaid Chinoy recently also made documentaries films named "Song of Lahore" and "A Journey of a Thousand Miles. In 2015 Sharmeen made first Pakistani 3D animated movie "3 Bahadur". This animated movie earned 6.5 million and defeated the record of highest earning of animated movie "Rio" in Pakistan.
Sharmeen Obaid Chinoy Receiving Oscar on her Documentary Film "A Girl in the River"
Government of Pakistan also gave the second highest civilian award "Hilal-e-Imtaiz" to Sharmeen Obaid Chinoy in 2012. Her outstanding work has on aired popular T.V Channels like CNN, HBO, Discovery, SBS, Arte, Channel 4 and PBS. Time Magazine also included her name in their annual list of the hundred people in the world in 2012 and 2016 as well. Moreover, the Government of Canada awarded her a Queen Elizabeth II Diamond Jubilee Medal for her documentary films in 2013. Not only this, but the World Economic Forum also awarded her at their annual summit in Davos.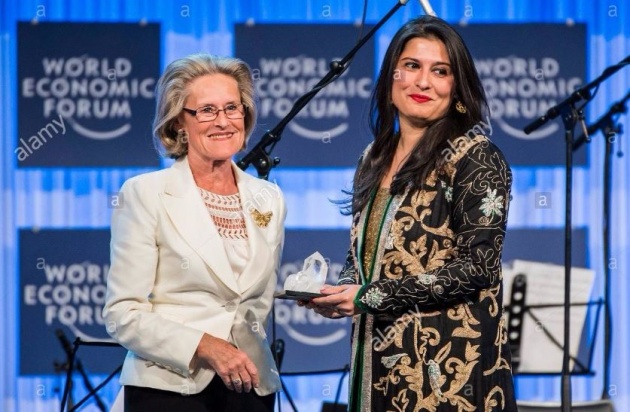 Source: Google
Because of her impressive work she has won numerous awards like Alfred I. duPont-Columbia University Award, IDA Award, One World Media Award and many more.
"Giving voice to those who cannot be heard, Obaid-Chinoy has made over a dozen award-winning films in more than 10 countries. She celebrates the strength and resilience of those fighting against seemingly insurmountable odds — and winning. I dare anyone to watch this film and not be moved to tears and inspired into action. Angelina Jolie"[1]
Sharmeen Obaid Chinoy has its own a documentary production house that specializes in socially motivated content and investigative and company dedicated to producing animated content including short and feature films as well.
Early Life of Sharmeen Obaid Chinoy:
Sharmeen Obaid Chinoy born in 1978 in Karachi. Saba Obaid (mother) and Sheikh Obaid (father) are the parents of her. Sharmeen got her schooling education from Karachi Grammar School. For higher education she moved to United States where she done her graduation from Smith College in 2002. In 2003 she completed her Master degree from Stanford University. After her education she decided to return Pakistan and started her career as a film and documentary maker.
Source: Google
How Sharmeen Obaid Chinoy Take Start of Her Career?
Sharmeen's career in documentary films started when one day she was reading an article about Afghan refugee children in Pakistan. This article was very concerned related to their stories and situation. After reading this article Sharmeen Obaid-Chinoy returned to Pakistan and decided to make a film about them. For this purpose Sharmeen was needed grant, so then she requested from New York Times Television production division and Smith College to accomplish her goal. Both organizations not only gave her the grants for this purpose but also provided production equipment and gave her training in this field.
At last, in 2002 she made first documentary film named "Terror's Children" with the cooperation of New York Times Television.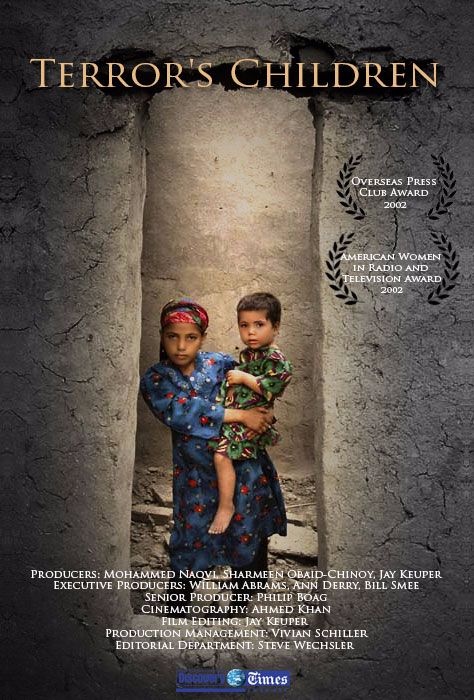 Source: Google
Career as a Documentarian Film Maker:
Sharmeen Obaid Chinoy's first documentary film "Terror's Children" won Overseas Press Club award, the American Women and Radio and Television Award. After this her journey of success started and in 2003 she made another documentary "Reinventing the Taliban". This documentary film became so much controversial in Pakistan but it was praised over the world and got many awards as well.
Sharmeen Obaid Chinoy travelled to Afghanistan in 2007, where she made documentary film "Afghanistan Unveiled" for CNN and Channel 4. Theme of her documentary was based on stalled reconstruction and the violent on women in their country.
In 2010, she made documentary "Pakistan: Children of the Taliban" which was very bold and sensitive topic as well. Sharmeen Obaid Chinoy once again got very critical view on her documentary from some religious extremist mind people but she did not care about their comments and just concentrated on her work.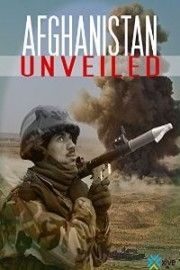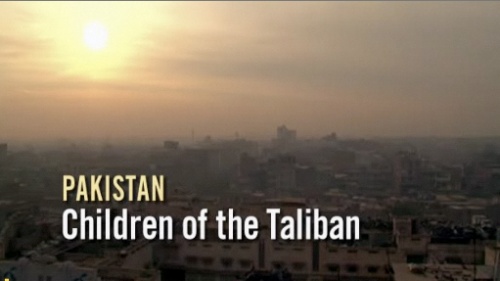 Source: Google
Sharmeen Obaid Chinoy's Famous Documentary Films:
Here I mentioned Sharmeen Obaid Chinoy's famous Documentary films……..
Saving Face (Won Academy Award 2012 & Won Emmy Award 2012)
A Journey of a Thousand Miles: Peacekeepers (Nominated Best Documentary Award 2015 & Won Humanitarian Award 2015)
Song of Lahore (Nominated Idfa Audience Award 2015)
A Girl In The River: The Price of Forgiveness (Won Academy Award 2016)
City of Guilt
Afghanistan Unveiled
Birth of a Nation
Iraq: The Lost Generation
The New Apartheid
Highway of Tears
Humaira: The Game Changer
Some of My favorite Documentary Film of Sharmeen Obaid Chinoy:
Saving Face:
Saving Face was directed by Sharmeen Obaid Chinoy and Daniel Junge in 2012. This documentary showed very dangerous and serious issue of Pakistan, which is at least 100 people attacked with acid and the majority numbers are of women. These types of cases go unreported most of the time. The story of "Saving face" is based on two brave women, who survived through such attacks, their journey of healing and their battle for justice.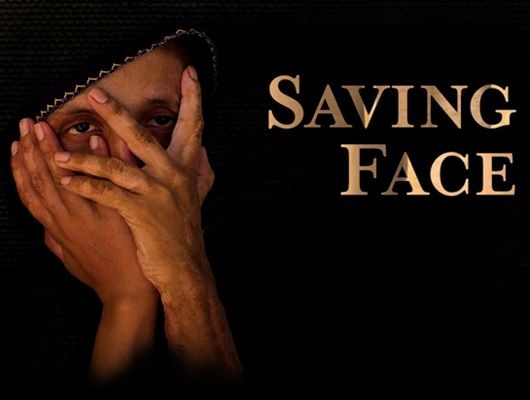 Source: Google
A journey of a Thousand miles: Peacekeeper:
A journey of thousand miles was directed by Shermeen Obaid Chinoy and Geeta Gandbhir. Story followed the three policewomen of Bangladesh who served their responsibilities with the United Nation (UN) peace keeping mission in Haiti after the earth quake.
Song of Lahore:
This documentary film was released in 2015 which is directed by Sharmeen Obaid Chinoy and Andy Schocken. The story of documentary based on Sachal Studios (Pakistani music group). The musical group prepare for a New York City at Lincoln Center performance after being invited by Wynton Marsalis.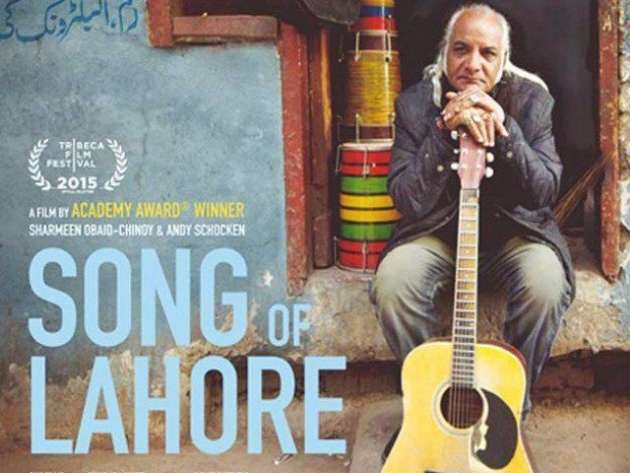 Source: Google
A Girl in the River:
This documentary directed by Sharmeen Obaid Chinoy in 2015 and produced by Sheila Nevins and Tina Brown in collaboration with HBO Documentary Films. This documentary received critical acclaim from critics as well. As in Pakistan over one thousand women a year are killed in the name of honor. This story is based on one survivor girl, who paid a price of her love (her father and uncle shot her and stuffed her in a bag and tossed her in a river). But the girl luckily survived and lived to tell the story.
Sharmeen Obaid Chinoy Nominated HIV/AIDS Good Will Ambassador:
In 2013 Sharmeen Obaid Chinoy and with her two more well know personalities one was belong to India named Ajay Devgan (Bollywood actor) and the other one was Runa Laila (singer) from Bangladesh were nominated by SAARC ( Selection Committee of South Asian Association for Regional Cooperation) as Goodwill Ambassador for HIV/AID.
Source: Google
Pakistan Prime Minister Mian Nawaz Sharif's Comments for Sharmeen Obaid Chinoy:
On 22nd February 2016, Pakistan PM Mian Nawaz Sharif met with Sharmeen Obaid Chinoy in PM house Islamabad. Prime Minister not only also saw her documentary film "The Girl in the River" in PM house but also praised her work and wished her for winning 88th Academy Award 2016 for the 2nd time on her Documentary film "The Girl in the River".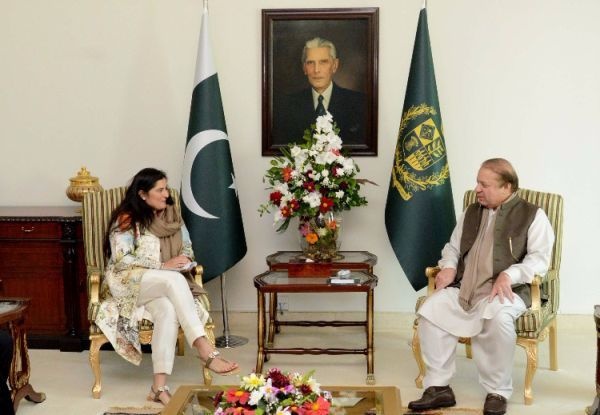 Source: Google
Given below the statement of Prime Minister of Pakistan Mian Nawaz Sharif..........
"The revolution brought by Islam in the world manifested through the life of Prophet Muhammad (PBUH) was the most successful movement for change of social reforms which has altered the course of history for all times to come. It was Islam which first recognized the rights of women.

Nawaz Sharif said: honour killings is a most critical issue and his government is determined to adopt all possible ways and means for removing this stain from our society. Women are the most essential part of our society and I believe in their empowerment, protection and emancipation for achieving the shared goal of a prosperous and vibrant Pakistan, added the Prime Minister."[2]
[2] Ref: http://tribune.com.pk/story/1047304/pm-meets-sharmeen-obaid-chinoy-vows-to-remove-stain-of-honour-killings-from-pakistan/
Statement of Sharmeen Obaid Chinoy in response to Prime Minister of Pakistan...........
"I just want to thank you for your recent statement saying that you are going to work against honour killings in Pakistan and as a Pakistani women I am honoured to have a Prime Minister who is working on the issue"[3]
[3]Ref: http://dunyanews.tv/en/Pakistan/319139-Sharmeen-Obaid-Chinoy-praises-Prime-Ministers-rem
sharmeenobaidfilms.com/bio/" target="_blank">[1] Reference: http://sharmeenobaidfilms.com/bio/
This is the End of my Blog. Hope you people enjoyed alot... I spend my hard working here in writing this and want your comments below in comment section.
Thanks for sparing time in reading My 18th attempt for my virtual home "Bit Landers".... Stay Connected for more articles.. :)