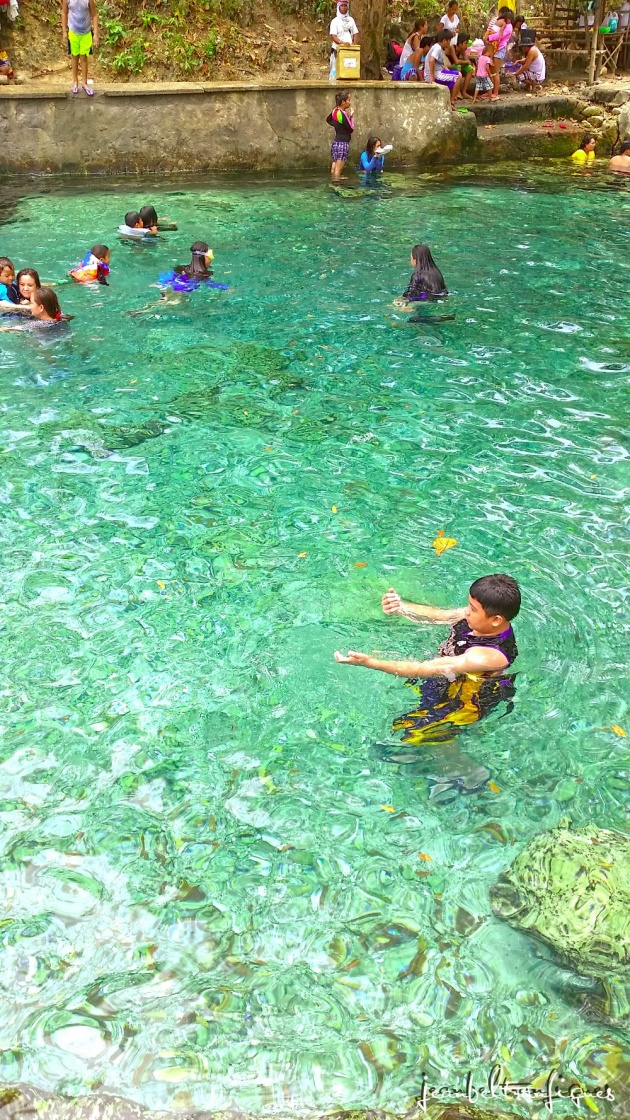 I have been saying this before on my previous blog posts but let me say it once again, Cebu isn't just about beaches and the ocean but it more to offer, that of which includes cold springs.

Because of the heavy climate change which had affected our earth's atmosphere and the sea levels, most of us are looking for ways to enjoy summer without getting sunburned! I know how that really hurts because when we had our summer holiday at Bantayan's Virgin Island, my husband who had fun snorkeling around, feeling nothing until he got out of the water, got a second degree sun burn. He had to endure it for almost a month. So, from that time on, we had been extra careful with our summer getaways, we have to go swimming when it isn't too hot anymore. But aside from that, another option that we had is to go visit cold springs and waterfalls instead. With this, we are sure we won't be getting sunburned at all and yet it would still be a worthwhile experience.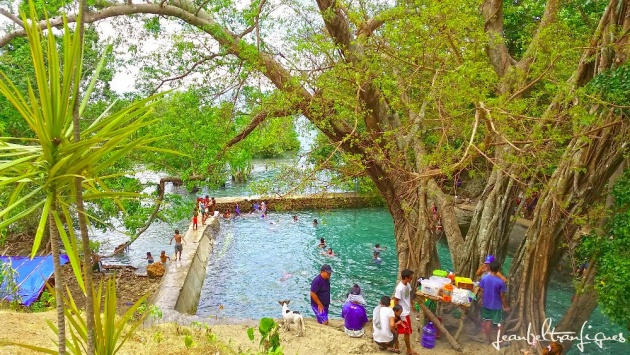 The view a visitor can get from the stairs at the entrance area. One will see the spring from the right side and the sea area to the left. It was high tide and so the sea waters meet the cold spring waters as well.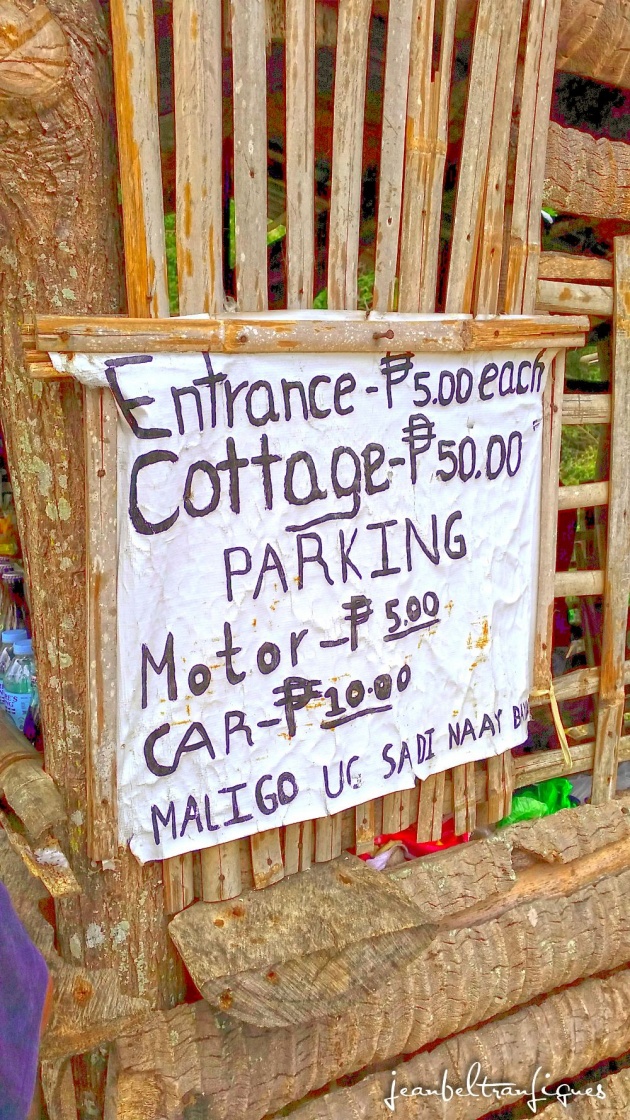 The entrance fees are written in a paperboard hanged outside before going down the stairs of the said spring. For as cheap as five pesos, one can get a chance to enjoy the cold waters. If you are coming with a motorcycle, same price will be paid so that would be a total of ten pesos. And if you are coming with friends or family member, ten pesos will be charged for your car and fifty pesos for anyone renting a cottage. That's a whole day use and there's a limited number of cottages only.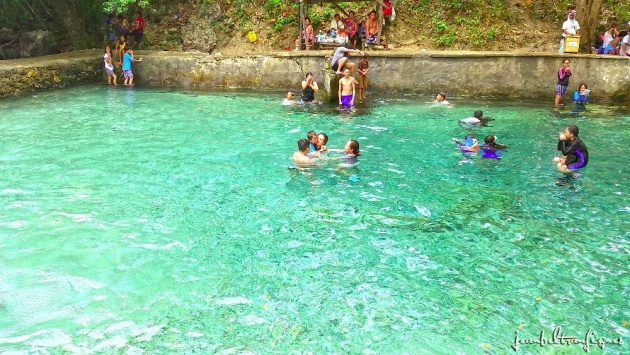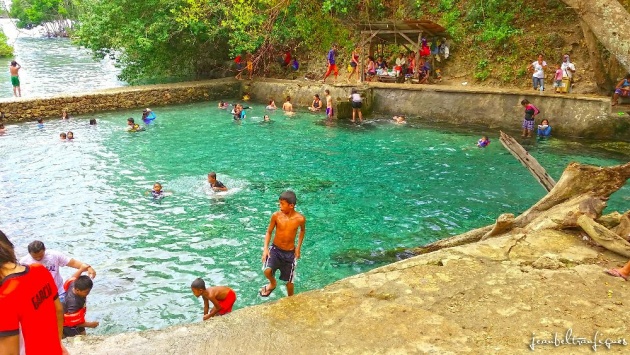 I got mesmerized with how clear and greeny the waters. It is obviously inviting specially that there isn't any garbage showing in the waters despite the fact that there are a lot of guests on that day. There's also an ice-cream/popsicle vendor so I am glad that their containers didn't end up in the waters.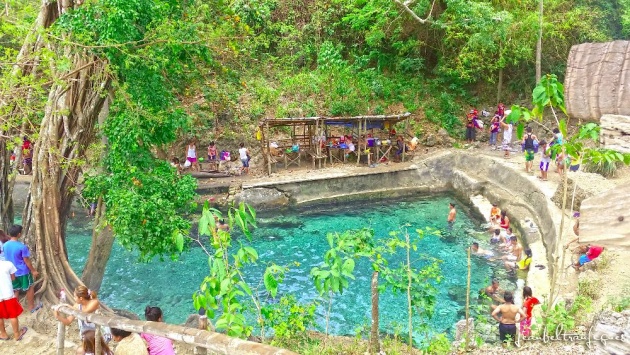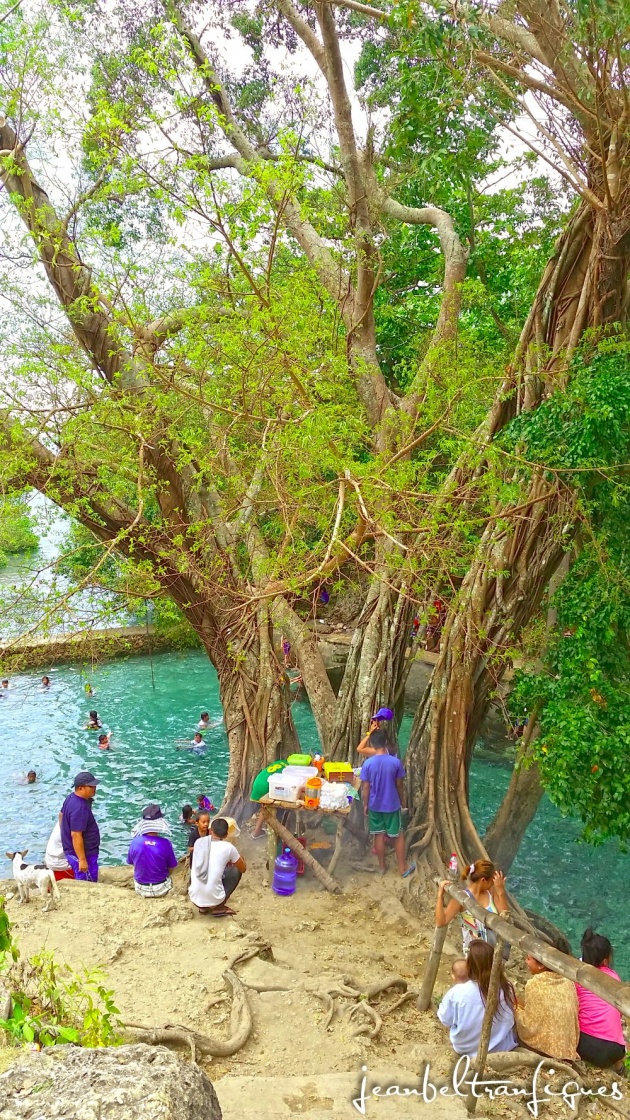 A huge balite tree is situated int he staircase area. One of the few who wasn't able to secure their cottage brought their food on an empty table from the balite tree and started grilling there as well.
More views and photos: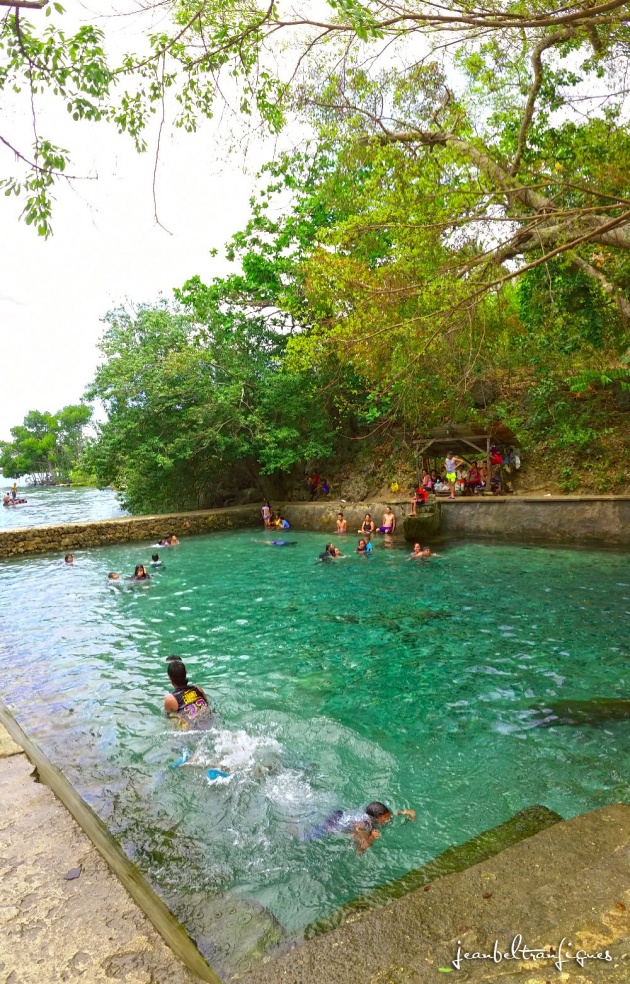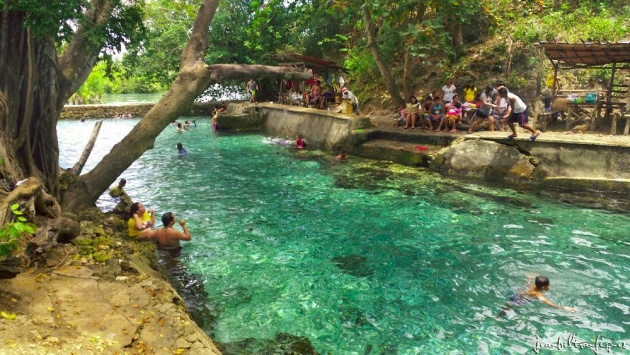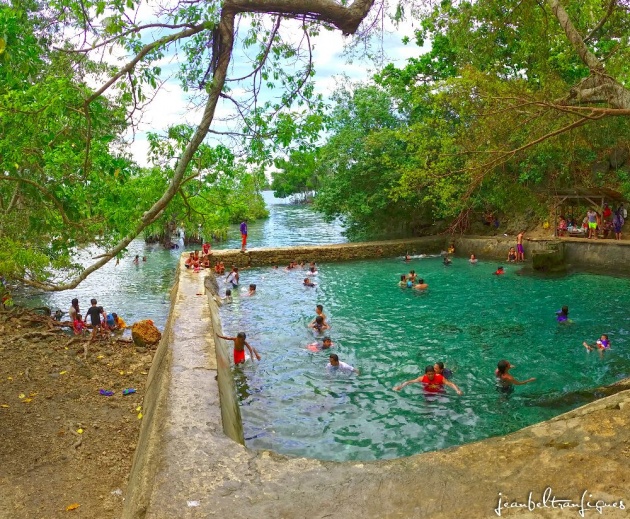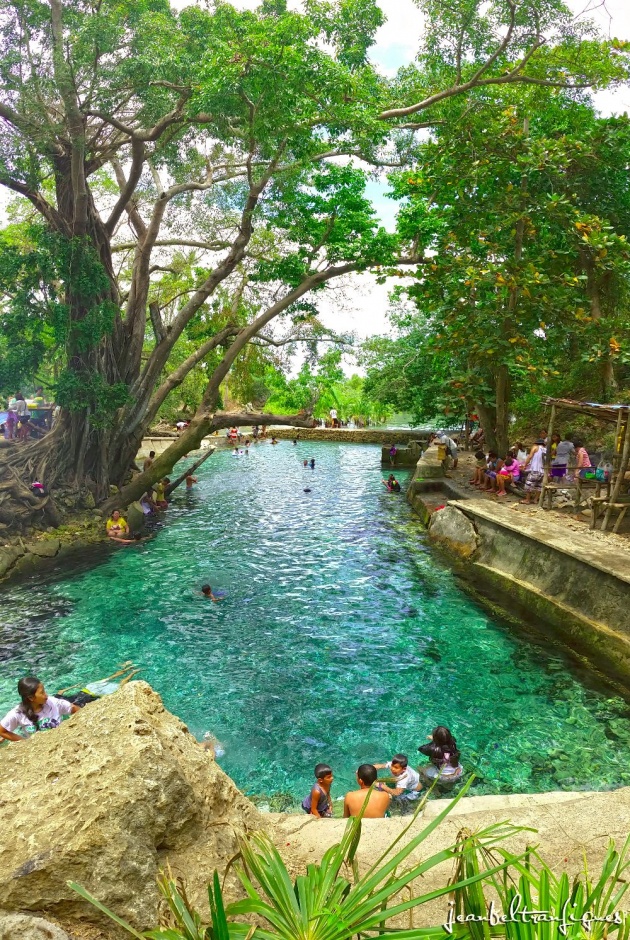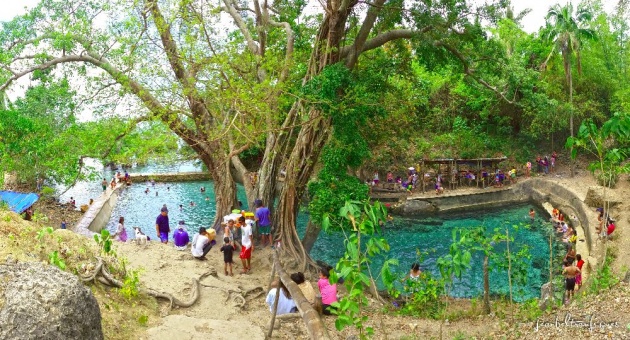 A week ago, it was also a Saturday when we were invited to come to a relative's province for their annual fiesta. I was not at all familiar with the town as it is situated in the northern area of Cebu. But when I looked it up and searched in the internet, I found out that the town has its own cold spring which the locals refer to as Guiwanon Cold Spring. I had not found any info as to where it got its name.

I had once shared about this spring in the southern area of Cebu, the Obong Spring where it has joined the salt and fresh waters. Guiwanon Cold Spring is the same, it has been a fusion of fresh and salt water but the difference is that the salt water only joins in when it is a high tide. The magical thing about it is that the locals consider the huge Balite tree to contain some enchanted creatures in it which keeps the waters clean and clear.

Natural beauty has been retained in the said spring as the owners of the area has not really fully developed it and so there are a few cottages around to cater some visitors. Most tourists would only drop by to take a plunge for awhile and not stay long due to the limited cottages.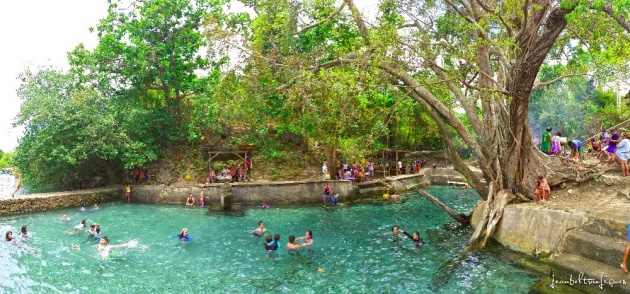 The spring can be found before the main town and it can be easily recognized because of the signage along the gates. But we still asked a few locals as to its location because that was our first. We could take a swim on that time because it was too hot and taking a dive in might make us sick so we opt to go on the following day instead.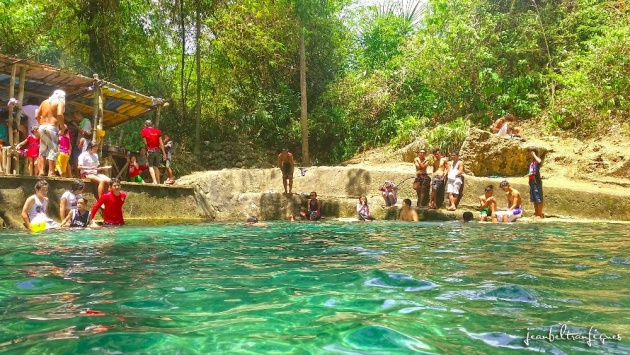 It's just amazing that something as clear as this can be very accessible to everyone. Perfect place to chill in a sunny hot afternoon with friends and family!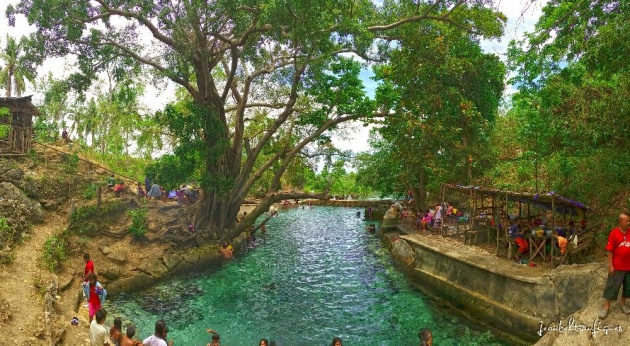 The heat of summer can't be avoided but it can be minimized by staying in a cool place like under a huge tree or perhaps going to a cold spring and that's what we did on Sunday. It was still nine in the morning and yet the sun was already mightily burning us with its heat so we immediately went for a stroll towards the spring which was around ten minutes ride.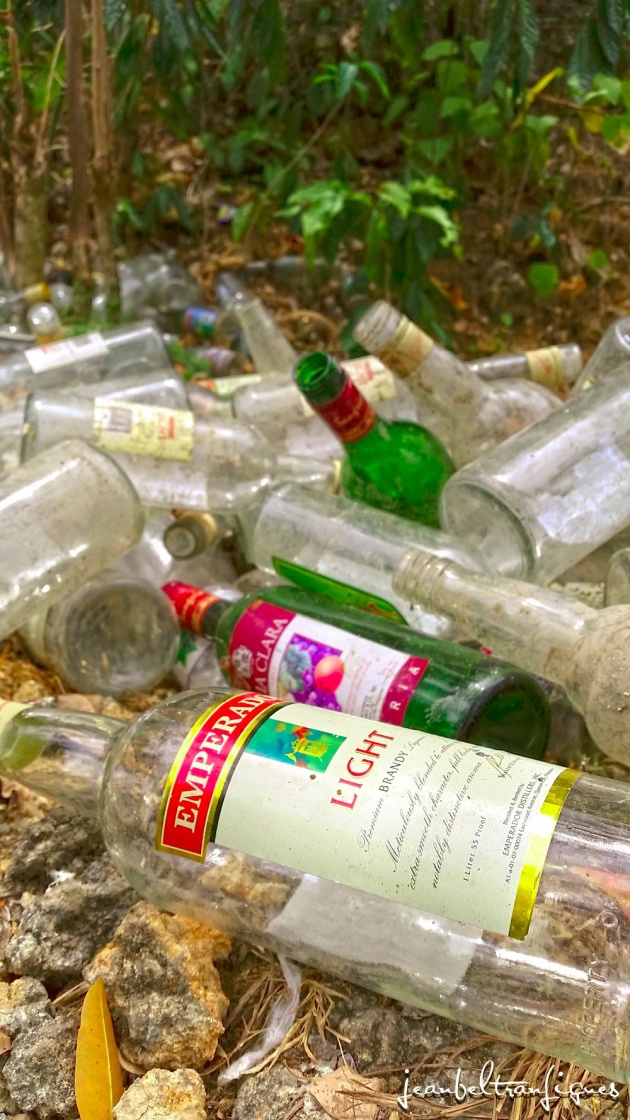 One of the disadvantages with a place like this is the tendency of the visitors and tourists to just leave their garbage behind. I am glad not to see any plastics floating in the waters but I have seen empty liquor bottles lying in the rocky area a few meters away from the spring. They were placed like this was a liquor bottle dump site.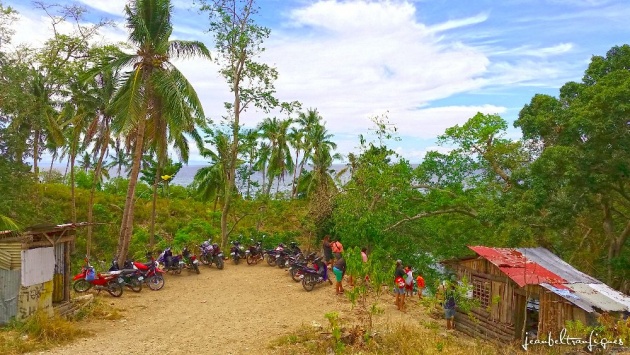 Motorcycles of the guests lines up for on an empty space. The spring is located downstairs. It isn't that obvious though from that area, one can see the view of the Guiwanon Cold Spring.

All cottages has been occupied as expected but it didn't stop us from taking a swim. We enjoyed a cowboy kind of escapade, we opt to relax under the shade of a giant tree beside the pool. While enjoying the clear blue green colored water. Because of the summer heat, we noticed that the water isn't that too cold though, we also added that it was a high tide that day. The pool was deep, we suppose it was seven to nine feet deep but thanks to the rocks and the tree roots, I was able to rest on them.