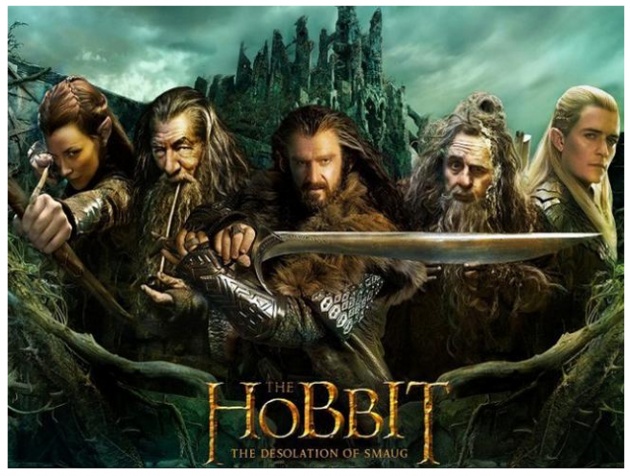 Fantasy epic "The Hobbit" enjoyed a third week atop the North American box office while controversial North Korea comedy "The Interview" earned another $1 million in its limited release, figures showed Monday.
"The Hobbit: The Battle of the Five Armies," by Oscar-winning director Peter Jackson, is the last of six films adapted from J.R.R Tolkien's books and the third and final installment based on the author's novel "The Hobbit."
It took in $21.7 million over the weekend, for a total of $220.6 million since its release three weeks ago, according to box office tracker Exhibitor Relations.
In second place for a second week was Disney's "Into the Woods", the star-studded big-screen adaptation of the Stephen Sondheim musical.
The film took $18.7 million in its second weekend.
Third place was occupied by "Unbroken," the Angelina Jolie-directed drama about Louis Zamperini, an Olympic athlete taken captive by the Japanese during World War II. The movie took $18.2 million.
A newcomer, "The Woman in Black 2" opened in the number four spot. The horror flick starring Helen McCrory and Jeremy Irvine earned $15 million in its debut weekend.
Following close behind was "Night at the Museum: Secret of the Tomb," the third movie in the Ben Stiller franchise about a museum security guard trying to keep track of exhibits that come to life.
The family comedy earned $14.5 million in its third week in theaters.
"Annie," about the adventures of an orphan girl starring Quvenzhane Wallis in the title role and Jamie Foxx as the tycoon who takes her under his wing, brought in $11.3 million, good enough for sixth place.
"The Imitation Game," about a code-cracking mathematician and logician during World War II, rose to seventh with $7.8 million, beating out "Hunger Games: Mockingjay, Part 1," which slipped into eighth place.
The sequel, one in the hugely popular series starring Jennifer Lawrence, earned $7.6 million this weekend, bringing its total seven week take to a whopping $323.7 million.
Rounding out the top 10 were "The Gambler," starring Mark Wahlberg, which earned $6.3 million, and Disney animated hit "Big Hero 6," with $4.8 million.
Meanwhile, "The Interview," playing in 581 independent movie houses, after threats from hackers who claimed a cyberattack of Sony Studios, which the White House said was orchestrated by Pyongyang, added $1 million to its two-week theatrical take.
The film has also earned millions in online rentals and sales, making it what Sony said was the studio's "#1 online film of all time".