Judo is an Olympic sport practiced in nearly every country in the world. In the 2014 World Championships in Chelyabinsk, Russia, 98 countries participated.
bitLanders launched this week the Judo Bitcoin Rewards initiative rewarding each user who will registered to THIS dedicated page with $1 in Bitcoin.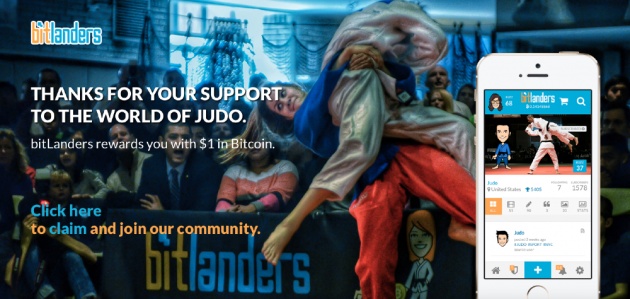 This initiative is intended to create a HUMONGOUS Judo database and promote Judo worldwide, along with the existing 500,000 bitLanders registered users and their extended network of 180 million fans and friends.
This HUMONGOUS Judo database will allow bitLanders to share further rewards, involve major sponsors and advertisers in the world of Judo, both online and in Judo venues.
A similar strategy will be applied later on for other Olympic sports like Wrestling and Fencing, in support to the Olympic sports in need of exposure and financial support.
Thanks for your support and share the news!
Francesco Rulli