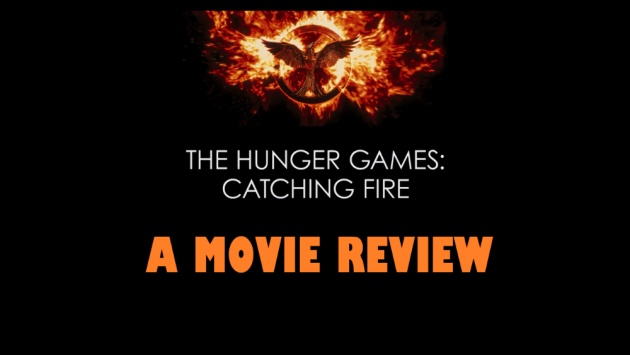 Credit: Screenshot from the movie and edited by JustAGirl
♦♦♦Movie Synopsis♦♦♦
Suzanne Collins's story tells us that the apocalyptic future has come, and surviving populace has built a new nation called Panem. This very nation, as what was prevalent in the entire story, was governed into fascism. From what we know, there are two divisions called the Capitol and the twelve districts.
Each coming year, as part of punishment for a past uprising, each district is forced at a reaping to select two young, male and female, tributes to play in the much-anticipated, national TV show, the Hunger Games.
Katniss Everdeen, along with Peeta Mellark, soon found out they need to go to the Victors Tour after going home safely from winning the 74th Annual Hunger Games. President snow had a vision that her last year's act can be conceived by the people as an act of defiance against the government, and might spark a revolution among people in the twelve districts.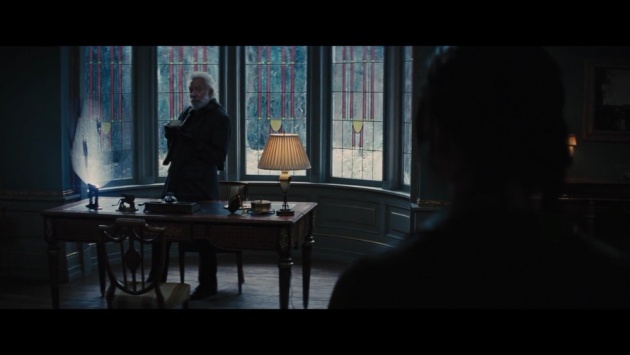 Credit: Screenshot from the movie by JustAGirl
To prevent the probable budding of rebellion, at Katniss's home, the two had an agreement that she must do everything to convince the people, most especially President Snow, that her act is not an act of defiance but rather an act of unconditional love towards Peeta. Or else her loved ones will be killed and wiped out along with the entire District 12.
As the tour went on, a huge turnaround for the 75th Annual Hunger Games took place as Snow announces it will be the Third Quarter Quell and past victors will be selected as tributes. Katniss, realizing she has no way of escaping Snow, made a pact with Haymitch to do everything to help Peeta win the game.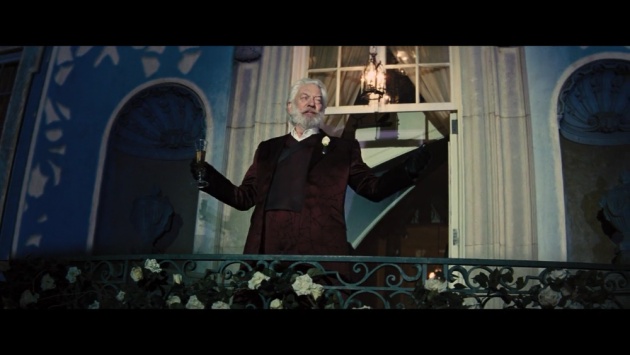 Credit: Screenshot from the movie by JustAGirl
But as they enter the game, Katniss found new alliance and paved her way into discovering who the real enemy was. Now, Katniss must do her utmost best to survive the game and soar high like a true mockingjay.
Credit: The Hunger Games: Catching Fire - Official Trailer (HD) by Francis_Lawrence
♦♦♦Movie Highlights♦♦♦
◙
The Victors Tour

◙

At the beginning of the film, Katniss was seen uneasy and bothered, staring into nowhere within the restricted bounds of District 12 where she used to hunt. Although unsaid, it could be deciphered that the reason why was her experience with the last hunger games, and the fact that she would have to go on the so-called Victors Tour.

Katniss was thinking of how she would need to pretend that she feels glorious and happy with her victory, when it was more than sorrowful and horrible to her to reminisce all the lives that were wasted in the game. In the tour, she (and Peeta) had to deliver not really from them while smiling and waving at the people from all the districts they'd visit. What was worse was that the message of the speeches they had to tell were all contradictory to what they truly feel.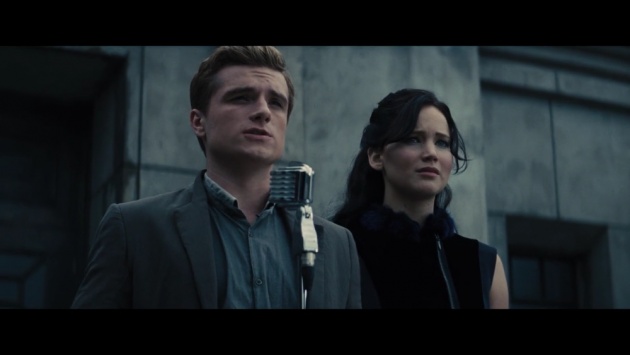 Credit: Screenshot from the movie by JustAGirl
However, both of them must go on with the show. Or else they might just put their lives in danger.
◙
President Snow warns Katniss

◙

Just before the Victors Tour started, an unexpected visitor came by Katniss's place. Upon arriving at her home from hunting, Katniss was shocked into fear to see peacekeepers inside. She was informed by her younger sister, Prim, that someone wanted to have a word with her. When she entered the closed room, she was greeted by the president.

When the two met face to face, President Snow showed Katniss what were happening in several locations across twelve districts. There were riots and people were fighting peacekeepers. These all came after the 74th hunger games was finished, with Katniss trying to manipulate the game by attempting to kill herself and Peeta with pieces of nightlock.

Snow had this very vision that the people had taken inspiration from Katniss's act to defy the government. Although Katniss was unconscious of that and just did what she did in order to survive the game, still the president was not amused. He wouldn't want to kill her though, as he wanted her to be the one to appease the people. She would, by making it look like the act was done in strong love for Peeta. That she'd rather have them both dead than to kill him with her own hands.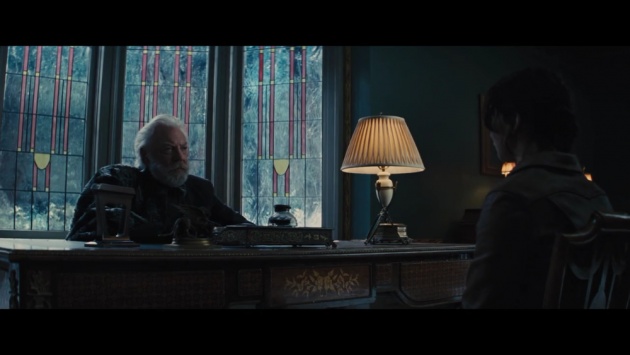 Credit: Screenshot from the movie by JustAGirl
Katniss had to make sure to follow as the president told, or else the entire District 12 would be wiped out. That would also mean death for her mother, younger sister, and lover.
◙
Public Whipping of Gale Hawthorne

◙

As peacekeepers continue to get deployed across District 12, Gale had grown more patriotic. As seen from his conversation with Katniss, he would not leave and would rather stay and fight for his district and its people.

At one point, he had an encounter with the head peacekeeper. As a result he was bound in public while being whipped. He was already wildly beaten, bleeding, and helpless when Katniss found her.

Katniss tried to cover him up to save him for further beating. However, the head guard didn't quite recognize her and was about to also beat her when Haymitch arrived to rescue her. He told the head peacekeeper who Katniss was, which made the former step back.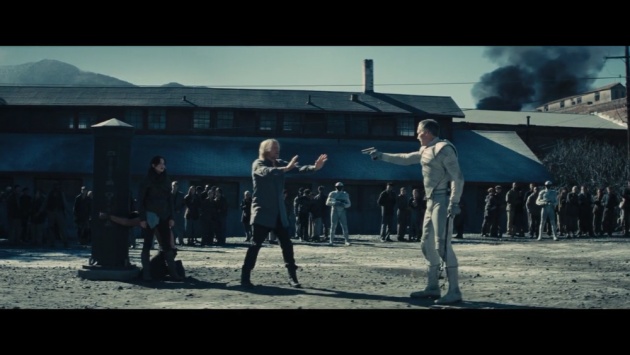 Credit: Screenshot from the movie by JustAGirl
The head guard decided to stop, but had them warned that the next time the same thing happens he would no longer think twice. Regardless of who they were.
◙
Announcement of the Third Quarter Quell

◙

Just as when Katniss thought things could not get any worse, President Snow showed her what more he was capable of doing. For the 75th Annual Hunger Games, he announced that, since it is for the third Quarter Quell, something more exciting and special would be made for the games.

Quarter Quell is a special event which takes place every 25 years. For this year, as a twist, Snow announced that tributes would be selected from past victors, still one male and one female.

This made Katniss automatically the female tribute for District 12, since she was the only female victor to ever win the game from the district. For the male tribute, it would be a matter between Peeta, her co-victor, and Haymitch, their mentor who was revealed to be once a victor, too.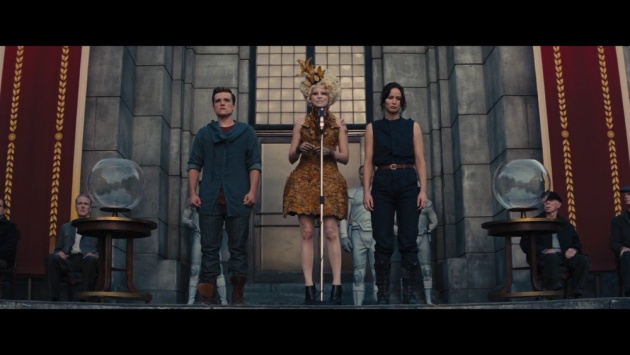 Credit: Screenshot from the movie by JustAGirl
◙
Cinna is Beaten to Death

◙

Katniss and Haymitch had a conversation and they came to a realization that Snow was really after Katniss. As pact, she convinced him to do everything to save Peeta and make him win the game. Haymitch agreed to volunteer if Peeta would be chosen, but insisted he couldn't do anything if he'd be chosen and Peeta volunteers in his place.

In another scene, Cinna, Katniss's fashion designer, bode her good luck for the upcoming games. However, when she got into the cylinder, Cinna was dragged by peacekeepers and was beaten to death. Katniss couldn't do anything but watch helplessly.

A little while before games started, Cinna designed her dress for the pregames interview. It was supposed to be a white wedding dress given by President Snow as gift for her and Peeta's supposedly wedding but got cancelled due to the Quarter Quell. When Katniss was asked to show up her girl on fire, her dressed turned black with winglike design, resembling a mockingjay.
◙
Newfound Ally: Finnick Odair

◙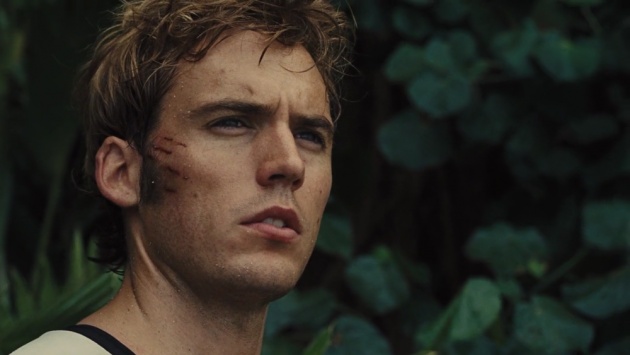 Credit: Screenshot from the movie by JustAGirl
When the game started, Katniss found alliance with Finnick and his mentor, Mags. At first, she was reluctant of Finnick, thinking he was one of her dangerous foes. However, as the game went on, slowly she started trusting him.
At one point, when Peeta's heart stopped beating momentarily due to a sudden shock, Finnick was the one who revived him. Aside from Finnick, they also allied with Johanna Mason of District 7, and District 3's Beetee and Wiress.
♦♦♦MY MOVIE REVIEW♦♦♦
The first installment of the movie adaptation to Suzanne Collins's book was first directed by Gary Ross. The second, though, he had to pass due to schedule reasons. As part of his statement, he pointed out that the time allotted for the scriptwriting was not enough for him to create a story he wanted to show everyone.
If you have read my movie review of the first film, The Hunger Games, you will see how enthusiastic I was about Gary Ross and his cinematic approach. That is the reason I was sad to know that he was not the one who directed this second installment, The Hunger Games: Catching Fire.
When Ross declined, the project eventually landed to Francis Lawrence. He was also the director of another Jennifer Lawrence movie, The Red Sparrow.
I have nothing against Lawrence (the director). In fact, I felt like the games proper on this second movie was far better than the first one. But I'd be honest and say it, that I still think the first movie was directed much better. But really, not in many ways. There was actually one main reason which made the first one better to me.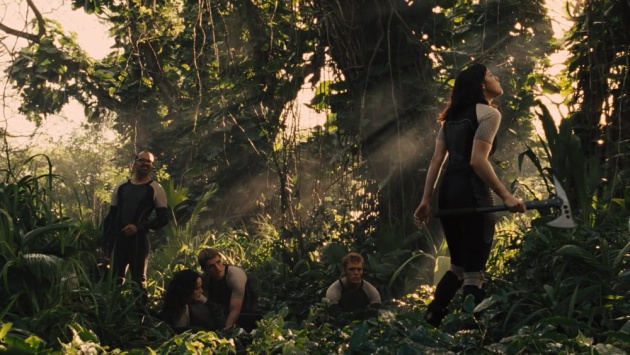 Credit: Screenshot from the movie by JustAGirl
Let's take a look at the points below, wherein I dissected my entire movie review.
◙
Slow Build-up and Movie Pace

◙

About half, or more so, of the movie was about the narrative before the games. There was this about the tour, the introduction of new characters, and a lot of everything else. I wouldn't say these weren't necessary in building the storyline. However, I just felt like it was a bit draggy.

Unlike the first film which was directed by Ross, Lawrence focused much on the narrative of Collins's second book. And then, on the latter part, when the games already commenced, I felt like I was expecting for more of it. However, on his defense, I found one particular interview wherein it appeared like he was just staying true to the book.
I just approached it as its own story. I really like the book, the mythology, the opening, and how all the stakes open up. You also get to explore what I think are the real themes of the story: the consequence of war and violence.
To my disappointment, because it felt like it ended up so quickly. All disasters were compressed into a short cinematic period that it felt like all of it happened so fast.
I wish Lawrence could've made the games more emphasized. But no, he didn't. He focused more on the storytelling. Which might not really ve bad for everyone. But to me, I was not really satisfied with that approach.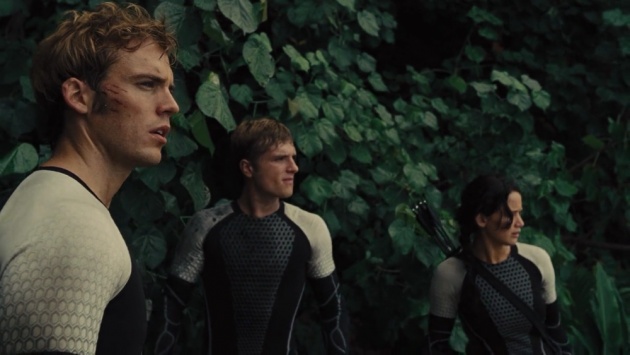 Credit: Screenshot from the movie by JustAGirl
◙
Great Storyline

◙

So Lawrence's direction was a bit ineffective to me. But it was not all about that negative. The movie had its own strengths.

One of which was its great storyline. Primarily credit that to the book itself, but the scriptwriter did a fantastic job in turning that into a cinematic artpiece. I am honestly not into sci-fi fantasy films, but this trilogy really did fanstastic for me. How about you, what kind of movies do you like? Let me know from the querlo chat below.

"What kind of movies do you like?"
◙
Unexpected Twists

◙

I wouldn't want to spoil anyone who might've not seen the movie yet. But I would tell you, the twists that were in the movie, most especially those which were revealed towards the ending, would probably made you snap. Beacuse I did.

Just a note. Do not ignore the new characters. As they add excitement on the ending.
◙
Jennifer Lawrence as Katniss Everdeen

◙

Need I say any further explanation as to why JLaw was one strong point of the movie? Ever since the first movie came out, she had done a really great part as Katniss Everdeen. The looks, the acting, the approach... Just about everything!

Credit: "The Hunger Games: Catching Fire" Movie Review Plus "Nebraska" by Mannythemovieguy
♦♦♦Related Blogs and Good Reads♦♦♦
Overall, the movie would still get a high rating to me, if I would need to give it a score. However, if you'd ask me to choose which one was better from it or the first movie, I would still probably choose the first one. Because it was great from all aspects.
Meanwhile, I would also want to give you other blogs that you might want to read further about the movie. I was trying to find the ones posted by my fellows in here for the BitLanders Film Series but to no luck. It is a bit saddening to know that nobody participated to blog about this movie. Worse feeling is that this was supposed to promote support for women empowerment.
Moving forward, why not let us just take this querlo chat below to show that we really support women empowerment?
"Do you support women's empowerment?"
And also, before I forget, let me give you these ones which were reviews made by movie critics.
Catching Fire is a spectacular 'edge-of-the-seat' thriller, which is unnerving, emotionally intense and immensely engaging.
The Hunger Games: Catching Fire Review by Ian Nathan of Empire Online
***************************************************************************************************
Disclaimer: All pictures above are not my own, and are shared for free as per license, and with proper attribution.
You might notice long descriptions. It is made according to attribution required by the license of the copyright owner.
Thank you for reading my post!!!