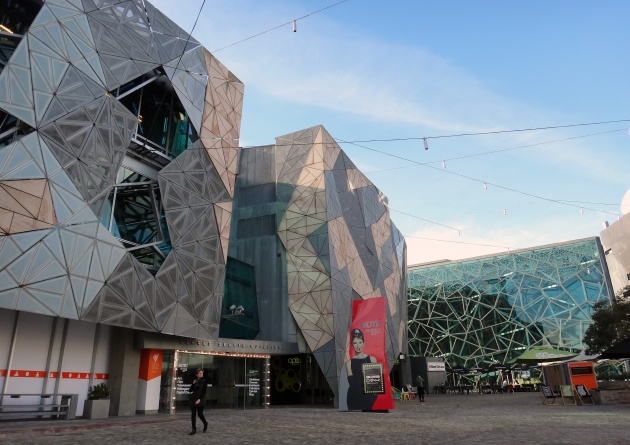 (The Australian Centre for Moving Images - home of the 2013 Melbourne International Animation Festival)
I attended the Melbourne International Animation Festival (MIAF) in Melbourne, Australia from June 18 to June 27, 2013. I was fortunate to receive a couple travel grants for media artists from the Canada Council for the Arts and BC Arts Council that covered the cost of the trip from Vancouver, BC to Melbourne. We are really lucky in Canada to have government support for travel to film festivals so filmmakers can build their professional development and showcase their work.
The MIAF ran from June 20 to 30, 2013 and was screening my latest animated film Yellow Sticky Notes | Canadian Anijam (2013) during the festival. The film screened in the Canadian Indie Program #2 on June 25that 8:15pm to a full theatre of approx. 150 people at the Australian Centre for the Moving Image theatre.
The festival also presented its first animation conference, the Render Animation Conference from June 21 to 22nd. I attended both days of the conference to meet, listen and learn from the various other international and Australian animators, historians, and animation filmmakers. After MIAF festival director, Malcolm Turner, discovered I would be attending the conference and festival, he asked me to present a talk at the conference. Therefore, I spoke on day two of the conference at 1pm at the Australian Centre for the Moving Image on the topic of Building a Successful Studio. I presented in front of a sold out auditorium of around 75 animation professional and students. I had 45 minutes to talk and present on my creative process and the animation/documentary work my studio, Meditating Bunny Studio Inc., creates. The response from the audience after the presentation was overwhelming and I received a lot of positive feedback.
Malcolm Turner, the Melbourne International Animation Festival, executive director, eats, sleeps, and breathes animation. This passion comes through his determination to put on one of the best animation festivals in the world. He spends his life seeking out the world's best-animated films being produced each year by attending other animation festivals such as Ottawa and Annecy.
(Melbourne International Animation Festival, executive director, Malcolm Turner)
Because of this, he programs a beyond stellar line-up of animated films at MIAF. The festival runs approximately 4 to 5 screenings a day over the course of 10 days. While at the festival, I was able to take in many screenings from Australian and international programs. Many films blew me away with their artistry, detail, and storytelling. It was so inspiring for me to just take time to watch animation on the big screen and discover new trends and techniques in animation and storytelling and see what filmmakers around the world are creating, thus, inspiring my own ideas for new animated films and skills I want to develop further.
As well, the festival attracts many other local Australian and international animators and filmmakers. Therefore, this presented a remarkable opportunity to discuss the animation concepts and techniques that I found inspiring directly with the animators in person. I was able to ask them questions and have them walk me through their animation processes and discuss the new cutting edge animation software they were using.
Famed Japanese animation filmmaker, Koji Yamamura, was honored with a retrospective of his work and while at the festival. As part of MIAF, he conducted workshops and Q&A sessions talking about his animation process that I found very helpful towards inspiring my own classical animation techniques. I highly respect his filmmaking, existential storytelling, aesthetic and mastery of hand rendered classical animation. Therefore, having admired his work ever since seeing his 2002 Oscar nominated short, Mt. Head, and having this opportunity to see him speak and interact with him was incredibly inspiring and influential to helping me develop my future ideas for animated films.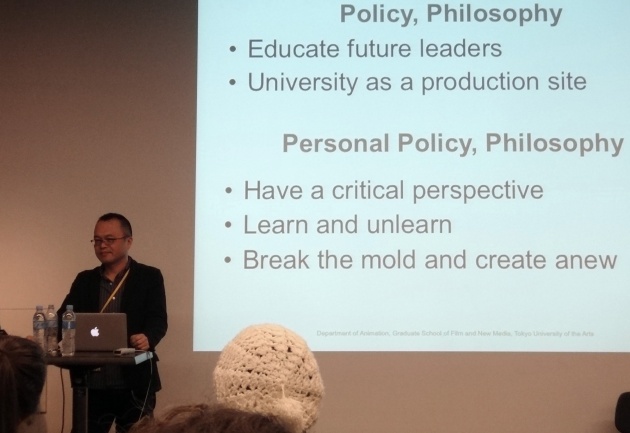 (Koji Yamamura presenting at the Render Animation Conference)
As well, I spent a lot of time discussing animation with US classical animator Jake Nelson and animation historian Terrance Masson. The Render Animation Conference was a great opportunity to meet local and international animators working in a variety of techniques and mediums. I was also fortunate to meet and hang out with legendary stop motion animator Nick Hilligoss who is a Melbourne native. Nick is a wealth of stop motion knowledge and being able to ask him questions about his techniques is invaluable to my own development using stop motion animation in my work. As well, I finally met local stop motion animator Isabel Peppard who's film Butterflies has screened with Yellow Sticky Notes | Canadian Anijam in the same animation programs at various other film festivals around the world. Having made so many of these independent animation contacts is invaluable for my own art making as resources I'll be able to connect with later using email and Facebook to discuss creating and promoting our work and talk about the latest distribution strategies and platforms to exhibit our films.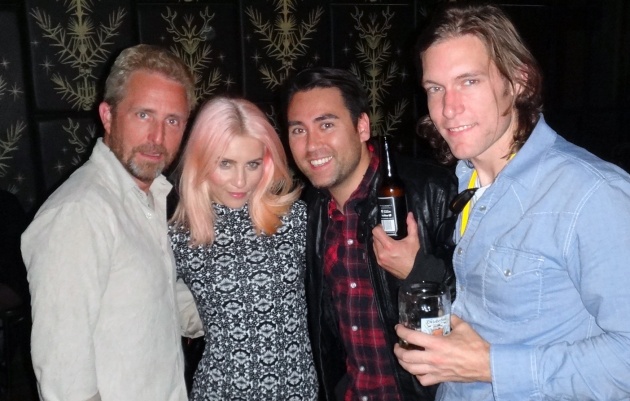 (Terrance Masson, Perri Hunter (MIAF Special Guest Liaison), me, and Jake Hunter experiencing the Melbourne nightlife!)
I have always been interested in the creation of animation music video but have yet to create one myself. At the Render Animation Conference, I had the fortunate pleasure to listen to the Australian based collective Oh Yeah Wow talk about creating viral animated music videos for artists such as Gotye. As well, Australian illustrator and animator, Chris Edser, who has created many classically animated music videos for bands like The Beards, spent time discussing his creative process with me over dinner one evening. This knowledge was helpful because of the way animated music videos are being presented virally now using internet platforms and how these animators are also able to monetize off of the work through the interent.
Other talks I found incredibly inspiring were from my co-presenter Tom Mortimer who founded 12foot6 Studio in London, England. We shared a 90-minute talk together presenting on how to build a successful animation studio. I was able to talk to the attendees about running my boutique animation studio in Vancouver, Meditating Bunny Studio Inc., and how I've established a satellite studio while Tom discussed his traditional brick and mortar studio model of having all his employees under one roof. After delivering my talk about how I create animation with integrity at my own studio and the importance of having a studio philosophy, I was approached by many animation students who wanted to intern for me and professionals who offered their services for any future freelance animation work.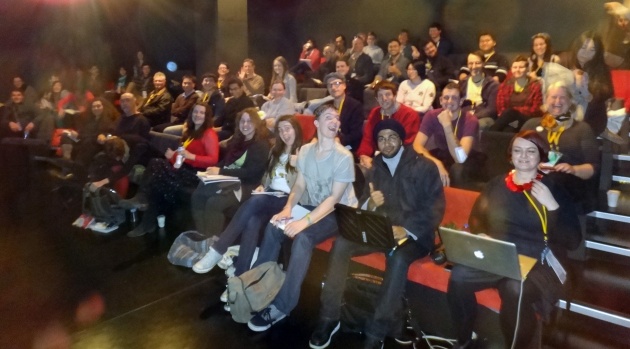 (An enthusiastic audience, just before I presented at the Render Animation Conference)
Also while in Melbourne, I was able to visit local artist studios with some of the attending animators. One such inspirational trip was to visit Blender Studios where we received a personal tour of the facilities by the studio manager. The studio houses around 20 artist studios and a gallery of contemporary graffiti artists, painters, sculptors, and illustrators. Overall, Melbourne is one of the most artistically cultural cities that I have ever visited in the world. Attending MIAF and visiting Melbourne was hugely inspiring to my own current and future filmmaking. Every alley in downtown Melbourne is covered with the most impressive and cutting edge graffiti I have ever seen. Walking through Melbourne, I wished every city embraced contemporary art in such a progressive and supportive way. It was easy to see how a city like Melbourne produced so many inspirational artists and animators.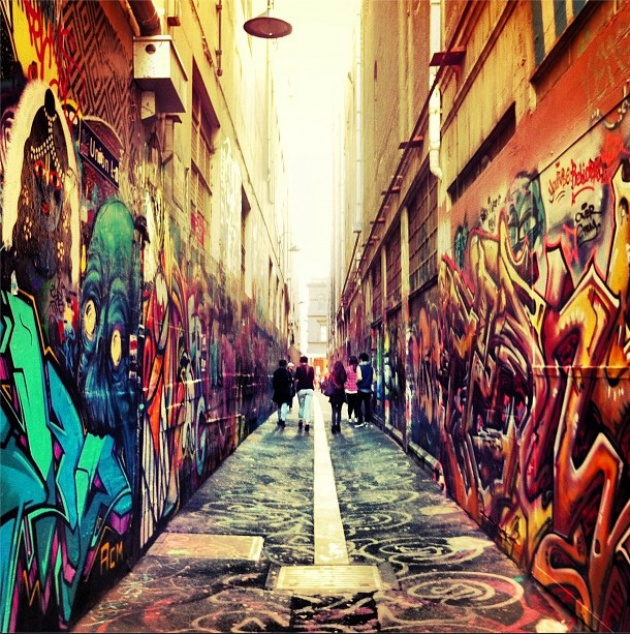 (example of one of the hundreds of photos I took of all the amazing graffiti in Melbourne downtown alleys)
I have been searching for ways to incorporate animation into my current animation documentary project, Mixed Match, and having had a week of watching animation and meeting and talking with so many brilliant animators, it has given me the inspiration I need to proceed with the animated style and techniques I want to achieve in the film. As well, while at MIAF, I may have found a few new animators who would like to help out with the animation and can guide me through new digital animation techniques in After Effects to achieve the look and feel I want for the animation.
Also, being able to attend MIAF and showcase my film, Yellow Sticky Notes | Canadian Anijam, to an Australian audience was an amazing opportunity to represent Canada's strong and diverse animation community. Since the film features animation from 15 of Canada's most celebrated independent animators, it was a perfect way for the local and international audiences to experience each of the animator's work through one film. Fellow Canadian animation filmmaker, Patrick Jenkins, was also present at the festival and helped coordinate the three Canadian showcase screenings. Together, for the animation loving Australian audiences, we were able to present the diversity of techniques, artistry and stories from a wide range of independent Canadian animation filmmakers from coast to coast to much fanfare and praise.
Attending the Melbourne International Animation Festival will be an experience I will not soon forget and I am once again animation inspired!
To see more photos from my trip to Melbourne check out and follow my Instagram at http://instagram.com/meditatingbunny
Please subscribe to me here on Film Annex for updates on new blog posts and uploads of new videos! Thanks a ton. Feeling animation inspired yourself? Check out the 'how to' video below on how to make your own yellow sticky notes film!