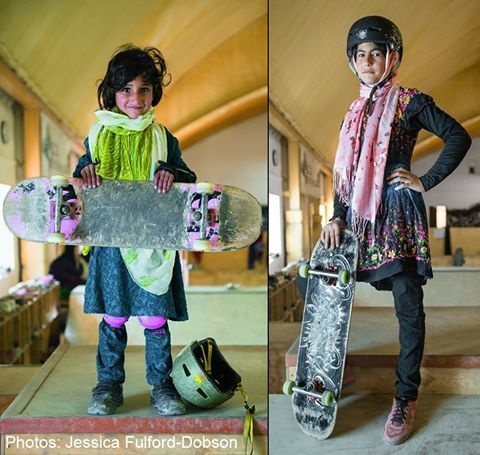 The incredible skater girls of Kabul are making headlines again thanks to a new exhibit about these "tough as nails" young skateboarders! Nearly 47% of Afghanistan's skateboarders are female due to the efforts of an amazing non-profit organization, Skateistan. Now, a new portrait exhibit currently on display at London's Saatchi Gallery by photographer Jessica Fulford-Dobson shows the freedom and joy that skateboarding has brought to girls in a country where it's taboo for girls and women to even ride a bicycle.

When Fulford-Dobson learned about Skateistan, she knew that she wanted to help share their story with the world: "I specialize in portraiture, particularly of children, and here was an opportunity to photograph young girls doing something exceptional in a beautiful, albeit war-torn, country." She said that watching them skate was mesmerizing: "They hurl themselves forward with unstoppable courage, and if they take a tumble they bounce right up again, running back to the queue and cheering on their friends. Life for these skate girls is undeniably different in so many ways to that of their Western counterparts, but it's also touchingly, heartbreakingly and amusingly the same."

Founded by Australian skateboarder Oliver Percovich in 2007, Skateistan provides girls and boys with an education and, of course, skateboarding lessons! In a country with few opportunities for girls to participate in sports, Skateistan's skateboarding program gives its female students a chance to experience the fun and confidence-building benefits of sports. Nearly half of the school's students are girls and it's now the largest sporting organization in Afghanistan that's open to girls. Skateistan has been so successful in Kabul that they have opened a second facility in Mazar-e-Sharif, Afghanistan and added programs in Cambodia and South Africa.

To support Skateistan's incredible work or learn more about them, visit their website at http://skateistan.org/-- to view more of Jessica Fulford-Dobson's photos on The Guardian, visit http://bit.ly/1GbYQps

There is also a documentary about this unique school for ages 8 and up at http://www.amightygirl.com/skateistan or watch it instantly on Amazon athttp://amzn.to/1QtZd4v

Skateistan has also published an incredible photo-filled, full-color book -- the proceeds from which go toward supporting their work - learn more athttp://amzn.to/1bssfRF

For Mighty Girl books about girls and women who love sports, visit our "Sports & Games" section at http://www.amightygirl.com/books/general-interest/sports-games

For several books for young readers about girls and the tranformative power of education, we recommend "Razia's Ray of Hope: One Girl's Dream of an Education" for ages 6 to 9 (http://www.amightygirl.com/razia-s-ray-of-hope), "Nasreen's Secret School: A True Story from Afghanistan" for ages 7 to 9 (http://www.amightygirl.com/nasreens-secret-school) and "A Girl Called Problem" for ages 9 to 14 (http://www.amightygirl.com/a-girl-called-problem).

And, if your Mighty Girl wants to try out skateboarding, two great boards for beginners are Punisher's Cherry Blossom (http://www.amightygirl.com/skateboard-cherry-blossom) and the Butterfly Jive (http://www.amightygirl.com/skateboard-butterfly).