Hi guys!! Since this is my first post I want to give you guys a little background. I am multiracial (my moms family is from Italy, Austria, and Poland and my dads family is from Barbados mostly) and amongst other struggles that have come with being mixed with so many different things, my hair has continued to be an issue for me. My mom has very fine and straight blonde hair and honestly I don't know what my dads hair would be if it were grown out but bottom line-he has kinky coarse hair. So the hair gods have blessed me with a "perfect" combination of these two hair types: fine, kinky, nappy, curly, thick, coarse, dry hair. And slowly but surely I'm learning to love and appreciate it! And now I want to share my hair journey with others as well.
People classify hair as a combination of numbers and letters. One to four and A to C. So far based on what I can see and feel in my hair I think I am somewhere between 3C and 4B.
Examples of each different hair types
Since I had no idea how to deal with hair similar to mine and my mom's only experience prior to me was my sister (whose hair is not actually that similar to mine), doing my hair was always a struggle on all fronts. When I was about 10 I started to chemically relax my hair. A relaxer by definition is:a type of lotion or cream generally used by people with curly-textured hair which makes hair less tangled and also easier to straighten by chemically "relaxing" the natural curls. The active agent is usually a strong alkali, although some formulations are based on ammonium thioglycolate instead. These relaxers are permanent. So I did this process to my hair approximately 3-4 times a year (every 3-4 months) for about 11 years or so. The procedure is extremely damaging to the hair and scalp and there were times that I would leave the hair salon with scabs on my scalp. But I didn't care!! I would continue to go just to maintain the ease of having the option to do a "wash and go" look (basically wash your hair and after the shower only using a few products-if any-and the you're done), not to mention it made any other style I wanted to do that much easier and cut down style time significantly. My aunt actually calls it "creamy crack" because it is QUITE addicting.
So a little over a year ago I began a new chapter of my hair journey. The beginning of October 2012 was the last time I got a relaxer and I have been "transitioning" ever since. Transitioning is term that is being used to label the process of going natural without chopping of the relaxed hair. Which leads me to another term : "the big chop." The big chop is referred to as the time when someone decides to chop off a decent about of relaxed hair so that they only have natural hair left on their head. Personally, I have not done this and I do not intend to do this until my new growth (the newly grown hair at the root) is AT LEAST down to my armpit if not longer. Luckily for me, at this rate it seems that in a 1-1.5 years my hair will be that long. *fingers crossed!!!*
THIS IS NOT ME. This is an example of how transitioning hair looks. Curly close to the root and straighter close to the end.
There are a lot of beauty myths and each person has different results. So this is where I will document my journey and all of the trials and tribulations that I will encounter on my way!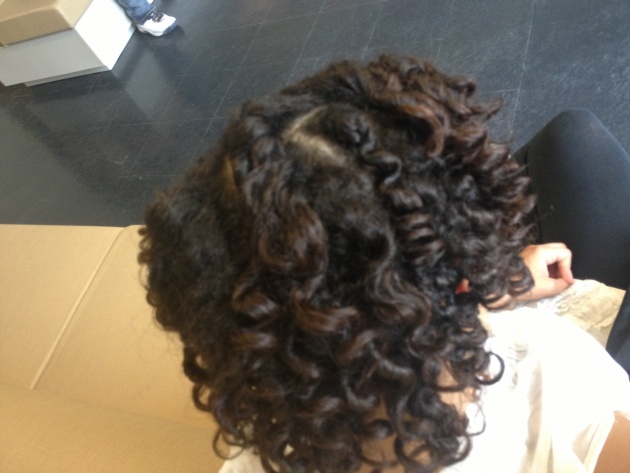 Me approx. 6 months ago: a curly style done with bantu knots set over night
Photo credit:
http://kinkycurlycoilyme.com/wp-content/uploads/2012/06/Natural-hair-type-gude7.jpg
http://merakisoul.files.wordpress.com/2010/11/030708newgrowth2-vi.jpg