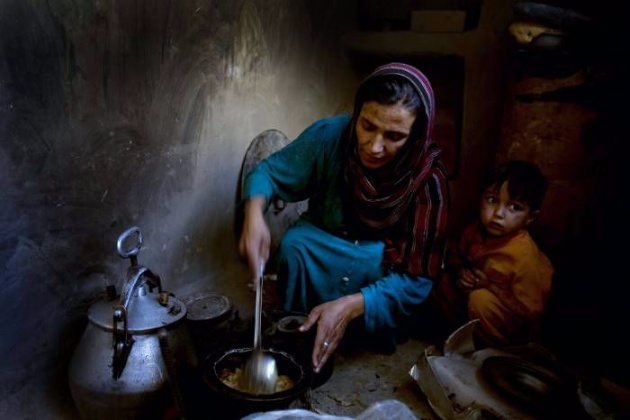 My identity is hiding somewhere in the kitchen
Where destiny told me to be.
I don't know where it is
If you look for it
Maybe you could find it
On my father's favorite plate?
In my brother's soup bowl?
On the shelf covered with salt?
In the morning, I am the broom eating dust
At 10 o'clock, it is time to cook the bread in the wood-fired oven
Eleven is time to cook lunch
Then I wash the dishes.
After that, the cow calls me
Come on
Milk
Milk
Then back to the kitchen
More cooking and washing.
I wait till the moon appears in the sky
I greet her as I go to my bed in the yard
I look at the moon
I understand nothing.
In my dreams, I see myself big
I go to school
Books in my hands
I see a nice office
with a computer
and my favorite clothes
a pink handbag.
But nothing comes true
It is always the same
I am without dreams
There is empty space in my soul
The kitchen is my past and future
I am Afghan woman.
Yesterday passed, I was hiding behind black curtains
Today it is again 10 o'clock
Time to cook the bread
As always
As every day.