Donald John Trump (born June 14, 1946) is an American business magnate, investor, television personality, and author. He is the chairman and president of The Trump Organization and the founder of Trump Entertainment Resorts. Trump's lifestyle and outspoken manner, as well as his books and his media appearances, have made him an American celebrity. He hosted The Apprentice, a US TV show.

According to wikipedia.
Billionaire Donald Trump today joined the lo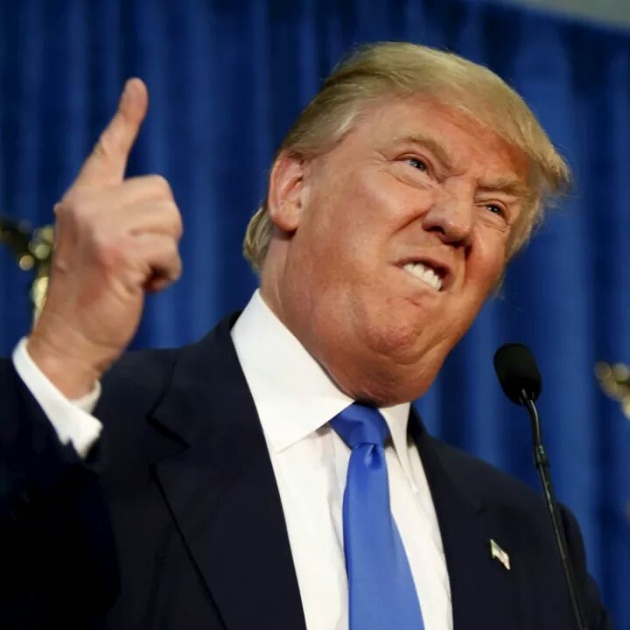 ng list of Republicans who aspire to the White House and introduced himself as a solvent businessman who can turn America into a power as rich as its own empire.
"Ladies and gentlemen, I am officially entering the race for president of the United States, and we will make our country great again," Trump said today in a ceremony at the Trump Tower, one of the skyscrapers in New York has.
"The American dream is dead. But if I win I will build again, bigger and better than ever before, "Trump said before hundreds of attendees at the event, who chanted" we want to Trump "along the 45-minute speech.
Flanked by his large family, the tycoon was presented as the "great leader" America needs. "We need a leader who can restore our jobs, our factories, our army, to take care of our veterans, who have been abandoned. A leader who raise the mood, "he said.
Trump boasted of his net worth, which amounted to 8.737 million dollars, and boasted of being the candidate who does not need to borrow money for his campaign, so you do not have to meet outside interests once you get into the White House.
"I do not need anyone's money. It will use my own money, because I'm really rich, by the way, "he said, amid cheers of his supporters who gathered around the ground floor of the skyscraper, with banners saying" I believe in Trump "," We want a country more strong "and" We want work ".
Some users of social networks recommended to invest its resources in helping people instead of the election campaign. "The millions of dollars spent on the campaign which will loser could help millions of Americans," said one of the Twitter users.
And the millionaire combined in his meeting a proposal of economic policy based on job creation recalled that throughout his career he has been the head of tens of thousands of people-with an aggressive foreign policy speech, a theme in which some advantage for being a "great negotiator".
"People can not get jobs because China is our work, and Mexico is our work," he said. "Our country has a serious problem, we have no victories. When was the last time anyone saw us win China a trade agreement? We murder. China won all the time. "
"I'll recover our work from China, Mexico, Japan, many places. I'll go back to our jobs and our money back, "he promised Trump, with dark blue suit, red tie, and the US flag on the flap.
Trump, 69, launched harsh criticism of Mexican immigrants and said that if he wins the White House will build a "big, big wall" along the southern border and will "reward to Mexico."
"Mexico is not our friend," he said to his followers, the vast majority young. "When Mexico sent us his people are not sending us to the best. They're sending people who have many problems and they are bringing with them. You bring drugs, crime, are rapists "he said.
The rhythm of "Rockin 'In The Free World" by Neil Young, and the arm of his third wife, Melania, 45, Trump down the stairs of the tower that bears his name as a true TV star.
He showed his experience on "The Apprentice" competition, created as an example of a successful businessman, and was presented by his daughter Ivanka, who portrayed him as "a leader who leads by example."
Among other ideas that lead to think the presidential race, Trump said that "no one will be harder against the Islamic State" like him, who will reaffirm their relationship with Israel and to protect the right of Americans to have their own weapons.
Internally, showed strong opposition to "the big lie" of health policy of President Barack Obama and felt that his experience in real estate will allow building new infrastructure for the US not look like a "Third World" nation.
With his presidential announcement, Trump is the twelfth Republican presidential candidate who wants to land on the White House, a day after Jeb Bush made public his same intentions in Florida.
Trump begin today to campaign with an event in Iowa this week and will also visit the states of New Hampshire and South Carolina.