On March 20th 2016, for the 33rd time, the NYAC Judo Club run the New York Open Judo Tournament, for the 6th year in the form of an international team tournament. The event was sold out a few days before the competition which possibly made it the first sold out event in the history of Judo in North America.

Picture by Lin Bin
The New York Open Judo Tournament is a sports event and a party combined. National representatives of Canada, the Republic of Georgia, France, Germany, Israel, and the US faced each other in both Women's and Men's team tournament in the hope to engrave their name onto the prestigious trophy: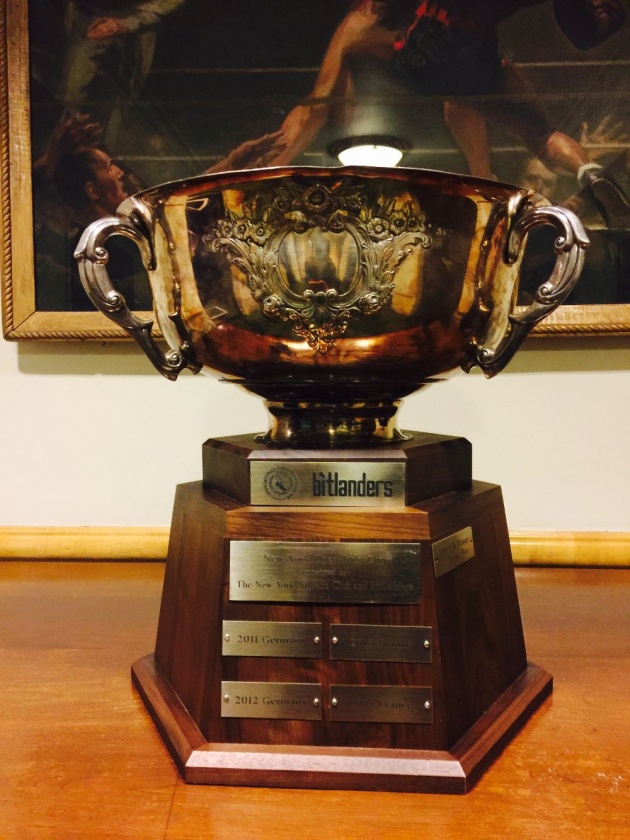 The night before the event, I worked in the venue with the help of several NYAC Judo members to create a unique atmosphere for the competition. The venue featured one mat centrally lighted, leaving darker surroundings, music by DJ Mark Larush, drinks and food served to the fans, and an online contest set up by by bit-Miles (www.bit-miles.com) to vote for the favorite teams and players. This event entertained 500 people for over 7 hours.

One man who made this possible is Lynn Goldberg, who coordinated the production of the event's book and collected valuable donations for the ads. Lynn worked on this throughout the year balancing it with his busy work schedule and giving us again the budget for another great event. Another man who did an incredible job is Toni Lettner, who acted as the coach and coordinator of the German team, and most importantly, as the tech expert who created the website www.NewYorkOpenJudo.com where the tickets were sold and where people were able to gather information about the event.
Thanks to the work of those two individuals, and the generous sponsorship of Arthur Canario, Adidas, Suez/United Water, and BitLanders, we were able to fund this event and give the opportunity to 60 international athletes to compete in the heart of New York City.
Watch this great video on the event where Jimmy Pedro and Kevin Earls share some important information on the event and support of the NYAC:
Thanks for reading!