Another thing it´s important for a filmmaker is a nice bio. You never know who is going to be attending a festival or who is going to call you after watching your latest film, so it´s important to have an updated bio with a nice look.
I can happily say that thanks to Sinnside I´ve been contacted by some spanish majors interested in my upcoming projects, so the following months I´m going to start preparing the scripts, dossier, etc. to try to reach deals with them. Here are the materials they saw for being interested on working with me, both in spanish and english so that you know who I am: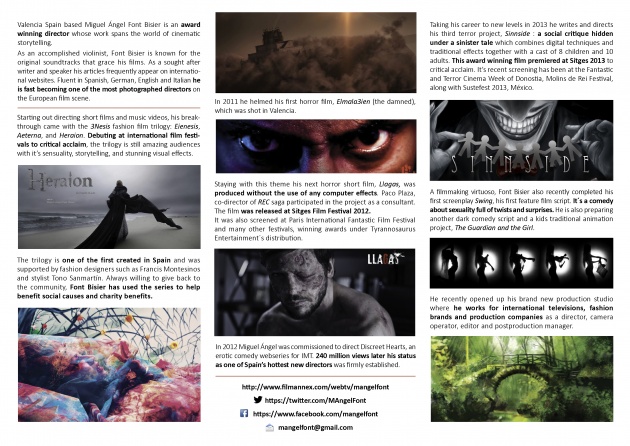 The text, by Fred Sweet:
""Valencia Spain based Miguel Ángel Font Bisier is an award winning director whose work spans the world of cinematic storytelling.
As an accomplished violinist, Font Bisier is known for the original soundtracks that grace his films. As a sought after writer and speaker his articles frequently appear on international websites. Fluent in Spanish, German, English and Italian he is fast becoming one of the most photographed directors on the European film scene.
Starting out directing short films and music videos, his breakthrough came with the 3Nesis fashion film trilogy: Eienesis, Aeterna, and Heraion. Debuting at international film festivals to critical acclaim, the trilogy is still amazing audiences with it's sensuality, storytelling, and stunning visual effects.
The trilogy is one of the first created in Spain and was supported by fashion designers such as Francis Montesinos and stylist Tono Sanmartín. Always willing to give back to the community, Font Bisier has used the series to help benefit social causes and charity benefits.
In 2011 he helmed his first horror film, Elmala3ien (the damned), which was shot in Valencia.
Staying with this theme his next horror short film, Llagas, was produced without the use of any computer effects. Paco Plaza, co-director of REC saga participated in the project as a consultant. The film was released at Sitges Film Festival 2012. It was also screened at Paris International Fantastic Film Festival and many other festivals, winning awards under Tyrannosaurus Entertainment´s distribution.
In 2012 Miguel Ángel was commissioned to direct Discreet Hearts, an erotic comedy webseries for IMT. 240 million views later his status as one of Spain's hottest new directors was firmly established.
Taking his career to new levels in 2013 he writes and directs his third terror project, Sinnside: a social critique hidden under a sinister tale which combines digital techniques and traditional effects together with a cast of 8 children and 10 adults. This award winning film premiered at Sitges 2013 to critical acclaim. It's recent screening has been at the Fantastic and Terror Cinema Week of Donostia, Molins de Rei Festival, along with Sustefest 2013, México.
A filmmaking virtuoso, Font Bisier also recently completed his first screenplay Swing, his first feature film script. It´s a comedy about sexuality full of twists and surprises. He is also preparing another dark comedy script and a kids traditional animation project, The Guardian and the Girl.
He recently opened up his brand new production studio where he works for international televisions, fashion brands and production companies as a director, camera operator, editor and postproduction manager.""
I also show my reel, which is just 1 minute long, but trust me, the shorter the better!
I´ve been at networkings where you just have 3 minutes per meeting, and if you have a longer one, how much time are you going to be able to spend talking to the producer? Of course every filmmaker is proud of many parts of their work, but filmmaking is also a business, so you have to be cold-minded and chose just the takes that really are interesting for someone who doesn´t know you. For the rest of the people there are the full works, right? They can go and check the full movie if they want.
As a curiosity, the music is one of the songs from my first music album.
Here´s the spanish version of my bio: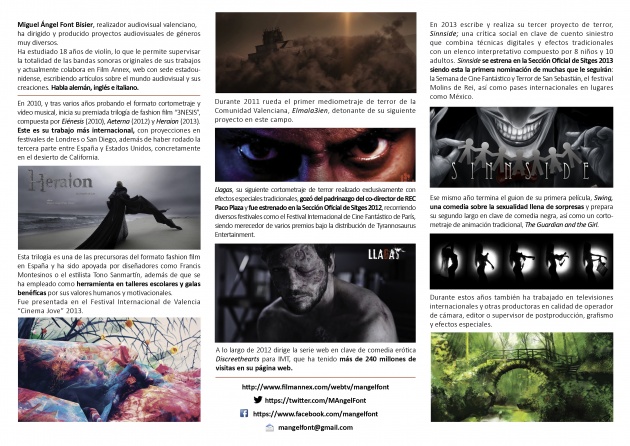 The text, written by myself:
""Miguel Ángel Font Bisier, realizador audiovisual valenciano, ha dirigido y producido proyectos audiovisuales de géneros muy diversos.
Ha estudiado 18 años de violín, lo que le permite supervisar la totalidad de las bandas sonoras originales de sus trabajos y actualmente colabora en Film Annex, web con sede estadounidense, escribiendo artículos sobre el mundo audiovisual y sus creaciones. Habla alemán, inglés e italiano.
En 2010, y tras varios años probando el formato cortometraje y vídeo musical, inicia su premiada trilogía de fashion film "3NESIS", compuesta por Eiénesis (2010), Aeterna (2012) y Heraion (2013). Este es su trabajo más internacional, con proyecciones en festivales de Londres o San Diego, además de haber rodado la tercera parte entre España y Estados Unidos, concretamente en el desierto de California.
Esta trilogía es una de las precursoras del formato fashion film en España y ha sido apoyada por diseñadores como Francis Montesinos o el estilista Tono Sanmartín, además de que se ha empleado como herramienta en talleres escolares y galas benéficas por sus valores humanos y motivacionales. Fue presentada en el Festival Internacional de Valencia "Cinema Jove" 2013.
Durante 2011 rueda el primer mediometraje de terror de la Comunidad Valenciana, Elmala3ien, detonante de su siguiente proyecto en este campo.
Llagas, su siguiente cortometraje de terror realizado exclusivamente con efectos especiales tradicionales, gozó del padrinazgo del co-director de REC Paco Plaza y fue estrenado en la Sección Oficial de Sitges 2012, recorriendo diversos festivales como el Festival Internacional de Cine Fantástico de París, siendo merecedor de varios premios bajo la distribución de Tyrannosaurus Entertainment.
A lo largo de 2012 dirige la serie web en clave de comedia erótica Discreethearts para IMT, que ha tenido más de 240 millones de visitas en su página web.
En 2013 escribe y realiza su tercer proyecto de terror, Sinnside; una crítica social en clave de cuento siniestro que combina técnicas digitales y tradicionales con un elenco interpretativo compuesto por 8 niños y 10 adultos. Sinnside se estrena en la Sección Oficial de Sitges 2013 siendo esta la primera nominación de muchas que le seguirán: la Semana de Cine Fantástico y Terror de San Sebastián, el festival Molins de Rei, así como se alza con su primer galardón internacional en Sustefest 2013, México.
Ese mismo año termina el guion de su primer largo, Swing, una comedia sobre la sexualidad llena de sorpresas y prepara su segundo largo en clave de comedia negra, así como un cortometraje de animación tradicional, The Guardian and the Girl.
Durante estos años también ha trabajado en televisiones internacionales y otras productoras en calidad de operador de cámara, editor o supervisor de postproducción, grafismo y efectos especiales.""
Hope you liked it and see you on the next blog!!