There's a different kind of feeling whenever I am near to nature. I couldn't totally express this feeling, a mixture of excitement, happiness, appreciation and relaxation. It provides me this kind of enjoyment which I couldn't find in the city area. Well, living in the city is required to supply our needs financially, but my husband and I look forward to spending our retirement years in the province, away from the busy streets and the air pollution. We look forward to be waking up every morning listening to the birds singing and the different chirps of the insects around us. But since we are still saving up for that time, we spend time together in places where we are at close to nature.
Last week was a great week for the two of us, aside from getting married in a civil ceremony, we both had gone to certain places which made us both happy as we were close to nature. With us were my brother and sister in law who came all the way from city of love in Iloilo to witness also civil wedding.
We first went to the whale shark watching area and we were lucky that there were not so many visitors at that time. I had blogged about our second visit in my previous blog, just click on the link to check the story.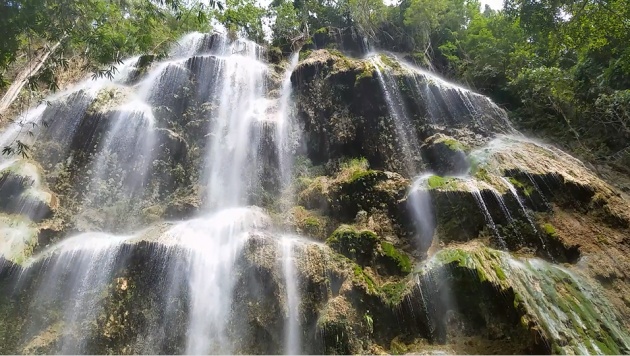 But after swimming with the whale sharks, we went directly to Tumalog Falls just twenty minutes drive from the Whale Shark watching area. There were motorcycle drivers who can take visitors directly there for a few bucks. But upon reaching the Tumalog Falls entrace area, the motorcycle can't anymore go inside, the roads were really steep and a bit dangerous. We have to pay 20 pesos per person for the entrance fee and walk for fifteen minutes to reach the waterfall area. There's another set of motorists whom can take the passengers there but it costs a lot and since we have been here years before, I recommend just walking towards there so we can also capture some photos on our way.

The photo above shows the top area of the waterfalls which is not visible if one is at the base of it but from a far, it is definitely visible. It looked like a small one though but getting nearer, it isn't really that small. And while on our way, we got to meet some foreigners too who had been here last year as well and went back again as they love the place. They were from Australia and asked us to take photos of them, they were sweet and grateful.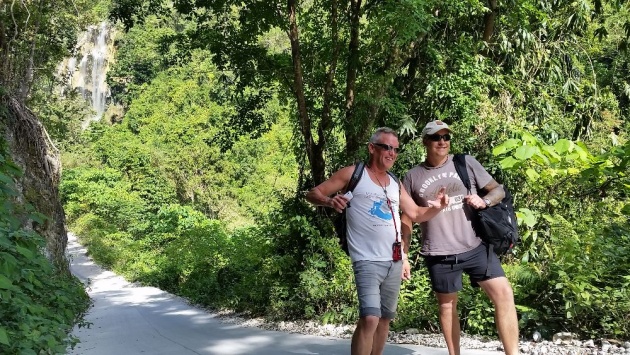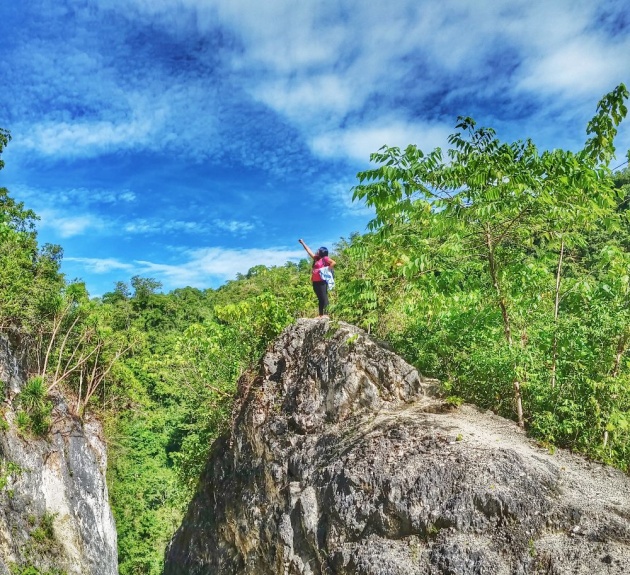 We passed along a huge rock with a pathway going up to the top of it so I attempted to become a superhero here with this pose. I feel like I was on the top of the world yet it wasn't the top though, I had a hard time going down by the way but my husband had helped me out after taking this photo.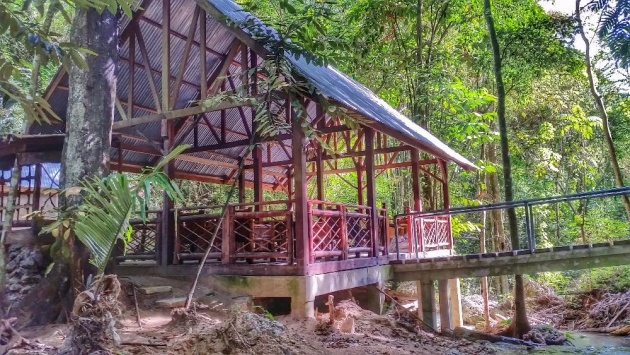 As mentioned, we had been here few years ago and I had seen great changes. First and foremost when we went here last time, it was still free, nothing to pay at all. Now there's a new house area as well intended to those who want to eat or dine in. There's no restaurant but the local government had set this place so to keep the area clean. It is totally different at this time, there were stones being formed to keep the water flow regulated. I recall the ground before was just two levels but it has a few more levels now. There's this main level where one can enjoy a jacuzzi feel. There's another level up where the waters are just flowing and one can sit in the cemented area below to have their photos taken. It is nice there as the water flowing is not too strong so its just really relaxing.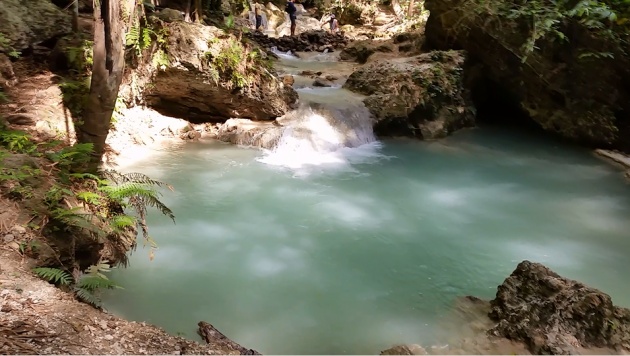 Check the video we took :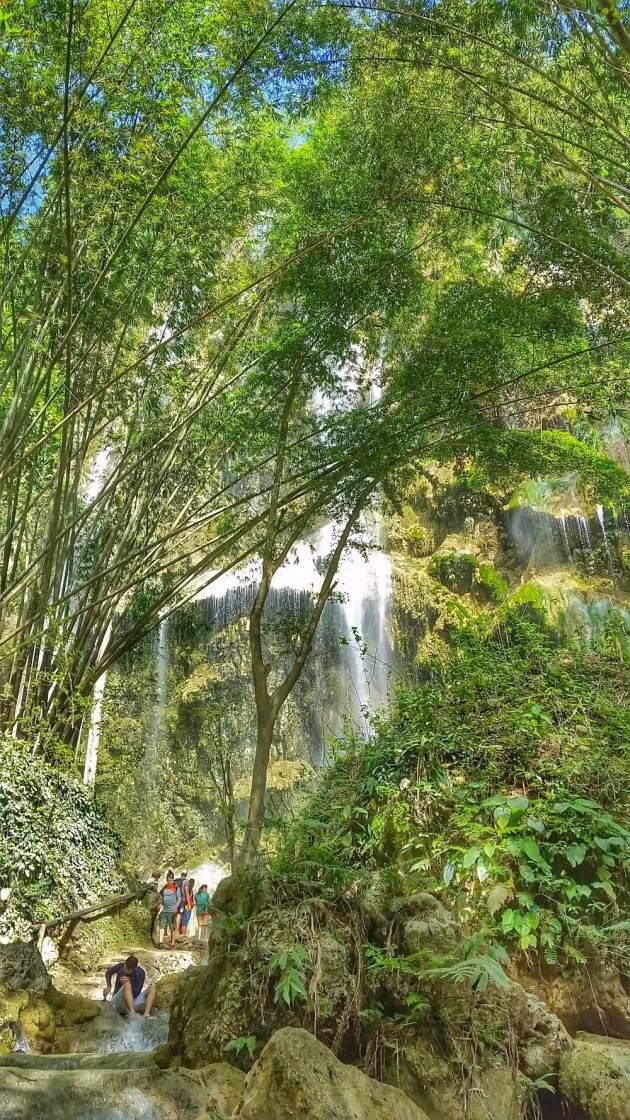 On the last area and the biggest one shows like a swimming pool. What I can only recall as well is that this area was still a bit full of those dead leaves from the trees and bamboos around. There was a huge decaying tree trunk too which has now nowhere to be found but the trees are still present pf course together with the bamboos. The place was just abundant of bamboos which had added a beautiful ambiance.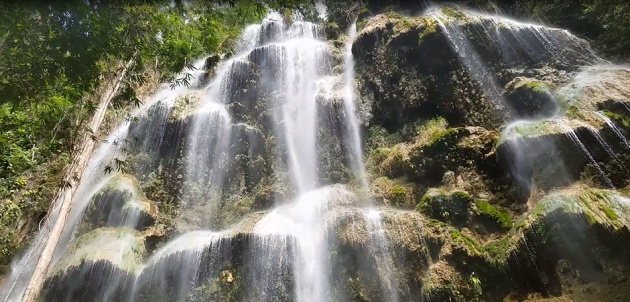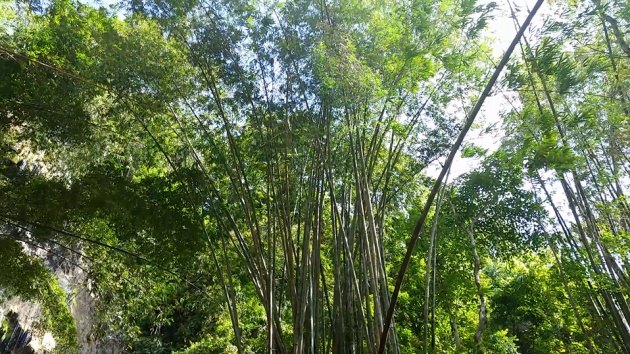 The water falling from above is making a rain effect so even if I have no plans of getting myself into the water but I got myself wet while taking photos of the waterfall. It seems like it was due to the height of where the water was coming from. Everyone who would come nearer to the falls would definitely get wet even of they are just in the side area.
Videos: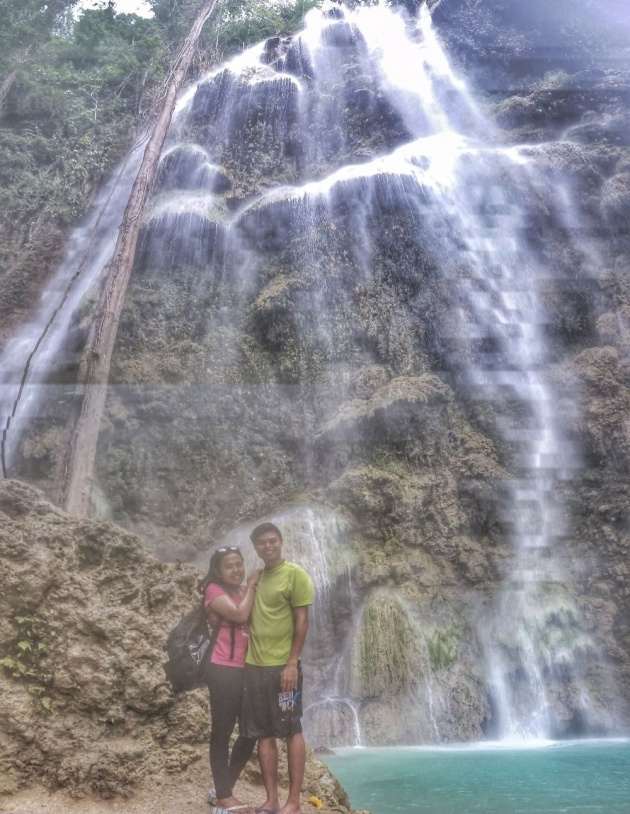 We spent around an hour enjoying the place, taking photos using our Samsung Galaxy S5 and thankful that it was water proof so taking photos near the waterfalls was fine even if it get a bot wet. The phone was already a bit wet and no matter how we keep the waters off the lens, it still gets wet so we just let it be and just took photos over again.
On our way back, we faced a challenge going up the steep road. It was hard and heavy as it feels like gravity was just pulling us all. I was walking very slow and my chest was almost near my feet. It took us longer going up done going back and relieved upon reaching the main entrance place and our motorcycle service were already waiting for us.
Glad that the local government of Oslob had improved it because it becomes another means for tourists to come to Oslob aside from the Whale Sharks. It is another tourist spot and that is additional income for the LGU too.
Check out some related blogs: