Since, I am busy dealing with studies, it is really good to see some additional rewards news while having busy days. As you know, Querlo, the platform launched by the same company which controls Bitlanders, signed to work with some other companies for good purposes. Well, it was Querlo's first move which opened a new window of topics. You can learn about it in my previous blog. Now, the recent announcement about its relationship with New York Open Judo brought to us some more topics to discuss. And this is what I will be putting further in this post.
"New York Open Judo Poster"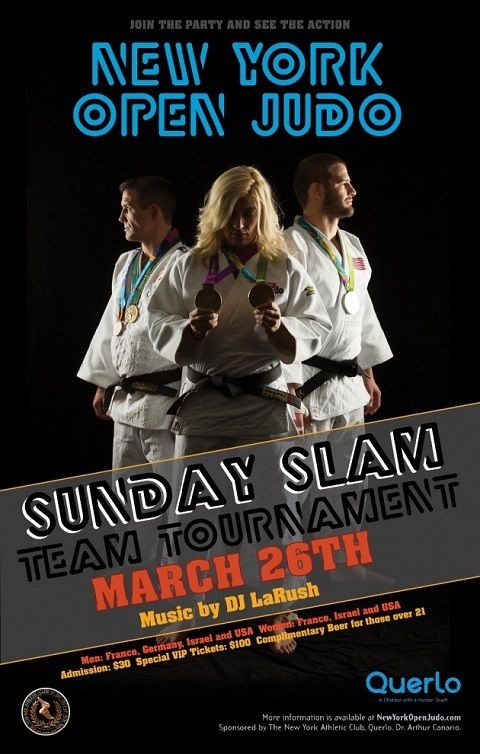 Image source: Judo via bitlanders
Judo is not something at least I am completely familiar with but I'll be doing my best to put things right on this blog. However, the topic is not just Judo but mainly the events and athletes related to it. Let us first begin with knowing little bit about Judo.
Judo - The Gentle Way
Although the sport "Judo" is practiced almost all over the globe it was founded in Japan, in 1882. It involves combat techniques which were derived from Japanese Martial Arts and have been used for many hundred years. However, these techniques and styles are performed under Judo, with some modifications. In Judo's terminology, it means "gentle way", which simply reflects its ways to fight. The kind of moves used in this, include mental strength and more mannered approach to defeat the opponent.
"Kano Jigoro, the founder of Judo in black suit"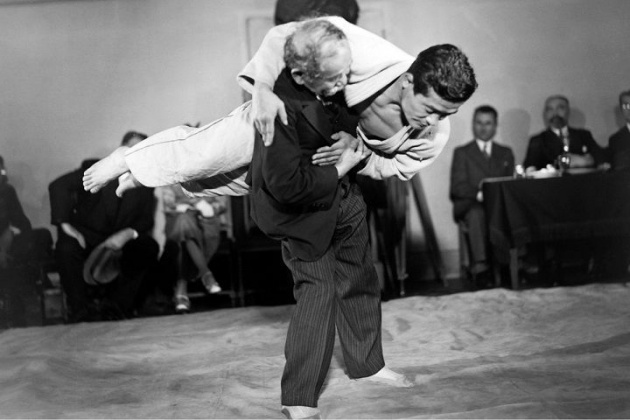 Image source: Gratland website
It is also a part of Olympics Games since 1964. In fact, it is the first Japanese Martial to be included in Olympics. After small time of its recognition in Japan, Judo received fame internationally. It reached USA in the end of 19th century and is practiced widely there.
There is a number of organizations which teach and run Judo tournaments in the United States. New York Open Judo is one of the prominent competitions held in the country.
New York Open Judo Championship

The biggest championship in North America, the New York Open Judo has been played for almost thirty years. It runs competitions which are played by the competitors not only from the US, but also from many other countries including France, Germany and Israel. The players from Olympics and also many champions take part in the championship, bringing more prestige to it.
"Kayla Harrison and Francesco Rulli with other athletes at 2015 tournament"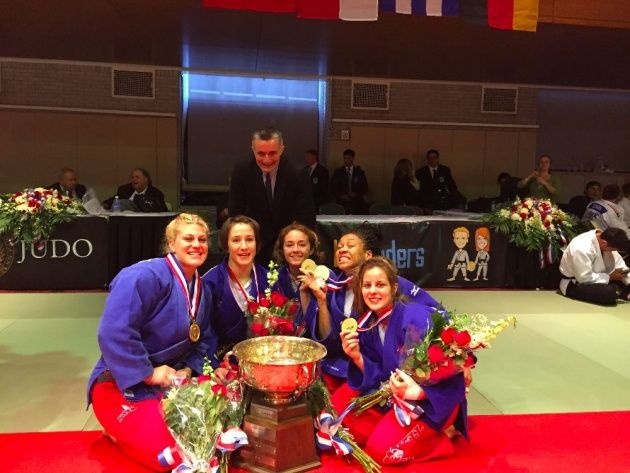 Image source: Francesco via bitlanders
Since, The New York Athletic Club holds the Championship, let us talk about it below.
New York Athletic Club
The New York Open Judo is not more than thirty years old since it was born, but foundation of the club dates back to 1868. It has hosted many championships including military championships, AAU Championships and also Pan-America trials. In 1958, its Judo team started to emerge and compete in various national competitions and also in Olympics. The club is a home to many champions from many local and international championships.
"Logo of The New York Athletic Club"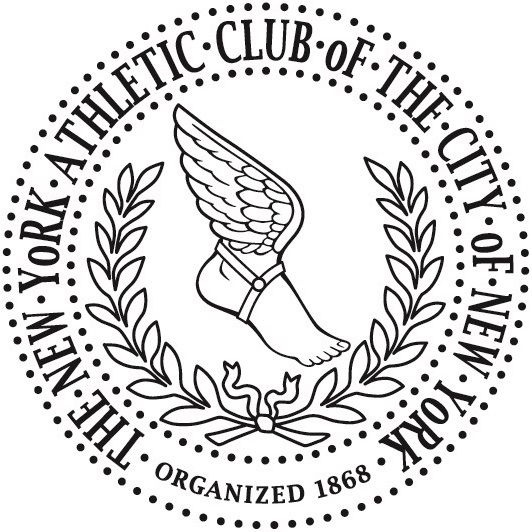 Image source: NYAC website
In 1983, it hosted its first Judo Championship as a national event which kept growing to a large international event. After that, many of its athletes titled the Olympics medals with their names. One of them is Jason Morris who won the first Olympic medal for the club, in 1992. In 2008, Ronda Rousey won the the first Olympic medal as female. Kayla Harrison is the Olympic Gold medalist member of the NYAC who has named two of such titles. Until now, the club has achieved 7 Olympic medals from 33 competitors.
What this tournament is offering this year, will be discussed right below.
2017 Tournament Details
The New York Open Judo Competition has attained huge success in the past years. And it is expected to be of more interest this year. The 2017 championship will be held at 26th of March at the same place, that is, NYAC, 6th floor. The day chosen is a genius choice because 26 March will be Sunday which is good for spending quality time in a holiday.
"Two players during a match in one of the previous Championships"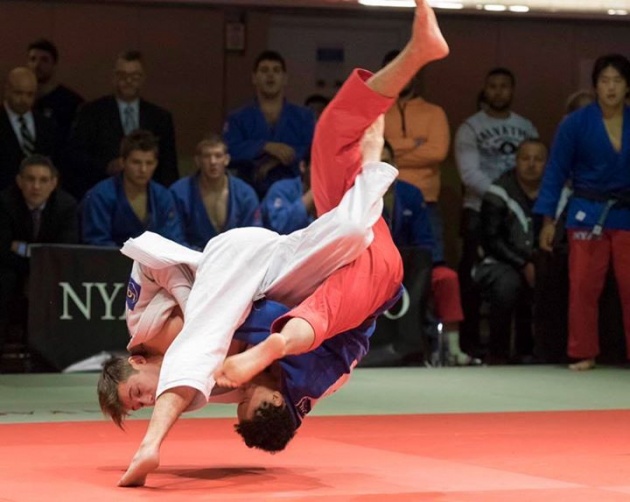 Image source: New York Open Judo website
Much of the information of about this event is yet to be announced. Though the details regarding schedules and the teams have been published on its website.
Preliminary matches for men will start at 11 AM whereas for women, timing for said matches is 1 PM. The finals will be played later on 3 PM.
"Highlights of the 2015 NY Open Judo"
Video source:
The Fight Nerd
via
Youtube
The teams for men's competitions this year will be representing Canada, France, Germany, Georgia and two teams from United States. The women's teams will be from countries: France, Israel and USA. The list of competitors from the USA team is present on the website.
Kayla Harrison
Out of them, Kayla Harrison is a distinguished athlete who aside from being a judoka, is said to be taking part in MMA after she signed with World Series of Fighting (WSOF). With being a two time Olympic Gold medalist, she holds two Golds from 2011 and 2015 Pan-American games.
"Kayla Harrison, in white suit at 2012 Olympics"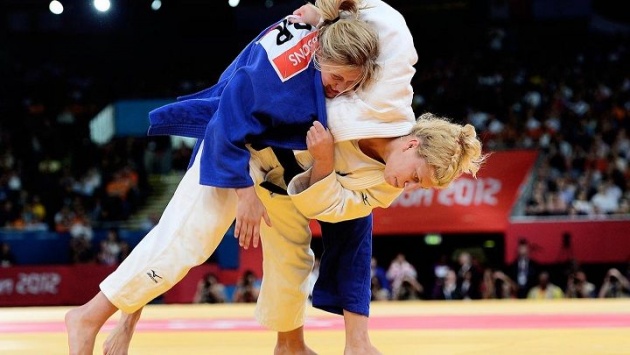 Image source: NBCOLYMPICS website
Considering the tickets, there are more than one packages having price from 25 dollars to 400 dollars.
The one with 400 USD price is the most interesting because of its facilities. If you buy this ticket, you will get to spend time with athletes and take pictures with the winners. It also includes brunch and banquet dinner while for the seats, 1st rows seats will be reserved.
You can learn more about the tournament and tickets here and here respectively.
Also take part in the Querlo Survey Chat to learn about the event and its Judo athletes.
We know that bitlanders is governed by the compnay MTI USA inc. and Francesco Rulli is its President. Apart from the company's involvement in various global good and charitable activities, it is involved in Judo too. In fact, its president is a 4th degree black belt Judo competitor and children Judo instructor at New York Athletic Club. His company sponsored the New York Judo Championships every year for the past 6 years. This year, Querlo being another body of the the company, is said to be the major sponsor of the Championship.
Here is a blog posted by Francesco, about the 2015 NY Open Judo Championship.
Thank you!
-Khokarjamal69