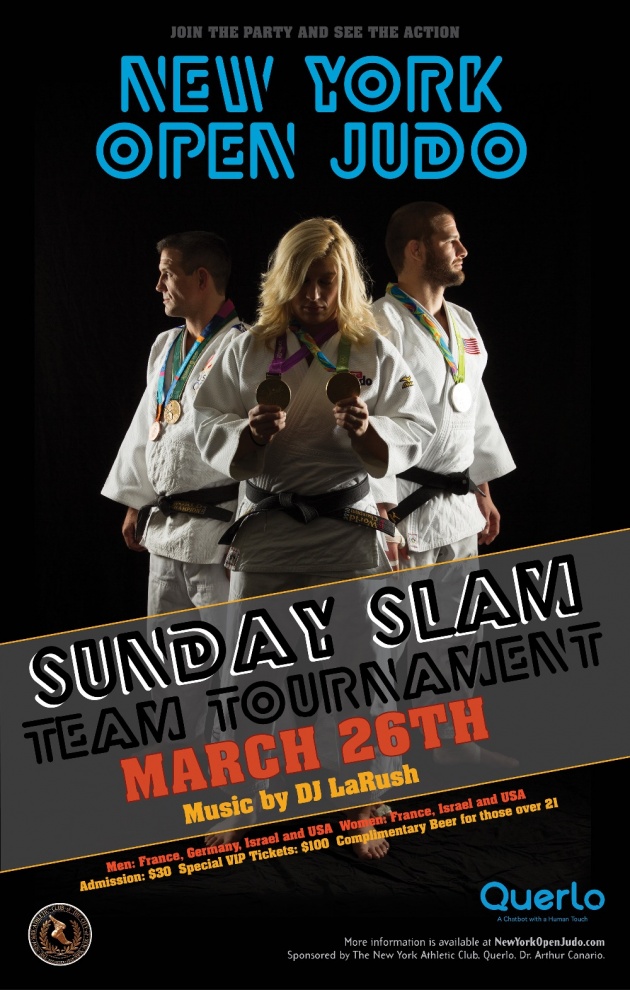 Each year elite judo competitors from across the world descend upon New York to represent their countries in one of the biggest team judo tournaments held in America. As always, it will be held at the prestigious and historic New York Athletic Club. Over its thirty-year history, the New York Open Judo Championship has hosted competitors from over twenty countries, including World and Olympic Champions. Following up on a hugely successful 2016 for both American judo athletes and, with recent legislation supporting combat sports in the State of New York, this year's tournament holds even more promise and prominence than ever.
On April 14, 2016, the ban on mixed martial arts (MMA) was lifted in the State of New York, and since then Kayla Harrison, two-time Olympic judo gold medalist and New York Athletic Club athlete, has capitalized by signing with the World Series of Fighting (WSOF). She recently made her first appearance as color commentator at the promotion's first event at Madison Square Garden, though her first fight is yet to be announced. This followed her historic run at the 2016 Rio Olympic Games where she secured her second-consecutive gold medal. The WSOF signing of Harrison symbolized a growing relationship between the world's fastest growing sport (MMA) and the historic, Olympic sport of judo.
As a New York Athletic Club athlete, Kayla is part of the most successful judo program in the country. Founded in 1958, the NYAC Judo program has produced 33 Olympic judo competitors,7 medals, the first female medalist (Ronda Rousey), and the only American gold won in the sport by Harrison.
Kayla's path from judo stardom to a career in MMA was thanks in great part to fellow NYAC athlete and trailblazer Ronda Rousey. On February 23, 2013, Ronda made her UFC (Ultimate Fighting Championship) debut and secured the first woman's title in the sport. The 2008 Olympic bronze medalist used her dominance in judo to become dominant in MMA, successfully paving the way for all women in the sport today. Her prowess, toughness, and swagger forced the creation of a women's division in a sport dominated by men, and won fans across the globe, as displayed by her ability to sell out stadiums and highlight cards in main event matches.
Now another NYAC judo athlete is the subject of speculation for a transition from judo to MMA: Travis Stevens. Utilizing an unparalleled proficiency in newaza (ground fighting which includes chokes, pins and submissions), Travis was able to secure the US's second Olympic medal (silver) at the 2016 Rio Games by choking to submission one of the world's greatest judo players in Georgia's Avtandil Tchrikishvili. Thanks to his tactics and exhilarating wins, he became the pride of both American judokas and Brazilian Jiu-Jitsu practitioners. Capping one of the most successful careers among American judo athletes, many have asked "what's next?" with MMA a constant part of the discussion.
Brazilian Jiu-Jistu (BJJ) is a big reason why Travis had such a successful Olympic run. It's a similar martial art to judo that focuses on ground fighting with technical chokes, arm bars and leg locks ('though leg locks are illegal in the sport of judo). The sport is wildly popular in New York and becoming more commonly practiced across the country and the world. Many of the NYAC's judo athletes are unafraid of cross-training in BJJ to create even more effective ground games. Travis frequents the Renzo Gracie Academy in New York City, training under John Danaher and with some of the most elite names in the sport today, like Garry Tonon and Gordon Ryan. There is a sense of brotherhood and respect between competitors of judo and BJJ that is perfectly captured by Master Renzo Gracie's annual attendance at the New York Open Championship.
Every year the New York Open Judo Tournament hosts Olympic medalists and the best judo athletes from across the world in a unique, team tournament. Last year it played host to the final matches on US soil of Kayla Harrison's prestigious judo career. This year the headlines are yet to be written, with new opportunities for elite athletes to make their mark on the sport and earn a place in judo history for their countries. This year's teams include Israel, France, Germany, and the USA.
Whether it be in a UFC title fight, an Olympic judo finals, or an elite-level BJJ match, there is nothing that makes fans' jaws drop quite like a perfectly timed, full-impact judo throw. The sport can be appreciated, respected, and enjoyed by all. That is the essence of the New York Open Judo Tournament: fans of all kinds and competitors of all nations coming together to enjoy judo, a martial art and a sport that is both unique and international.

By Thomas Pettersen and Matthew Pettersen
Querlo, a chatbot with a human touch, will be a major sponsor of the 2017 New York Open Judo Team Championships. Querlo's holding company, MTI USA inc., has been sponsoring the New York Open Judo Team Championships for the last 6 years. Francesco Rulli, President of Querlo and MTI USA inc, is an avid Judo competitor, Yodan (4th degree black belt) and children Judo instructor at the New York Athletic Club Saturday Morning Program.
For more information about new york open judo championship, please visit www.newyorkopenjudo.com and www.querlo.com/chat/5157 .