You think your pain and your heartbreak are unprecedented in the history of the world, but then you read. It was the books that taught me that the things that tormented me the most were the very things that connected me with all the people who were alive, who had ever been alive."--James Baldwin
Have you ever read an article or a book that speaks directly to your heart and soul?
Like it was written and meant for you?
There is this author whose books made me reconnect with the people that I love, whose written words speaks of how I feel, what I think, like he is telling a small tale about my life, and he is Mitch Albom.
Mitch Albom is an American author, journalist, sports writer/broadcaster, a musician. He got a lot on his hand, but still managed to write books, both fiction and non-fiction, and touched the lives of many others.
I came to know his works when I was looking for a cd in a record store named HMV in Central Hong Kong, on that Sunday morning, while taking my day off and since I a fan of books on sale, I saw two of his books, "Tuesdays with Morrie" and "Five People You Meet In Heaven", without thinking, I grab the books, paid and left.
On the same day, I read "Tuesdays with Morrie", didn't finish it all night since I was crying the whole time while reading. The following morning, my male employer, who is an American saw the book on top of the kitchen table and told me that I have the taste in choosing what to read. That was the start of becoming a Mitch Albom fan.
Becoming a fan of his works is not hard since he don't get his books published every year, I can enjoy his books, rereading them while waiting for the next one, then on 2013, I saw something.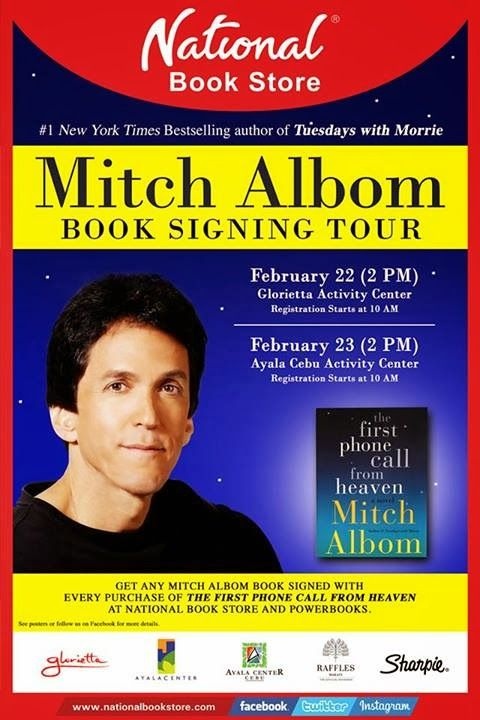 *Image is credited to www.randomelycluttered.blogspot.com
The book and the chance of meeting him in person.
On November 2013, "The First Phone Call From Heaven" came out on National Bookstore, it is still on hardback and it cost thrice as the paperback, I was so hesitant, but something caught my eye, he is coming to the Philippines and do a book signing event on February of the following year. Without giving another second thought, I bought the book and told myself of, this will be the first thing that I bought from my first salary.
I hurriedly told my nieces of attending the book signing in Glorietta and they have to help me get there since I don't know where to go in the big city. They are both excited as I am since both have read a couple of his books and were very happy if I will be happy to meet him.
The night before the book signing event, I packed by bags, traveled 9 hours by bus, yes I was traveling from Northern Philippines, far from Manila.
The book signing event.
Reached my nieces places early, but then I hurriedly have my breakfast and get ready to go to the mall. They even told me I was excited because it is still early, but told them we can not be late since the author might have a lot to meet and when we get there, I didn't expect that number of fans fallen in line.
The registration was 10 in the morning, and thebook signing will be 2:00 PM, and seeing the long line, I almost quit. Then the guard told us that only 500 fans will be accomodated. There was no dispersal, and people who passed us thought that the line was for a popular donut, J.Co. since we were in from of the store, and the line looks like it goes on forever. Then another news came, the bookstore will register everyone who have fallen in line, I am glad that I didn't give up.
Since the registration tooks hours since I was done, my nieces took their time enjoying their coffee and donut, and joined them after registration, I need to fill my stomach because it will be a long day or night since I will be able to mee him in person, for my number was 1354, yes more than a thousan and there are still more registering.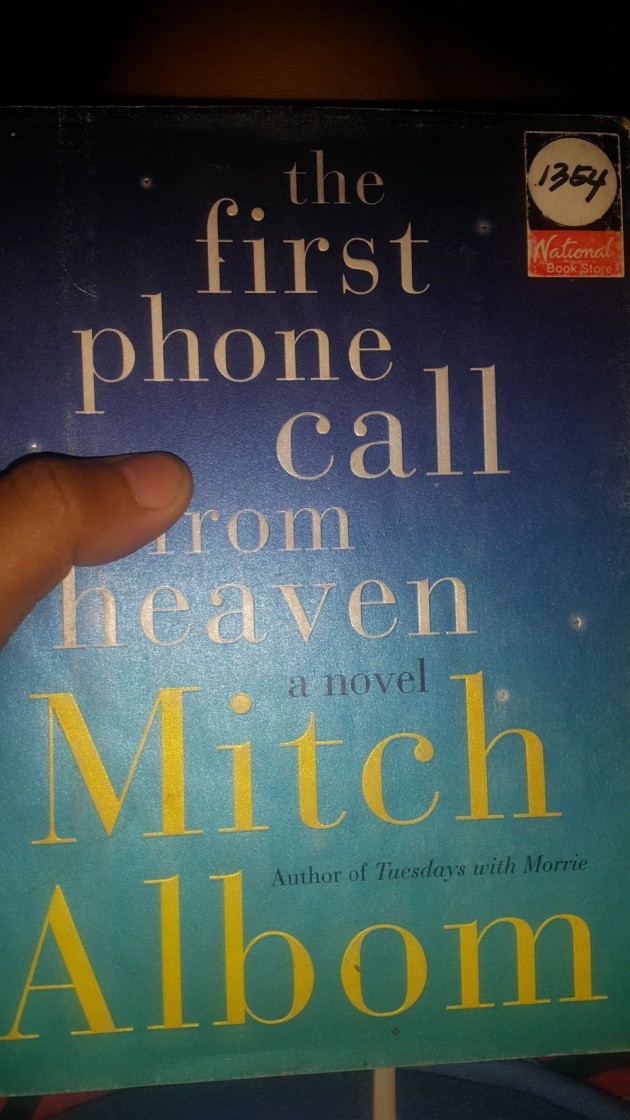 *Image is credited to Rain Tajon via www.bitlanders.com
The time has come.
He was a little late, just few minutes, but we didn't mind. With my number, I was far from him. While waiting for our time, I met some fellow fans and share why we became Mitch Albom's fan and what book is our favorite. We talked about from where are we, and when I told them that I am from Ilocos, they were like surprise how far I came from and said that I am really a BIG FAN of Mitch Albom.
Another news came, the plan was to just entertain a thousand then Mitch Albom said, he will be taking everyone's book and be signed and of course got the chance to have a photo with him.
My time has come, and the time was past 10 PM, when my number was called and seeing him after shaking hands was overwhelming. The words that I said to upon seeing him was, "Hi! How are you?". He had been smiling all the time but I can see on his face, he is tired but happy at the same time. Yes, he told to his fans how happy he is to see fans, patiently waiting for their turn.
The travel, the long line, the waiting was worth it. Meeting the man that made me cry, made me regret on few things, made me see the light, it is all worth it. And it he will be visitng the country and have another book signing event, I will take a leave from work and meet him again.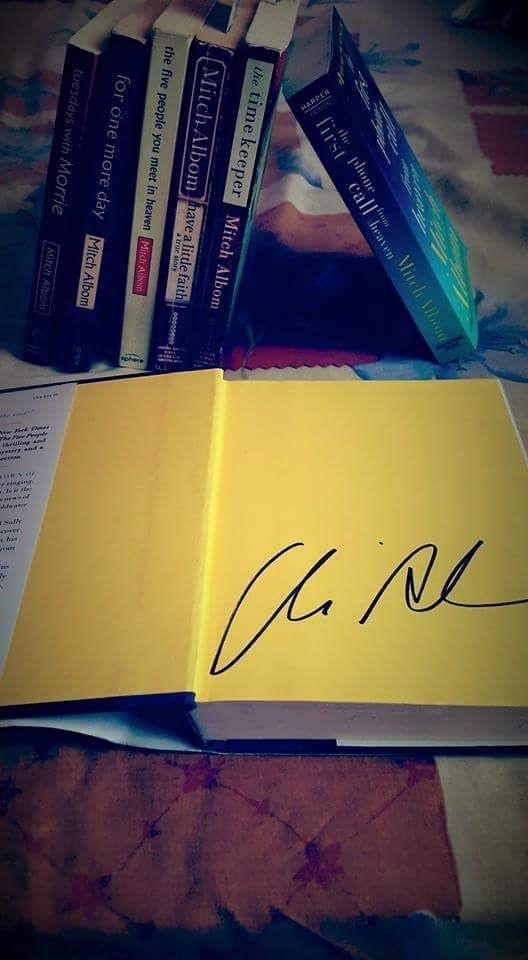 *Image is credited to Rain Tajon via www.bitlanders.com
Reading his books has been my guide towards life, it made me feel more human, where there I feel compassion, love, kindness. And not only that, what he had done to the victims of Typhoon Yolanda(Haiyan) was far more beyond what I expect him to do with my country. He just didn't share his thoughts, but shared more. He donated books and promised to help in building libraries too, when he visited the affected place. There is more too see about this man. Morrie Schwartz must be happy for what he is doing now.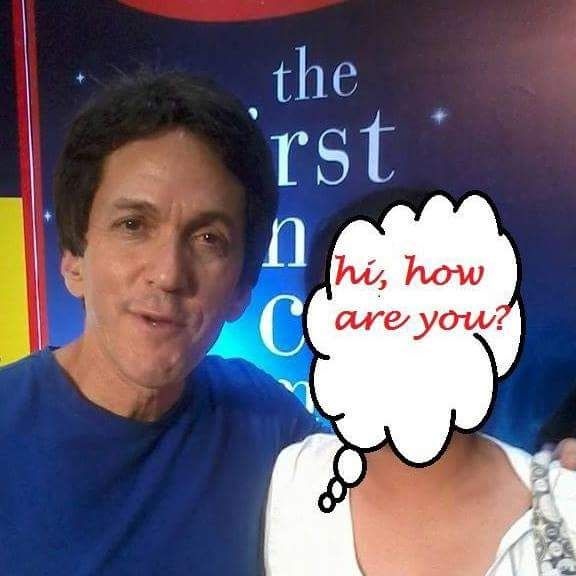 *Image is credited to Rain Tajon via www.bitlanders.com
Thank you for reading. :)
Here are some of what I have write about his books and you can check them too.
The First Phone Call from Heaven
The Five People You Meet in Heaven