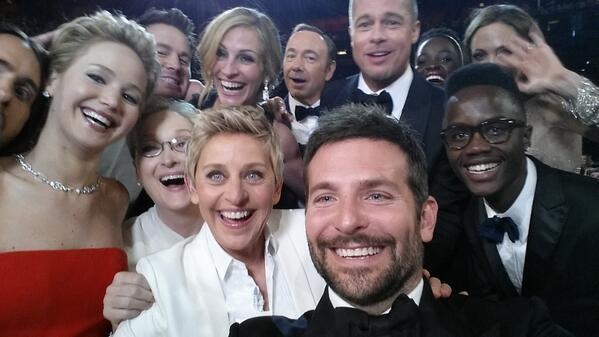 The 86th Academy Awards were just a tiny bit dull. Thank goodness I had a coffee machine in my hotel room. After last year's host Seth MacFarlane managed to alienate the celebrity audience, this year's master of ceremonies Ellen DeGeneres launched a charm offensive on the Oscar contenders. Selfies, pizza, a $200 tip from Harvey Weinstein – what was so special about that? The event was stolen by Junior Nyong'o who gate-crashed that photo, but somehow the whole event was reduced in stature.
Inevitably your eyes were drawn to celebrities who had seen better days. Liza Minnelli, Kim Novak – how could they be so cruel? The Oscars were not just pro-gay and anti-slavery - they were a warning against the dangers of plastic surgery.
Ellen's best joke was a pun on Somali. Somali/Sommelier – 'Who's the wine captain now?' Barkhad Abdi smiled with his two polished teeth and I felt for him – mainly because he still had his front choppers. (Lucky chap!)
Whilst SAVING MR BANKS missed out of the party, THE WOLF OF WALL STREET, PHILOMENA, NEBRASKA, CAPTAIN PHILLIPS and AMERICAN HUSTLE didn't get to take off their coats. No wonder Martin Scorsese took a slice of Ellen's pizza; he knew he would otherwise go home empty-handed.
The spoils were split between 12 YEARS A SLAVE (Best Picture, Best Supporting Actress, Best Adapted Screenplay), GRAVITY (Best Director, Best Editing, Best Cinematography, Best Music, as well as two awards for sound and one for visual effects), THE GREAT GATSBY (two for costume design and set decoration for Catherine Martin), DALLAS BUYERS CLUB (Best Actor for Matthew McConaughey, Best Supporting Actor Jared Leto, Best Hair Styling), BLUE JASMINE (Best Actress Cate Blanchett, who did acknowledge Woody Allen this time out but only gave credit to his screenplay, not his direction – her Sydney Theatre company was responsible for that), FROZEN (Best Animated Feature and Nest Original Song) and HER (Best Original Screenplay for Adam Spiegel aka Spike Jonze).
There were some surprises. 20 FEET FROM STARDOM beat THE ACT OF KILLING to Best Documentary Feature. This was in keeping with the African American empowerment theme. I don't think Morgan Neville (20 FEET's helmer) is a better documentarian than Joshua Oppenheimer, but then Darlene Love, one of his backing singer stars, have got bigger lungs. I wasn't sure how McConaughey beat Chiwetel Ejiofor to Best Actor – a better agent, I think. As for Best Animated Short, GET A HORSE was beaten by MR HUBLOT. Mickey Mouse lost out again.
Scorsese was thanked by Paolo Sorrentino, who picked up the award for Best Foreign Language Feature. Other awards went to HELIUM (Best Live Action Short) and THE LADY IN NUMBER SIX (Best Documentary Short).
Ellen opened the show saying she last hosted 7 years ago 'glad they asked me back so soon.' This remark, calling Liza Minnelli a female impersonator and her change to a fairy dress were just some of the ways she put the alienation back into hosting.
Watched at Hampton Inn Chelsea ,W 24th Street, NYC, Room 607 - in digtal!! Sunday 2 March 2014 - ABC 20:35-00:05