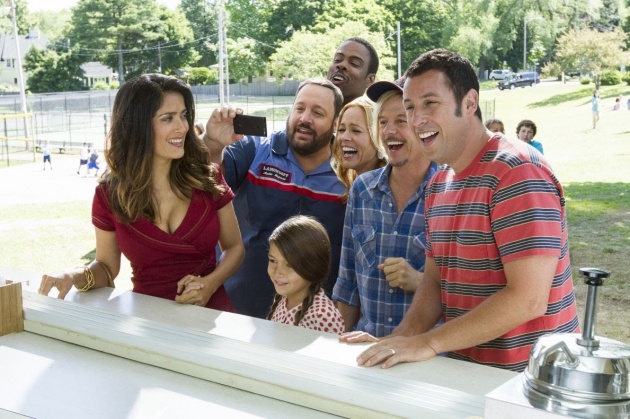 If Meryl Streep is the perennial Oscar favorite, then Adam Sandler is the Razzie king! Launched in 1980, the Golden Raspberry Awards or the Razzies is a spoof of the awards season honoring the worst of the year!
Sandler's "Grown Ups 2" dominated the nominations with 8 nods including worst picture, sequel, ensemble, screenplay, lead actor for Sandler, supporting actor for Taylor Lautner, supporting actress for Salma Hayek, and director for Dennis Dugan.
Sandler should have a Lifetime Razzie Achievement Award by now winning the worst actor trophy for "That's My Boy" last year, and in 2012, his "Jack and Jill" made Razzie history by taking home 10 awards and the comedian getting both the worst actor and actress crowns!
But this year, Sandler has stiff competitions from the likes of Johnny Depp, yup, the Johnny Depp of "The Lone Ranger," both Will and Jaden Smith for "After Earth," Ashton Kutcher for "Jobs" (okay, this one's unfair, I thought Kutcher did a good job), and Sylvester Stallone being honored for worst actor for three movies including "Bullet to the Head," "Escape Plan," and "Grudge Match."
"Grown Ups 2" will be competing with "After Earth," "The Lone Ranger," "A Madea Christmas," and "Movie 43" for worst picture of the year.
Per tradition, winners (or are they losers?) will be announced on "Oscar Eve," Saturday, March 1st. Remember when Sandra Bullock took home the worst actress for "All About Steve" and then the next evening won the best actress Oscar for "The Blind Side?"
Here are your full nominations for the 34th Annual Razzie Awards:
WORST PICTURE
After Earth
Grown Ups 2
The Lone Ranger
A Madea Christmas
Movie 43

WORST ACTOR
Johnny Depp: The Lone Ranger
Ashton Kutcher: Jobs
Adam Sandler: Grown Ups 2
Jaden Smith: After Earth
Sylvester Stallone: Bullet To The Head, Escape Plan, Grudge Match

WORST ACTRESS
Halle Berry: Movie 43, The Call
Selena Gomez: Getaway
Lindsay Lohan: The Canyons
Tyler Perry: A Madea Christmas
Naomi Watts: Diana, Movie 43

WORST SUPPORTING ACTRESS
Lady Gaga: Machete Kills
Salma Hayek: Grown Ups 2
Katherine Heigl: The Big Wedding
Kim Kardashian: Tyler Perry's Temptation
Lindsay Lohan: In-App-Propriate Comedy, Scary Movie 5

WORST SUPPORTING ACTOR
Chris Brown: Battle Of The Year
Larry the Cable Guy: A Madea Christmas
Taylor Lautner: Grown Ups 2
Will Smith: After Earth
Nick Swardson: A Haunted House, Grown Ups 2

WORST DIRECTOR
The 13 People Who Directed Movie 43
Dennis Dugan: Grown Ups 2
Tyler Perry: A Madea Christmas, Temptation
M. Night Shyamalan: After Earth
Gore Verbinski: The Lone Ranger

WORST SCREEN COMBO
The Entire Cast of Groan-Ups, Too
The Entire Cast of Movie 43
Lindsay Lohan & Charlie Sheen: Scary Movie 5
Tyler Perry & EITHER Larry the Cable Guy OR That Worn-Out Wig & Dress: A Madea Christmas
Jaden Smith & Will Smith on Planet Nepotism: After Earth

WORST SCREENPLAY
After Earth: Screenplay by Gary Whitta and M. Night Shyamalan, Story by Will Smith
Grown Ups 2: Written by Fred Wolfe & Adam Sandler & Tim Herlihy
The Lone Ranger: Screen Story & Screenplay by Ted Elliott, Justin Haythe & Terry Rosso
A Madea Christmas: Written by Tyler Perry
Movie 43: Written by 19 "Screenwriters"

WORST REMAKE, RIP-OFF or SEQUEL
Grown Ups 2
Hangover III
The Lone Ranger
Scary Movie 5
Smurfs 2