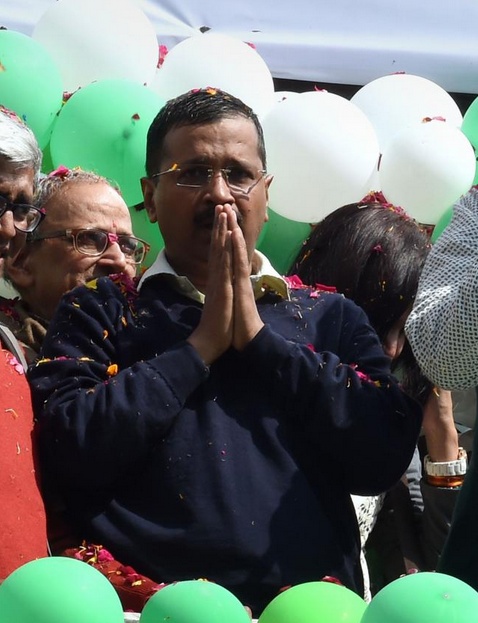 Arvind Kejriwal, who trounced Prime Minister Narendra Modi's party at New Delhi's state election, is a former tax inspector with a record of campaigning against graft in India's notoriously dirty politics.
The 46-year-old quit his comfortable and highly sought-after government job in 2001 and embarked on a career as an anti-corruption campaigner that lead him to national fame.
He was catapulted into the Delhi chief minister's post after his anti-corruption Aam Aadmi (Common Man) party made a stunning breakthrough at the capital's last election in late 2013.
But he resigned 49 days later after a chaotic spell in charge, leaving the city without a government for a year and sparking accusations that he was fleeing the tough job of administration.
During the campaign this time around, Kejriwal apologised for abandoning the city and went on to become the star of the show, winning over legions of working-class voters willing to give him a second chance.
"We have to serve people of Delhi and develop it into a city so that both rich and poor will feel proud of it," Kejriwal said on Tuesday outside AAP's headquarters, as hundreds of supporters showered him with petals.
"I appeal to the AAP workers and leaders not to be arrogant" because of the massive victory, said Kejriwal, who is known as Muffler Man for often wearing scarves around his head at rallies.
According to the election commission, the AAP was set to capture 67 seats in Delhi's state assembly, trouncing Modi's Hindu nationalist party on three.
He is expected to be sworn in as Delhi chief minister on February 14.
- 'Common man hero' -
The victory caps a remarkable comeback for Kejriwal, whose party flopped at national elections last May when Modi stormed to power also pledging to clean up government.
During his last brief tenure as chief minister, Kejriwal initially won rave headlines with his no-nonsense approach to endemic corruption and for shunning the VIP culture of Indian politics, including by riding the metro to his inauguration.
But the radical tone of some of his announcements were widely criticised, and his administration was soon embroiled in a series of stand-offs with authorities.
The self-styled "anarchist" staged a sit-in on the pavement close to the national parliament, triggering chaos in the city centre, as part of a push to be given greater powers of control over the police.
This time around, Kejriwal pledged to stay in power for the long haul and see through policies for the "common man" including lower utility bills and free wifi.
"He's put everything on the line for people like you and me and everyone else here. He's a common man hero," said 36-year-old accountant Poulomi Gupta as she celebrated his win on Tuesday.
After initially starting an NGO to help voters avail themselves of public services, Kejriwal switched his attention to promoting a Right to Information law, which was finally passed in 2005.
His work on the legislation, a success story in opening up the government and a tool now used by campaigners to expose corruption and collusion, earned him "Asia's Nobel", the Ramon Magsaysay Award.
In 2010 he began working on ways to pressure the government into passing a law to create an independent ombudsman capable of investigating complaints against public servants.
Together with elderly activist Anna Hazare, he launched a nationwide campaign that tapped into deep-seated anger about graft amid a succession of scandals involving the previous national government and culminated in hunger strikes by Hazare in front of huge crowds in Delhi in 2011.