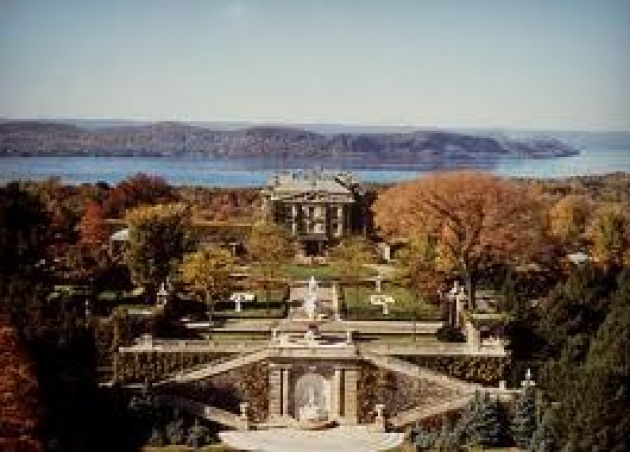 Kykuit is the Rockefeller Family Estate in Potantico Hills at Tarrytown overlooking the majestic Hudson River. Some have said that this is the home God would build if he could afford it! It's nothing short of spectacular. Four generations of the family have lived there since it was built. I took my son, Manny for a day-trip this summer , and we enjoyed ourselves immensely.
The word 'Kykuit' is an old Dutch word meaning 'Lookout'. It is so appropriately named, as it sits on the highest point over Tarrytown and the river, and covers 3500 acres. The views of the Hudson are unobstructed, and as far as you can see are 'The Palisades' across the water, the grand cliffs that remain from the great melt of the Ice Age. The main house was built between 1903-1908. Old John D. Rockefeller moved in with his wife Laura Spellman Rockefeller in the summer of 1908. It is built of beautiful slabs of fieldstone by stone masons that were imported from Germany. There had been a simplier wooden frame house on the property that burned down in a fire at the turn of the last century, and JDR decided to replace it with this grand home situated in the midst of some heaven on Earth. He had a 9 hole reversable golf course built, so that you play a full 18 on the return. His son John D. Rockeller Jr., known throughout his life by his staff as 'Junior', had much to do with the planning of this magnificent home. JDR was already 70 when he moved in and Jr. was a young man looking to please his mother and father, so he took special pride in seeing that everything here was done to perfection, just as he did with Rockefeller Center in Manhattan. There is a classical balance that is immediately noticeable when walking through the inviting and pristine gardens surrounding the house. Ohh the parties that they must have thrown there!
After JDR's passing in 1937, Jr. and his family took it over. Jr. was married to Abby Aldrich Rockefeller (daughter of Senator Nelson Aldrich of Rhode Island), and they had five sons and a daughter. Her father auhored The Aldrich Plan, which created The Federal Reserve Bnk in 1914. Abby, Winthrop, Nelson, John, Laurence, and David (still alive and just celebrated his 96th birthday a few months ago). The entire family went on to do great things with their lives both in business, government, and most esspecially in philanthropy. JDR Jr. died in 1960 and is buried there in the family tomb.
In the next generation... Nelson Rockefeller, the former Vice President and Governor from NY., took over the property for his family. He aded to it's grandeur nd beauty by incorporating art and sculpture throughout the house and grounds. There are several brillantly placed sculptures by Henry Moore, Alexander Calder, and others in the gardens surrounding Kykuit. And, in the basement, which is literally a museum you will find Miro, 11 Picasso tapestries (that each took one year to complete), Calder, Matisse, Pollack, the list goes on and on...While upstairs are a Gilbert Stuart portrait of President George Washington another favorite portrait is that of President Abraham Lincoln placed on the wall opposite GW. Above the fireplace in the living room is Abby Aldrich Rocekfeller's portrait and in the dining room are two portraits... one of JDR by John Singer Sargent above this room's fireplace and placed there by JDR Jr., and on the opposite wall facing Grandpa is a portrait of JDR.Jr. plaed there by his son Nelson Rockefeller.
In it's heyday, Nelson and his guests often would arrive by helicopter, and Presidents, Kings, and Queens, and other dignitaries were entertained in the house and at that table by the Rockefeller's. One story ges that when the Henry Moore sculpture was installed by the then Governor in the garden, next to he first hole's tee... his younger brother David was teeing-off with some important bankers and the helicopter that was lowering the piece into place blew them and their balls away! David was Chairman of Chase Manhattan Bank and furious wth his older brother, thinking that he did it on purpose for a laugh! Nelson had rented the helicopter and had scheduled the installation fo the day before, but bad weather prohibited the job from being done, so the next nice day was ideal! It was just unlucky timing for David and his friends, but legend has it that the brothers didn't speak for weeks after the incident.
If you were hungry for a late night snack, you just needed to press a button that would light-up an electronic notice board in the kitchen, and the staff would know where to bring the goodies. Installed, were elevators and dumbwaiters for the family and guests comort and convenience. In the 'office' as it was called by NR, he had a television set hidden by a bookcase ful of 'faux' books. I'm also sure that some heavy dealmaking and politicking went down in that room! Across the hall, and also on the first floor, is the ladies parlor, where Laura Spellman and then later Abby Aldrich Rockefeller would entertain their friends. Very old world, the men went to the office to and the women went to the parlor. In the parlr they would play board games and gossip. Nelson lived there with two families, first Mary Clark Rockefeller, who he had five children with and divorced in 1960, and then with Marguerite "Happy" Rockefeller, who is 86 years young and lives next door to Kykuit, in what was the guesthouse. Her children Nelson Jr. and Mark are grown-up now, and recall fond memories from their chlldhood there with Dad and family through several books that are sold at the gift store. Kykuit is now owned and maintained by the National Trust and the Hudson River Valley Historical Society. Rockefeller Brothers Foundation leases back the Carriage House and perates it for the Foundation's presentations and business. And, the family still has use of the gymnasium and golf course.
The Estate has it all... the golf course, a farm, riding trails, gymnasium with indoor basketball and tennis courts as well as outdoors, several fountains with sculptures of Poseidon and other gods and goddesses, six swimming pools, the Carriage House that housed twenty carriages and thirteen automobiles, the stables, the garden and Japanese Garden and Grotto, and of course, Nelson Rockefeller's own personal art collection in the basement of the main house is like a museum! There's a wonderful organic restaurant backed by David Rockefeller, serving veggies and fruits grown on the estate, it's called The Stonehouse at Blue Hill. The Union Church has beautiful stained glass windows made by Matisse and donated by The Rockefellers. The Old Dutch Church is close by as well, and is the oldest church in the state of New York, built in 1685 by Lord Philips, who owned 52,000 acres of NY back then! Well worth the trip, and easy to get to via Metro North from Grand Central Station in NYC. Also places of interest in this historic area of the Hudson Valley are Washington Irving's 'Sunnyside Estate', where he wrote his masterpieces of American literature... The Legend of Sleepy Hollow and Rip Van Winkle,Lyndhurst Castle, Van Cordtlandt Manor, Montgomery Place, and the nearby Philipsburg Manor, a working farm that dates back to 1750, and sits next to the Hudson Valley Visitors Center, where you go to meet the Kykuit transporation / tour bus. Oh yeah, and if you didn't already know, the Rockefeller Family Fortune was derived from The Standard Oil Company, the first successful national oil refinery business. It was created in 1863 to refine oil for kerosene. By the time JDR died in 1937, he and his family were worth over 10 billion dollars, adjusted in today's dollars to 190 billion! By Jeffrey & Manny Sado