The Broghil valley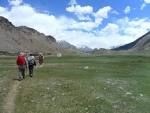 Pakistan is my dear homeland,where everything,mighty mountains,four season,season wise temperature,precious metals like gold,silver etc,best production of agriculture ,and so on.God gives us all the things, We should be thank full to God.
Today i am going to tell about The beautiful ''Broghil valley'' of Pakistan.The broghil valley,situated about 250 km from Chitral.The scene of here is amazing,extended glaciers,incredible wildlife,green trees,and beautiful lakes.

Culture show the local people whole life style.In broghil valley three day broghil festival is held in mid July,a very happy moment for the locals to show their culture,in festival generally comprises sporting events including buzlcushi,horse racing,marathons interesting game 'yak polo' and local music.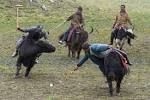 Yak polo played at an altitude of 13000 feet above sea level .yaks are a source of livelihood for locals.

To avail the opportunity this incredible land two option are available one can take flight but it is often subject ti cancellation because of weather condition and the second one is to drive from Chitral to this area.
These landmarks attract many locals and international tourist to this part of the country,You should also to be visit this valley and enjoy the beautiful scenes of Pakistan...
Thanks you