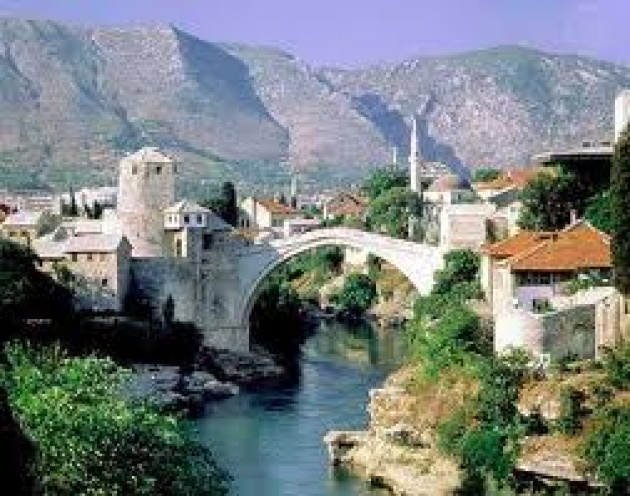 During 1992-95, systematic rape was employed as a tool of war in Bosnia & Herzegovina. In 2012, Bosnia & Herzegovina commemorates its 20 Years of Independence, the Start of War, and its Admission to the United Nations. We hear from a member of its diaspora, Naida Sekic, who has contributed as a guest writer for Diplomatically Incorrect before. For me, the most striking lines in Naida's essay occurred when a returning husband/soldier upon seeing his raped and sexually abused wife professed: 'Who did this to you, Esma?!' 'The world, Omer. It watched as I bled and it enjoyed every drop.'

The message resonates "Once More, Never Again" in today's many struggles throughout the world. Collective humanity cannot cast a blind eye to mankind's tragedies and atrocities.


Brought to you By Susan Sacirbey and Diplomatically Incorrect



"The SCREAMS OF NERETVA" By, Naida Sekic


"Omer and I grew up on the same street. For years our eyes would meet in a thousand places; in the local shop or the library, though only for a split second. I was too shy to greet his smile. After all he was six years older than me. Instead I would lower my gaze and think a million thoughts of love. My feelings remained unspoken though I kept them very much alive through the writings of my heart. Omer was exceptionally beautiful. He was a tall young man, full of life and potential. I used to watch him care for his younger siblings from my window. He had big dreams of studying civil engineering in Sarajevo, and so he did. Once Omer left, a wave of emotions swept over me, feelings I had never before embraced. I was in love.


Two years later my father sent me to Sarajevo to pursue academic studies in journalism. Sarajevo was absolutely breathtaking. Omer and I met at campus. In fact, we met at the head library where we used to study. After months of studying, he finally asked me out for coffee. 'You look different.' 'Different?' 'I see a young woman now. You're not a little girl anymore.' 'So it's a good kind of different?' 'It's a very good kind of different.' 'Why do you care how I look like anyway? You have a thousand girls running after you, and you choose me. Why?' 'Esma, my eyes have always been set on you.' 'And what is it that they see in me, Omer?' 'The mother of my children.' 'Really?' 'Yes, really.' 'How is that so when you and I have never spoken before?' 'Your modesty spoke for you.' 'How can you trust my modesty?' 'Esma, I am in love with your modesty. Tell me, am I a fool for speaking my heart?' 'No Omer, of course not. I am just overwhelmed.' 'I trust what I feel for you, Esma. My heart has always been faithful to me. May I know what you think of me? 'Is it too soon to say I love you?' 'Do you love me?' 'Yes Omer, I do love you. I have loved you for a very long time.' 'Then I think you should say it.' It was the most romantic moment of my life. Three months later Omer and I married beneath the blue in Sarajevo. He was my first love; my first everything.


Our dreams of a new life were quick to fade with the outbreak of hell. Omer was called to fight the Aggressors with his bare hands. Our country was falling apart and I was terrified. Our families and I stayed in a small house in central Bosnia. I thought I was safe until the Aggressors encircled the town with heavy forces. Women and men were separated from each other. I was taken to a former school and kept hostage for seven months. At first they starved me. Then came torture. I was to become the definition of rape. I was savagely beaten and abused by various Aggressors several times a day. Every inch of my body ached. My heart ached. My soul ached. I could no longer cry. Rivers of blood would stream down my legs. I begged them to kill me. To end me. But they were merciless. They kept on beating me until I fell unconscious. And then they would do it again. And again. And again. After seven months, I was left to go home…


…Once released, my life was never to be the same again. I did not dare to ask for Omer. My parents did the best they could to care for me. They knew nothing. It was for the best. One night, a man stood by the door covered in mud and blood. It was my Omer. I could hardly recognize him. He sprang toward me but I ran out. 'Esma, come to me!' 'Omer, please don't touch me. You don't want to touch me. There is no soul left to feel. I am filth.' A thousand questions followed by yet a thousand reasons to run, and never come back. 'Who did this to you, Esma?!' 'The world, Omer. It watched as I bled and it enjoyed every drop.' 'Esma, please let me hold you. I just want to hold you.' 'How can you love me, Omer? I am shame. I am dirt. I am no longer the woman you married. I am just a number. Can't you see? They have robbed me of all that I have. I beg you, leave me be and find yourself a dignified woman to mother your children. Go away from me! Please Omer, just go!' He deserved so much more than I had to give. 'I will never walk away, Esma. How is a man to see without his eyes?'…


See this as a small reminder of the tens of thousands of women who were systematically raped and sexually abused during the 1992-1995 Aggression. This extract is taken from a short story of mine called "I am Bosnia and Herzegovina" – A story of rape, which is based on true tragedies. Though not all Esmas got their Omers in the end, this piece serves as a plea which screams for justice to the Queens of Bosnia and Herzegovina. May the hearts of all heroes be granted peace, strength and contentment.


---Naida Sekic



Become a Facebook Friend: "Susan Sacirbey" & "Diplomatically Incorrect"

Follow on TWITTER @DiplomaticallyX



See more at our Popular Video Blogs & Current News Event Articles – diplomaticallyincorrect.org/c/bosnia


See our Online Video Platform and Current News Event Articles - The Genocide of Srebrenica http://diplomaticallyincorrect.org/c/the-genocide-of-srebrenica and the video for blogs: "Bosnia Rape Victim Healing" diplomaticallyincorrect.org/movie/bosnia-rape-victim-healing/28794