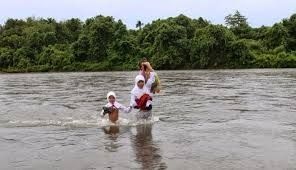 Instead of lazy and ditching, elementary school children from Nagari Koto Nan Tigo must pass through fast-flowing river, every day on the way to school. But, there's no hanging bridge. The choice is only one, they plunged into the river and against the swift current of water.

These children are not perplexed that their uniforms are clean not wet. Before getting into the river, the clothes from the waist down forced stripped. For small children, the uniform top had to be rolled up to the chest.

They were then hit the heights of the river flows through the upper abdomen in order to get to the opposite. Shoes, bags, and uniforms under held high so as not to get wet.
Children with this tiny body must maintain is balanced. Just a little shaky, can be fatal. Swept away. Some students even hold each other in order to maintain balance.