The Three Musketeers is a novel by Alexander Dumas set in 1625. Athos, Porthos and Aramis are the names of the three main characters in Dumas' novel. Their contemporary names are Mel, John and Arthur. My Three Musketeers are the Tournament Directors of the New York Open Judo.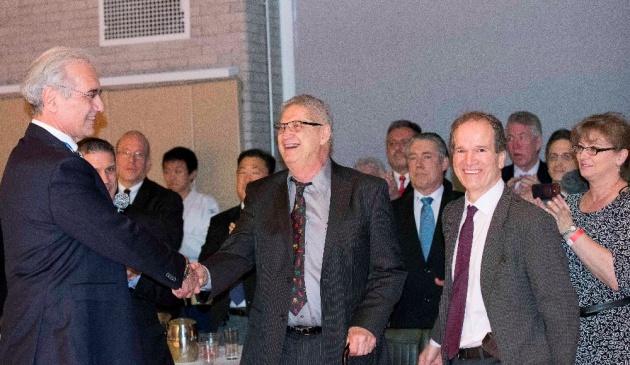 Arthur Canario with Mel Appelbaum and John Walla, photo by Deborah Shapiro
Mel Appelbaum is a Mathematician and accomplish business man with great stories from when he was competing in Judo to his Olympic experience as a referee and his role of tournament director for the New York Open. Mel has and remain an important point of reference for all of us who competed and trained. His advice is sharp and measured, his sarcasm is swift and balanced, his Osotogari deadly! Mel is connected with every judoka in the world, and every year, he surprises us with new teams and players that make the New York Open Judo Tournament the highest level Judo event in North America.
John Walla is the banker who placed 5th in the World's Masters in Amsterdam this year in the 73kg division. This kind man turns into a lion when he steps on the mat. John spent countless hours coordinating the New York Judo Open, sending thousands of emails and text messages to Alessandro and I, and others who collaborate with him. His cauliflower ears say a lot about his exceptional new-waza! John is a very patient and measured person with a genuine enthusiasm for the sport of Judo.
Arthur Canario is the tallest Italian you can find in NYC! He is an orthopedic doctor and insurance consultant with an authoritarian voice. A former football player in college and national champion in Judo, Arthur is a solid tough 220 lbs hairy man who can take down mountains. Arthur is a very generous supporter of the NY Open and for years, he donated large sums to support the event. Arthur won several medals at the World's Masters and always trains to win. Every year, his centerfold on the NY Open Judo program is the most interesting part. This year, Arthur Canario's speech at the 2016 New York Open Judo was dedicated to Mel Appelbaum, his "Brother in Judo," who was awarded for his support and dedication to the event throughout all those years.
The Three Musketeers are role models for all of us. Every year, they bring us an incredible event, along with a lot of joy. Long live the Three Musketeers!
- D'Artagnan