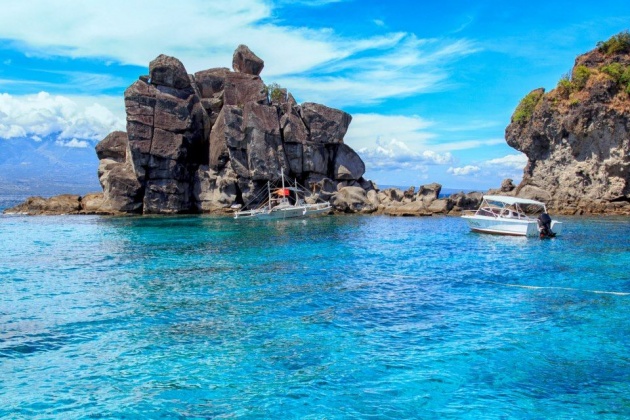 Photo Credit: Joseph Bacalso
There are memories that can never be erased nor can be replaced because every journey has its own story to tell. And one journey that I can never forget is the Apo Island adventure. You may wonder why this trip is my most unforgettable experience. Well, let me track down that travel and let this journey begin.
Apo Island is situated in the southeastern tip of Negros Island specifically Negros Oriental. The name APO was derived from a Filipino word "grandchild". The island is one of the world's best known marine sanctuary that it became a popular diving site and snorkeling destinations by mosts tourists both local and foreign.
So how to get to the island?
Video Credit: GMA Public Affairs on I Juander
Here are some ways to reach the island. Your main point of island transfer is in Dumaguete City- the capital of Negros Oriental.
IF YOU ARE TRAVELING FROM OUTSIDE THE PHILIPPINES
o Get there by flying to Sibulan Airport. If you have connecting flights from any airports in the Philippines just ask for assistance from the airline or airport attendants for flights going to Sibulan Airport.
o From there, take a ride (jeepney or trike) going to Malatapay Market.
o Take a boat from Malatapay market that will transfer you to Apo Island.
IF YOU ARE FROM ANY AIRPORT IN THE PHILIPPINES
o Just take a flight going to Sibulan Airport.
o Go to Malatapay market by jeep or by trike.
o Board on a boat from Malatapay to take you to the island.
IF TRAVELING FROM CEBU
o Take a bus from Cebu South Bus Terminal bound to Liloan. Travel time is 3-4 hours.
o From Liloan, ride a ferry for 30 minutes going to Dumaguete City.
o Once in Dumaguete city take a jeep or trike to Malatapay market that is 30 minutes ride from the city.
o From there, you can rent a boat that will transfer you to the island. If you are alone you can ask other tourists to join them and just split the costs with them.
WHERE WE STAYED IN APO ISLAND
There are beachfront resorts and lodges that are available in the island. It's a bit pricy so we opted not to spend our 2 nights here, instead we stayed at available homestays that has cheaper rates per night. Anyways it's just a 2 night sleep.
At the homestay, we were able to have our meals cooked downstairs during our stay since we were bringing our foods to lesser the expense and we even paid P150 per meal for locals to cook for us. We even had a chit-chat with some of the tourists in the homestay.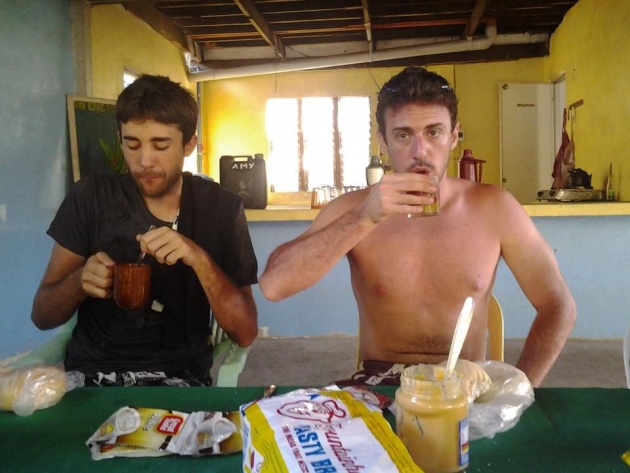 Photo Credit: Joseph Bacalso
One of those is this two traveler friends who came all the way from Bohol. They are divers and they're planning to explore every diving sites in the Philippines. And right after their Apo island dive they will be heading to Palawan. They even solicited for more diving sites that we know so they can check it out. So we cited a few and they're excited to go and explore it firsthand.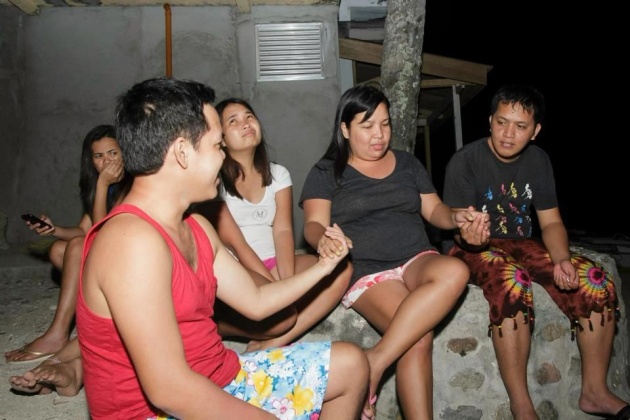 Photo Credit: Joseph Bacalso
Availability of electricity is from 6PM to 9PM only. Who would need an electricity for the whole day anyway when you are few steps away from the shore and soak up in the crystal clear water until your skin gets pruned. During the night when the lights are off, we just stayed along the shore laughing, chatting and exchanging scary stories under the moonlight while feeling the cool breeze of the sea and listening to the rippling sound of the water.
WHAT YOU CAN DO IN APO ISLAND
GO SWIMMING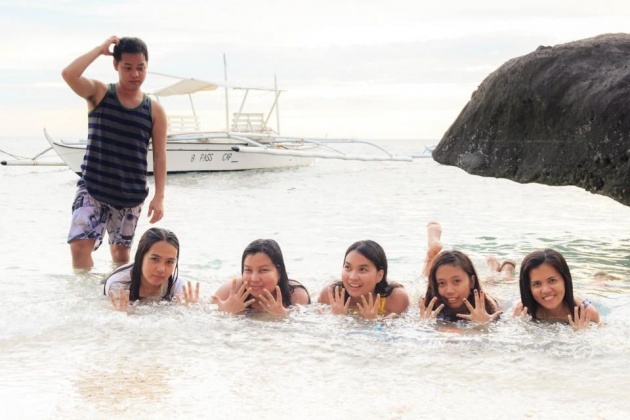 Photo Credit: Joseph Bacalso
There is nothing much you can see and do in this island but to go snorkeling, diving, swimming and strolling. Snorkeling gadgets are available for you to rent before you go on snorkeling. You can enjoy the waters first while waiting for the sightings of the sea turtles.
GO STROLLING
And let's go strolling.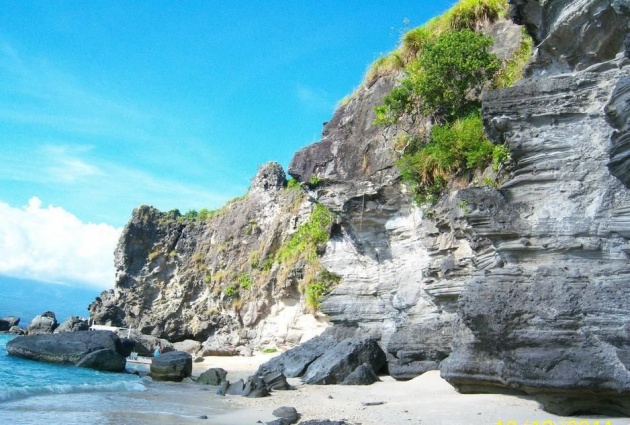 Photo Credit: Joseph Bacalso
Since we're an early bird and the snorkeling agent told us that there are no sea turtles yet at that time, we decided to have a stroll to the island and be back on time to swim with the turtles. Our feet lead us to a beautiful area of rock formations.
The biggest risk of all is not taking one.

Mellody Hobson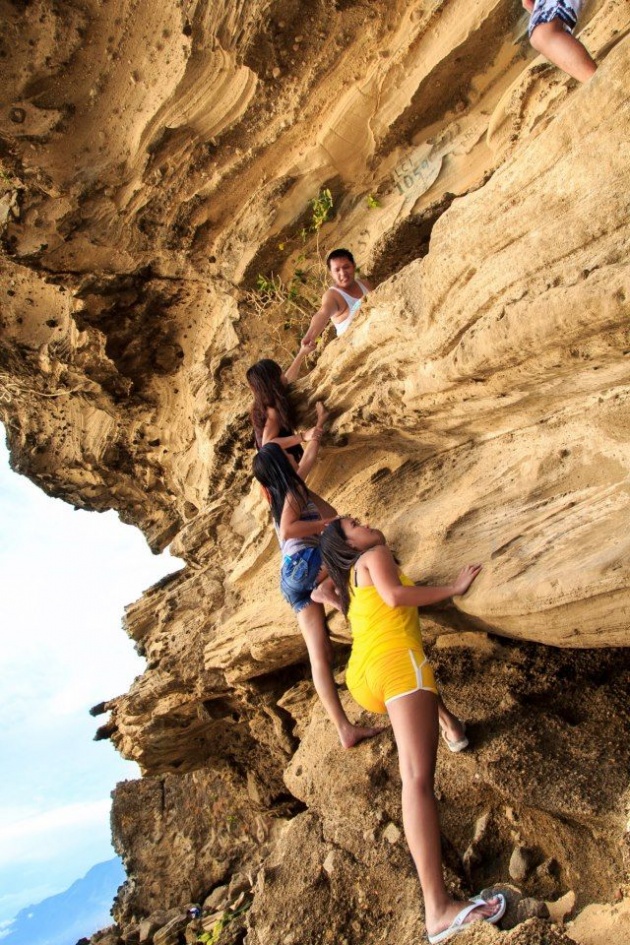 Photo Credit: Joseph Bacalso
Before heading back to the briefing station, we decided to try to climb up this amazing rock. It has yellowish to brownish or whatever color it may be that is good for instagram post. But Joseph Bacalso was able to catch a snap of us while trying to reach the top.
Great art picks up where nature ends.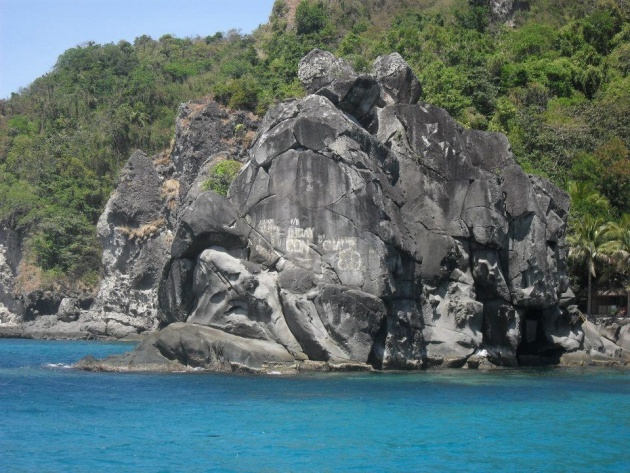 Photo Credit: Joseph Bacalso
Before reaching the island you can already see this turtle rock formation. If you look at it and use your imagination, the rock formation really is shaped into a turtle. This is your indication while travelling that you come nearer to the island when you see this rock.
GET BRIEFED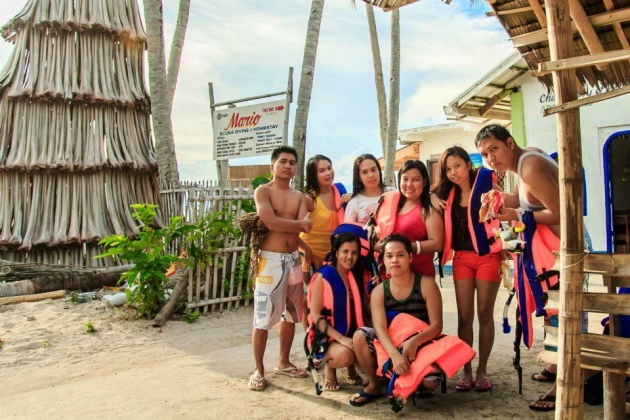 Photo Credit: Joseph Bacalso
As we returned to the briefing station, the guide briefed us on the pros and cons on snorkeling and while swimming with the turtles. He advised us to follow his lead so we can have a good sighting of the turtles. Once done with the briefing we're all set to the waters. In a few seconds he signaled us that there's a turtle near him. We plunged our heads and there we saw not only just a turtle but turtles.
GO SNORKELING AND SWIM WITH THE TURTLES
Video Credit: Just One Way Ticket

Turtles can't see but they can sensitively hear any tiny sound. We swam slowly closer to the turtles without causing any sounds that would scare the turtles. I was in awe seeing and swimming with them. When I looked at them they're so innocent, so peaceful and so harmless. I can't imagine why other people tried to kill them. They are such adorable creatures.
It does not matter how slowly you go so long as you do not stop.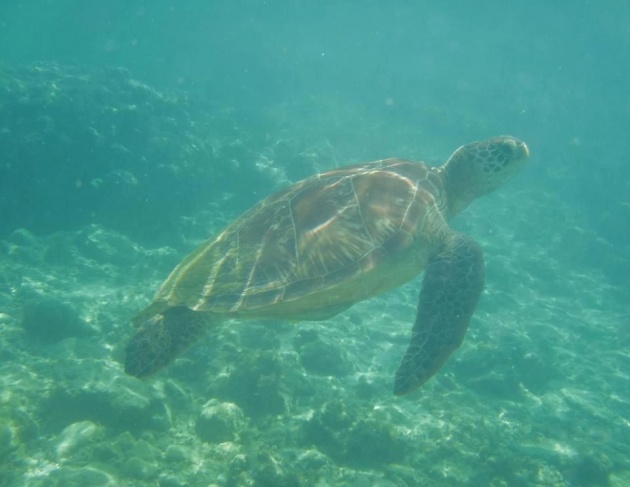 Photo Credit: Joseph Bacalso
What makes this experience unforgettable is my close encounter with the sea turtle. When I plunge my head back to the water and at the same time the turtle was on his way up so it's like we met half-way. We both got startled knowing we might bumped to each other. I can't really forget how the turtle tried to flip his flippers backward to stay away from me and same thing goes for me flipping my hand back so I won't hit the turtle. That was so upclose and so personal encounter. It always paint a smile on my face every time I think of that first hand experience with the sea turtle. Bad thing our underwater camera (go pro doesn't exist yet) suddenly stopped working with unexplainable reason.
As you can see I don't have much photos underwater because of the unexplainable camera malfunction. But still we were able to get some snaps underwater. It seems like the turtles doesn't want to have a snap with our group because not anyone of us had a photo opp with the creatures. Still thankful though that we had a few snaps of them.
WATCH AS THE SUN GOES DOWN
Sunsets are proof that no matter what happens, every day can end beautifully.

Kristen Butler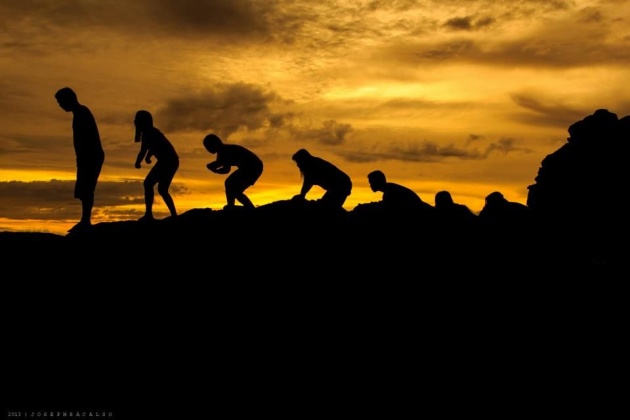 Photo Credit: Joseph Bacalso
An island trip isn't complete without witnissing a natural beauty of the sun as it sets. Aside from watching the sun goes down, Joseph decided to do the evolution of man in a silhouette setting as the sun sets with us on the rock formations. This photo even grabbed the 2nd place in a photo contest. Just so proud that I was part of this winning. Can you spot where I was???
CONVICTION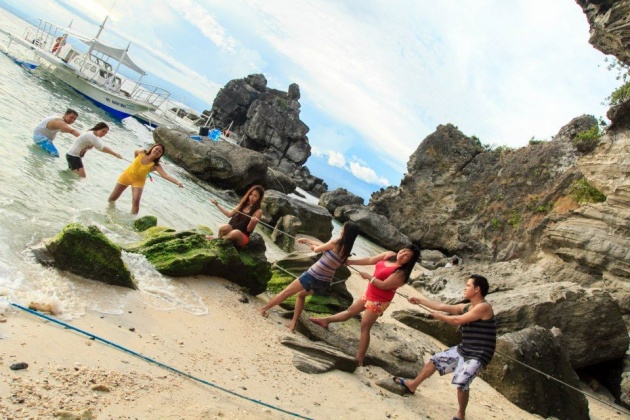 Photo Credit: Joseph Bacalso
When you are under the water, you will definitely get amazed with what you're going to see underneath. The beauty of nature is definitely at its best. Seeing the seabed covered with hard and soft corals with the different water species made this whole trip unforgettable. If only we care much of what's nature provide us, then it would be the best place to live for both worlds.
Another travel has been tracked down and I hope you love reading it. 'Til my next blog. Thank you and this has been Dimpsy your travel blogger blogging for bitlanders. Always remember:
The world is full of wonder for you to wander.

Single Wanderess