On Wednesday, I had the opportunity to attend the screening of the short film Hell, directed by Lisa Stock, a long time member of Film Annex. Some of the actresses from the film were also present.
It made me think of how valuable film screenings can be for independent filmmakers and how they can benefit from meeting their audience in real-life, as most of them are usually presenting their work online. Lisa shared her thoughts about this topic in an interview filmed in our studio the next day, which will be online on Film Annex soon. I also asked a few filmmakers and professionals working for film festivals and film organizations for their opinion.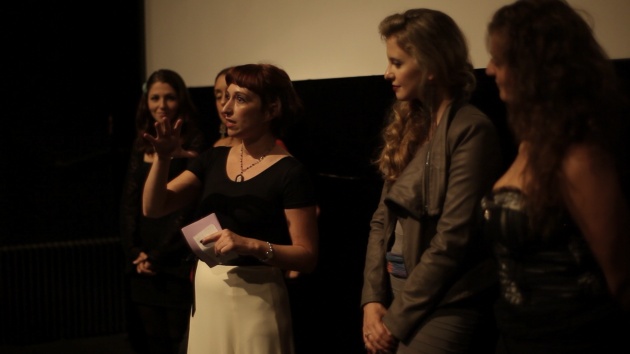 Lisa Stock (center) and some of the actresses from 'Hell'
after the screening at Anthology Film Archives, NYC (October 2013).

First, screenings help filmmakers connect with their audience. They meet the people who already watch their films, make others discover their work, and interact with their public. Miguel Angel Font Bisier, a Spanish filmmaker whose films had several screenings, says: "I think doing premieres and public screenings is vital for our work as filmmakers. It approaches you to your audience and makes you be at the spot, so people who don´t know your work can discover what you do."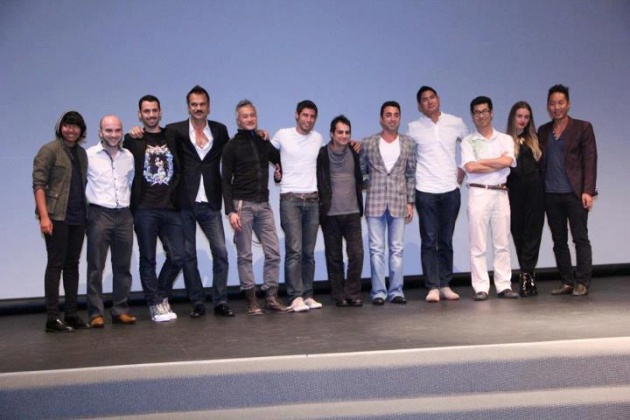 Miguel Angel Font Bisier (2nd from the left) and other directors
at La Jolla Fashion Film Festival 2012.
Screenings are also essential to get immediate feedback and insights from the audience, especially if the film is a comedy. They are often followed by a Q&A where the filmmaker will have the chance to see what worked and what was maybe misunderstood in his/her story, as mentioned by filmmaker Andy Salamonczyk: "An audience's response is so important for a few reasons, it can give you an idea of what worked and what didn't, it can give you lots of confidence to go for more festivals, and it also gives you the satisfaction of knowing it was all worth it. You can learn so much about your film from a screening, but most importantly it reminds you why we make films." Filmmaker Alex Nakone adds: "Of course after the event, cast, crew, sponsors, friends and family all had an opportunity to express their opinion about the film that they had often seen you spend hours working on. This is a small gratifying moment that personally gave me enormous satisfaction, and made the effort in making the film worthwhile."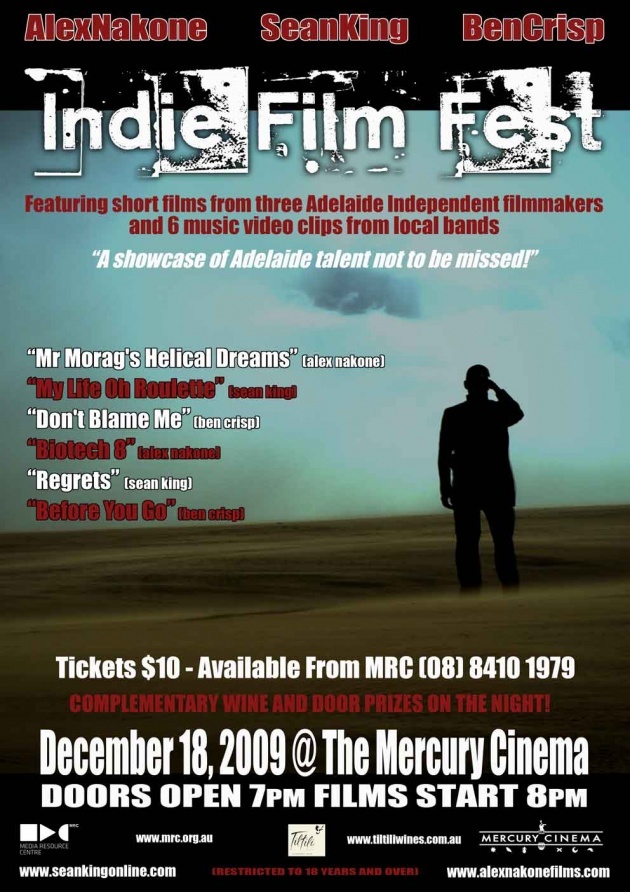 Promotional poster for the premiere of Mr Morag's Helical Dreams by Alex Nakone at Indie Film Fest 2009
Filmmakers use screenings to promote their films, other than online or on social media. But organizing a screening and getting people to come also require promotion for the event to actually bring the filmmaker exposure and connections. Barney Oldfield, Executive Producer of NewFilmmakers New York, explains: "It is a mistake to think that just screening at festivals is enough to promote a film. Screenings for unknown films without name actors tend to be friends, families, and a few people in the wrong theater. Getting people to know about your film and attend a screening requires tremendous amount of additional promotion." Filmmakers should connect with the right people before organizing such an event to make sure it is a success and helpful for their career.
Screenings, as they are often part of a wider program, allow to meet other filmmakers and film professionals, and watch other directors' work. Amy Hill, a UK-based filmmaker, adds on the topic: "It allows you to network with other filmmakers, exposes you to new films and generally expands and develops your mind as a filmmaker." Caroline von Kuhn, Managing Director of the Camden International Film Festival, continues: "A festival like Camden International Film Festival offers a fully immersive weekend that serves the filmmakers' current work and even plans for their next with the conversations around their filmmaking that can transpire over the course of a weekend in a small, intimate setting which is devoted completely to these filmmakers in the screenings, panels, meetings and even parties that we put together. It is the greatest pleasure to bring these talented directors with great documentaries together to simply let this happen."
Lastly, screenings give filmmakers a credibility in the world of short film making, and help "earn a title".
If you are a filmmaker or work in the film festival circuit, give us your thoughts on how independent filmmakers can benefit from film screenings.
Subscribe to my blogs so you don't miss the next articles.