Greetings everyone! Welcome to my new blog segment titled as "The Viewer's Analysis". Basically, this is a series of movie, series, and short film reviews that each consists of my personal inspection of the movie and the fundamental informations about it. This is my 3rd segment, the other two are "How To" and "The Bookish Verdict". Feel free to check them out if you like.
For the first entry in this segment, I came to the decision of featuring a Sci-Fi short film "NoRo" written and directed by Duncan Roe. This is for the reason that it is better to start this series with something that is extremely relevant to the theme—a science fiction film highlighting artificial intelligence. And the thought just dawned on me: oh, why not this pretty interesting short film NoRo?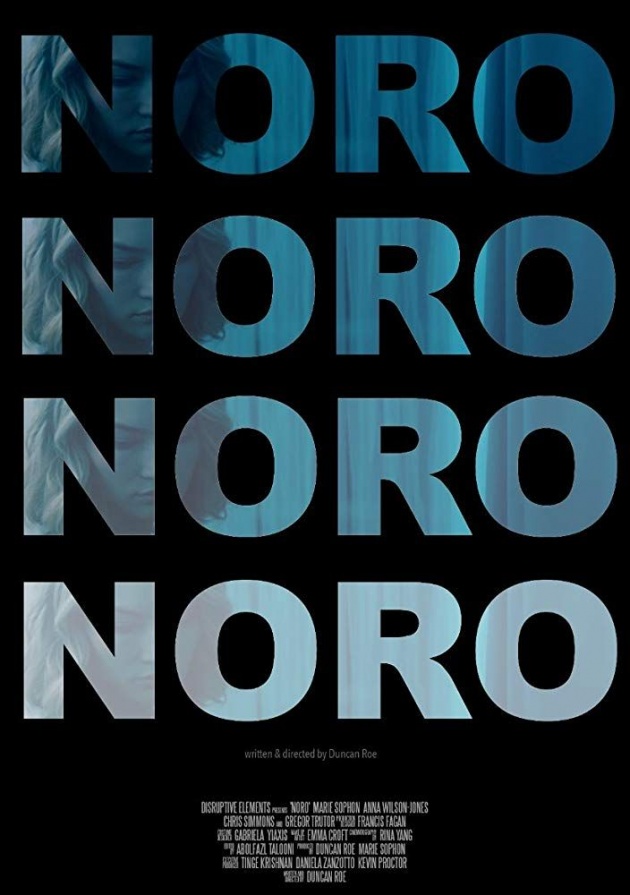 Image source: Sci-fi Short Film "NoRo" via IMDb
About
NoRo is a science fiction short film with the essence of the what-might-be future technology and a touch of artificial intelligence, written and directed by Duncan Roe. It was produced by Marie Sophon along with the director and writer himself. The film was presented by DUST, a sci-fi brand that introduces intriguing glimpses in the time ahead by featuring short films, series, and podcasts; in accordance to their A.I. themed week. Its initial release date was June 9, 2016 in USA, but it later on was published on February 12, 2019 under the official YouTube channel of DUST.
Video source: Sci-Fi Short Film "NoRo" via YouTube
The actors that acted in the film and played the few yet significant roles are Marie Sophon, Anna Wilson-Jones, Chris Simmons, Francesca Fowler (voice), Gregor Truter, and Mark Ashcroft. The composer and cinematographer is Filip Sijanec and Rina Yang respectively. The one responsible for the editing is Abolfazl Talooni while Francis Fagan for the designing of the production.
The Content
The short film began by showing a series of blurry and confusing glimpses of a woman and what looks like her son playing in the beach, there's a strip of a blue and yellow kite.
And then the scene shifted, a woman appearing to be unconscious with fog all over the place alternating with a segment from the beach. It lasted for at least a few seconds before the same woman came into view, it seems like she just woke up in her bed. The scene in the beach a vision, a dream, or a memory; I'm not sure.
An A.I. assistant (voice: Francesca Fowler) installed all over her house greeted her a good morning with her name Caitlin (Marie Sophon), and asked her questions that seems to have sprouted from ideas that honed through its stay with her.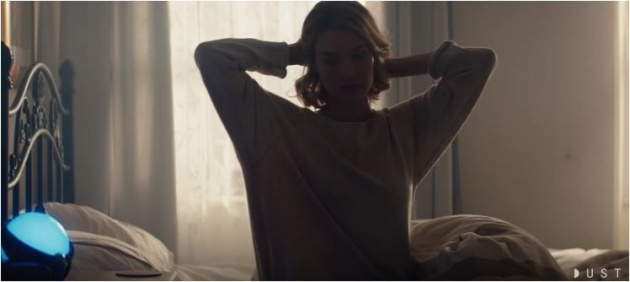 A scene for the sci-fi short film "NoRo"
Caitlin continued on with her what it seems like morning duty for that day: baking a cake. A four little candles and a roll of beige-y ribbon lingered at the screen, making an impression that the film wants to send a mystery that is yet to figure out.
Then she started to jog in a forest, which made me think that she's living in a quite isolated area. She entered her house and her intelligent personal assistant acknowledged her by saying that it's her new personal best. It also informed her that the cake she's baking is ready.
She designed the cake through wrapping the ribbon—which was shown earlier—around the cake and drawing a cute image of the kite in her vision/memory/dream (but most likely memory) at the top. She brought it at a certain area of the forest and putting it on a slightly ascent soil.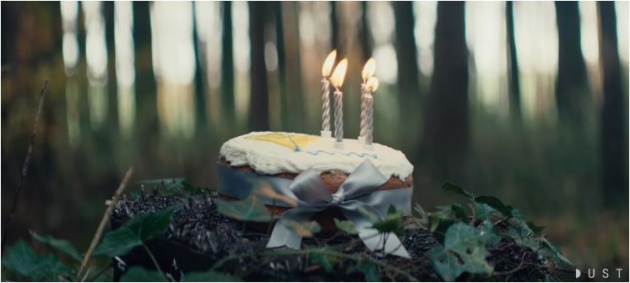 A scene from the sci-fi short film "NoRo"
Then the scene switched, presenting Caitlin with someone like her therapist (Anna Wilson-Jones). The way the woman asked her about what she's feeling and her daily routine, the manner of her scribbling in her notebooks every time Caitlin answers, and overall the set-up of the scene. Caitlin asked the therapist a particular question, which gave me the impression that she's kind of having some issues about death.
Later that day, Caitlin checked the part of the forest where she left the cake, and found it smashed and destroyed by something not mention. She got home looking like irritated until her father (Gregor Truter) called, she didn't answer it and the A.I. assistant automatically played the recorded message.
Caitlin's Father: Hi. Just checking up on you. I hope you're okay. I know today is... difficult. I miss him very much. I miss you too. Anyway, I hope you're well. I love you.
After the recorded message, the A.I. assistant showed a hologram where the technical maintenance named Haydon (Chris Simmons) is at the entrance of the house. The virtual secretary told her that it's its technical appointment, most likely for maintaining its effectiveness and function.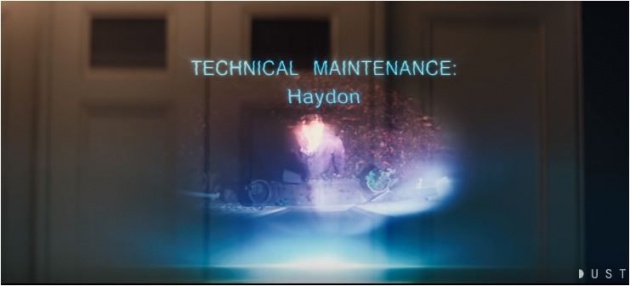 A scene from the sci-fi short film "NoRo"
A picture frame hanging on the wall was seen and Haydon's voice was heard complimenting the little boy in it. Caitlin and Haydon had a small talk about artificial intelligence stuffs. Caitlin walked towards Haydon to give the cup of coffee, but she didn't see the large bag on the way causing her to slip and accidentally spill the coffee on Haydon's arms.
Haydon removed his jacket and a tattoo etched on his forearm can be seen. A certain symbol that seemed like triggered something in Caitlin because when she saw it, her memory in the beach played out. It looked like she realized a thing since she used a piece of cloth to wrap it around Haydon's neck.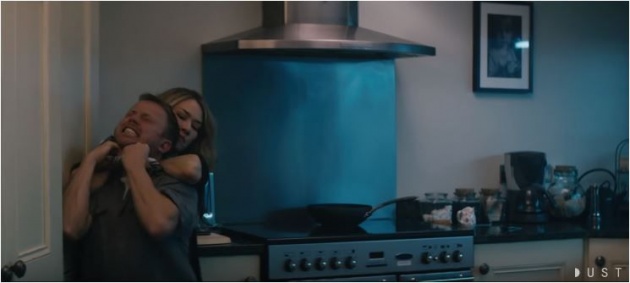 A scene from the sci-fi short film "NoRo"
Seconds later while she's still choking the life out of Haydon and the man still struggling to get out of her grip, they ended up on the floor and a fog like what appeared earlier just came into view. It ate up all the space of the place, then showing another scene from the beach; this time there were exchanging of pebbles involved.
And then the clip shifted, displaying Caitlin doing her morning routine including baking a cake again. She also had an appointment with her therapist, who's doing a different method now that contains showing pictures and asking Caitlin what does she think with it. The time came when her therapist showed a photo of the same tattoo in Haydon's forearm. It took a long time before Caitlin got to answer and it seems it wasn't what her psychiatrist was expecting.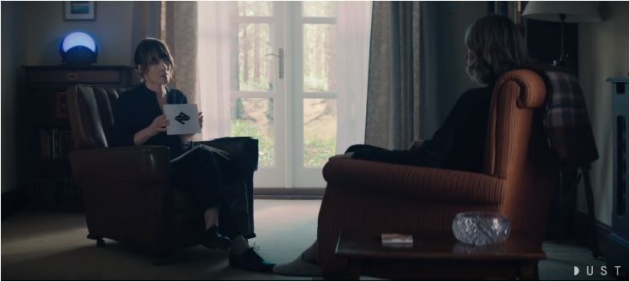 A scene from the sci-fi short film "NoRo"
After that, she went up in an attic in her house and accessed classified archives in her A.I.'s system. Then her therapist came into view, looking like she's watching something. Back to Caitlin, she touched a certain folder named "Alfie", where there are a bunch of options came into view; like suspects, timeline, etc. It showed that his son "Alfie" is missing and she did her own investigation towards the case.
Showing her therapist again, now looking at a bunch of paper wherein a picture of Caitlin can be seen at the front page. There's the little shape the same as Haydon's tattoo at the very left top. And then a shocking fact, it was shown that she's watching Caitlin's every move at a hologram in front of her. There had been cameras installed all over the corners of Caitlin's house!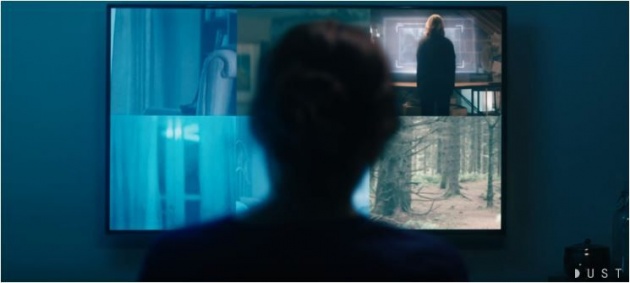 A scene from the sci-fi short film "NoRo"
Caitlin found a picture in one of her drawers and told her A.I. to make a copy of that photo and enhance it. She repeatedly ordered for it to be enhance until the A.I. detected a man underneath the layers of the photo, barely visible: Haydon's face. Once again, a fog spread out all over the place. But this time, she managed to get away.
She got outside and found Haydon lounging at the back of the open van. When the man saw him, he panicked and attempted to escape. He got his gun but Caitlin was faster to grab him by the neck. All of it happening while Dr. Meryl, Caitlin's therapist, was watching.
Caitlin got him down and starts on confronting him; making him answer her questions truthfully through pointing a high-tech gun to his head.
Caitlin: What have you done to him?

Haydon: He's my son.
I would stop right here before I spoil the ending. It's the most important part as it contains the biggest twist. When you thought you have figured it all out, you might want to reconsider.
Notable Movie Aspect
I would like to mention that the acting in this one was outstanding. Especially the actress who played Caitlin. I felt all the emotions she delivered, the grief without saying anything, the rage in merely just a twitch in the face, and the wavering in her voice that shows her issues. The films was nice, but Marie Sophon made it a couple times better!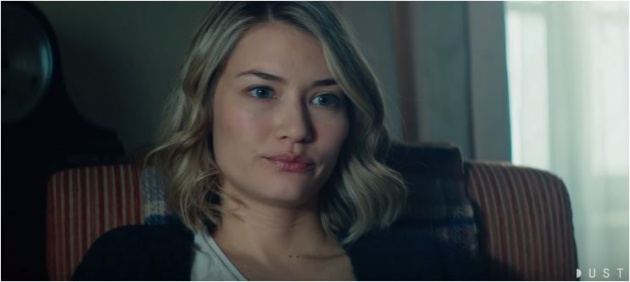 A scene from the sci-fi film "NoRo"
My Thoughts
I love how thought-provoking this film is. This is not the type that you would immediately understand after watching it once, you need to rewatch it to get the symbolism and the little details. But once you deduced it, it would leave you intrigued. If you actually thought about it, you can feel that it was a little disturbing. But that what makes it visionary.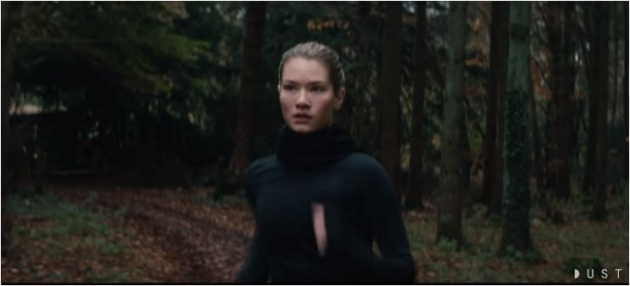 A scene from the sci-fi short film "NoRo"
My Ratings: 85/100
Thank you for reading!