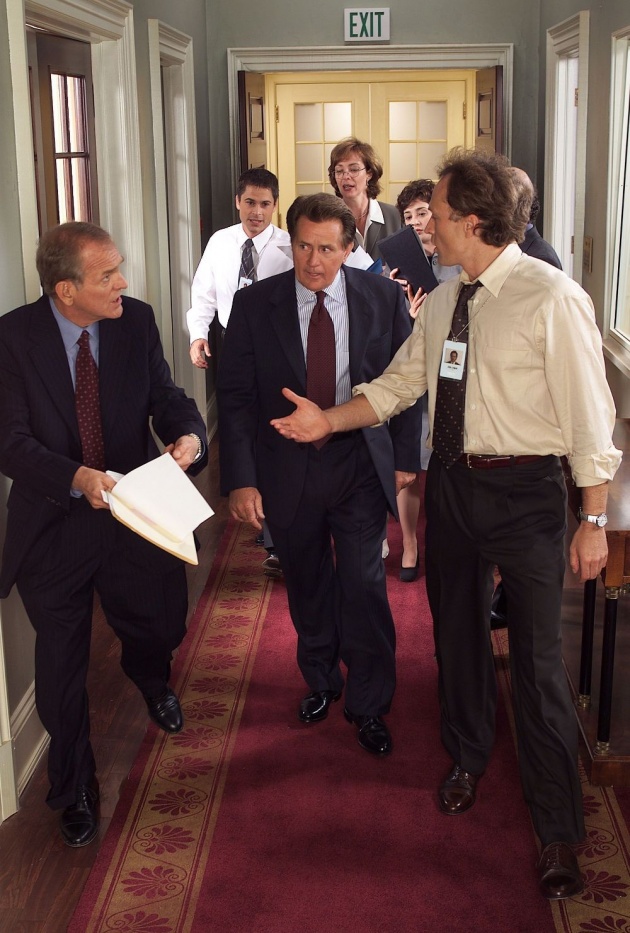 The West Wing
The fifth season of the American political drama television series The West Wing aired in the United States on NBC from September 24, 2003, to May 19, 2004, and consisted of 22 episodes. This was the first season with executive producer John Wells as showrunner after series creator Aaron Sorkin departed the series after the conclusion of the previous season.
The fifth season had star billing for nine major roles, all nine of these were filled by returning main cast members from the fourth season. Martin Sheen receives the "and" credit for his role as President Josiah Bartlet. The rest of the ensemble are credited alphabetically, while Channing is only credited for the episodes in which she appears
Main cast
Stockard Channing as Abbey Bartlet
Dulé Hill as Charlie Young
Allison Janney as C. J. Cregg
Joshua Malina as Will Bailey
Janel Moloney as Donna Moss
Richard Schiff as Toby Ziegler
John Spencer as Leo McGarry
Bradley Whitford as Josh Lyman
Martin Sheen as Josiah Bartlet
The fifth season opens with US forces successfully rescuing Zoey Bartlet from her abductors. Bartlet takes the presidency back from Acting President Walken, but is forced back into a level of powerlessness. He comes to terms with his actions that led to his daughter's kidnapping, a new Republican Speaker of the House (Walken has had to resign in order to assume the presidency) who forces Bartlet into several decisions he doesn't want to make, including the nomination of an unimpressive Democrat, "Bingo Bob" Russell, for Vice President. The conflict with the new Speaker comes to a head in "Shutdown", when the Speaker tries to force Bartlet into cutting federal spending more than had been agreed to and Bartlet refuses to sign the budget, forcing the federal government into a shutdown. Bartlet regains some of his power, cutting a deal to get a liberal Chief Justice of the United States, and season five ends with a bombing in Gaza leading Bartlet to push for Israeli peace talks and Josh to be closer to Donna after she is critically wounded. The fifth season begins toward the end of Bartlet's first year of his second term (fifth year overall) in office. By the end of the season, however, over a year has elapsed.
The world watches the desperate search for Zoey Bartlet while rival administrations form an uneasy alliance as they weigh options that might include a preemptive military strike at terrorist targets—a move that could doom Zoey. Toby and Will prepare two speeches, one that will be given if Zoey is rescued, the other if she is killed. After the president invokes the 25th amendment, Speaker of the House GlenAllen Walken becomes the new president. The code in the episode title refers to Zoey Bartlet's case file number. The full story behind the assassination of Abdul Shareef is revealed, and a deadly terrorist attack occurs in Turkey, leading to several shocking reactions.