S A E E D A N W A R.
Guys this is my second blog here on bitlanders, I am very exciting to write this blog, because this blog is about my favorite cricket player, In fact almost every person's favorite who loves cricket in this world.
He is the stylish, most elegant and aggressive, stylish opening batsman from Pakistan, and the greatest of all time in cricket history.
Personal Life
Saeed Anwar

was born on September 6, 1968 in Karachi. In his childhood he went to Canada with his family but came back in 1977. In 1989, He got his Computer Engineering from NED University of Engineering and Technology in Karachi. He planned to do Master's but he became Cricketer. His father was a businessman and his brother Jawed Anwar also played for under-19 Lahore team. He got married to his cousin, in 1996.
International Cricket
Anwar was an elegant and outstanding player of both test and one day cricket. Overall, he appeared in 55 tests and 247 ODIs. He is the only Pakistani batsman whose average is 40 plus against the mighty Australians, England, South Africa and New Zealand.
Test Career

During his appearance in 55 tests, Anwar made some astonishing records for Pakistan. He made his debut against the West Indies at Iqbal Stadium Faisalabad in November 1990, but could not capitalize to prove himself quite worthy for the team. He got out his ducks in both the innings by Curtly Ambrose and Ian Bishop first and second innings respectively. He scored 4052 runs at an average of 45.52, including 11 centuries and 25 half centuries. He made his unbeaten 188* against the rivals India at Eden Gardens on February 16, 1999.
He scored 169 runs against the new Zealanders in his third test of the career, and Pakistan got the victory in that match. He was a trend setter for his team, once he scores, he scores big and Pakistan got victories. He has also got the record batting average 59.06 against the mighty Australians and scored two consecutive centuries.
In 1995 home series against the Sri Lankans, he scored consecutive three fifties at an average of 51.50 by scoring 154 runs. He toured England in 1996. The series was scheduled as three test matches. This was the fifth consecutive series win against England. Anwar was the second highest run scorer by scoring 362 runs, Alec Stewart's was the first by scoring 396. In the first test at Lord's, he scored 62 runs in both the innings by making 88 and 74, first and second innings respectively. He also scored 176 runs at oval in the first innings. As a result Pakistan won the series by the margin of 2-0.
Anwar's highest score of test cricket was 188* not out against the rivals Indians and it was also the highest test score for any Pakistani on Indian soil and which was broken by Younus khan. Younus khan scored 267 runs in that test. During his all 55 test's he produced match winning knocks for the Pakistan team.
One Day Career
As far as test he played, Anwar was pretty intelligent batsman of one day cricket and scored quick runs throughout his career. He played 247 ODIs, and appeared in 244 innings, averaging 39.21. He smashed 20 centuries and became the leading batsman for Pakistan as a century maker. He also scored 43 fifties. He was a class act. His timing and aggressive approach in batting had helped him to be a successful opening batsman. He was the good player of both spin and fast bowling. His trademark shot was a wristy flick to the onside. His highest score was 194 against the rivals India. He scored 20 centuries and 43 half centuries in his ODI career.
World Cup Career
Saeed Anwar played three world cups in 1996, 1999 and 2003. In 1997 world cup, He made three fifties and made 329 runs in the tournament. In 1999, he made consecutive centuries and helped Pakistan into the final. He scored 368 runs in that world cup. In 2003 world cup, Anwar registered his 20th century of his career against the India, but Pakistan lost that match. He played 21 matches in world cups with the average of 53.82, he scored 915 runs. His highest score in world cup matches is 113.
Achievements
In 1997, He was named Wisden Cricketer of the year.

He was the only batsman to complete this feat in ODIs and scored two successive hundreds on three other occasions in his career, in 1996, in 1999, and in 2000.

He scored 194 on 21st May, 1997, the highest by any batsman in ODIs, but it was equaled by Charles Coventry in 2009. After that it was broken by Sachin Tendulkar, Rohit Sharma and Virender Sehwag.
Following table shows the record of test and ODIs
T E S T R E C O R D S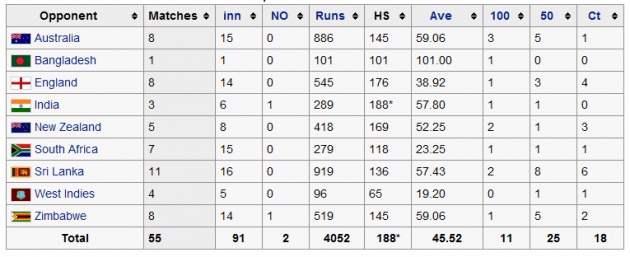 O D I R E C O R D S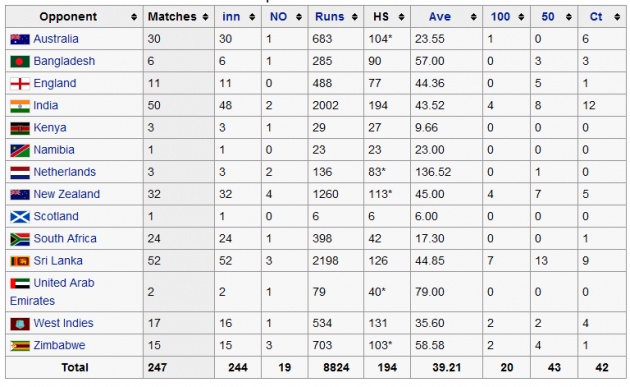 Retirement
He announced his retirement from International cricket on 15 August 2003.