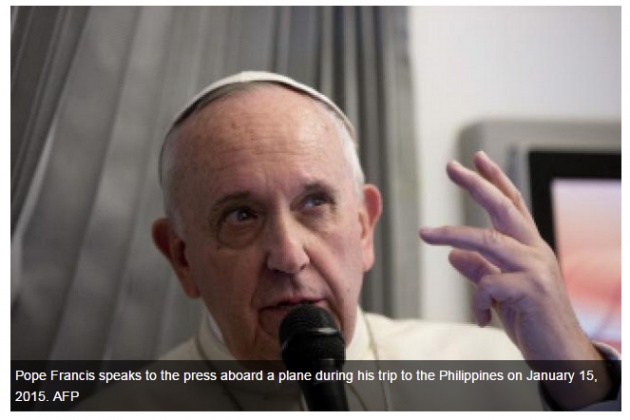 Pope Francis on Thursday condemned killing in God's name but warned religion could not be insulted, weighing into a global debate on free speech ahead of a rapturous welcome in the Philippines.
The pontiff made the comments to reporters as he flew from Sri Lanka to begin a five-day visit in the Catholic Church's Asian stronghold that is tipped to attract a world-record papal crowd.
"To kill in the name of God is an absurdity," Francis said when asked about last week's assault by Islamist gunmen on French satirical magazine Charlie Hebdo in which 12 people died.
But the 78-year-old pontiff also said "each religion has its dignity" and "there are limits".
"If a good friend speaks badly of my mother, he can expect to get punched, and that's normal. You cannot provoke, you cannot insult other people's faith, you cannot mock it," he said.
Brothers Said and Cherif Kouachi stormed Charlie Hebdo's Paris office on January 7, killing some of France's most loved satirical cartoonists in their outrage over the magazine's repeated depictions of the Prophet Mohammed.
The assault was followed two days later by an attack on a kosher supermarket in Paris by a gunman claiming to have coordinated his actions with the brothers.
In all, 17 people died over three days in the bloodiest attacks in France in half a century, sparking a global debate on the limits of free speech.
Charlie Hebdo drew ire from religious groups again this week when it published a "survivors" issue featuring an image of the prophet weeping on the cover.
The cartoon depicts Mohammed holding a sign reading "Je suis Charlie" (I am Charlie), which became a global rallying cry for those expressing sympathy for the victims and support for freedom of expression.
The cover sparked a backlash in some parts of the Muslim world, where depicting the prophet is seen as blasphemous.
Pope Francis, seen by many around the world as more progressive than many of his predecessors, said freedom of speech should be tempered by respect for faith.
"Freedom of speech is a right and a duty that must be displayed without offending," he said just before arriving in the Philippine capital of Manila.
Francis on Thursday began the second leg of his Asia tour after a successful visit to Sri Lanka, where he preached on reconciliation and religious tolerance.