Yesss my pretties, here I am with yet another movie review of a not so new movie but a timely one for me.
Yesterday I watched Kick Ass and today I watched Kick Ass 2 and boy did it have a lot of blood and action in it. Oh yeah!
Just remember, these two movies are not for kids even though it's supposedly a superhero movie. Do not let kids watch it.
Check out this intro to Kick Ass first before you read my movie review. :)
♦ Movie Summary for Kick Ass ♦
A high school student decides to be a superhero even if he does not have any superpowers or special skills at all. He is actually easy to bully even if he's tall and yet he buys a costume online for $99.99 and voila! Kick Ass the "superhero" comes to the rescue!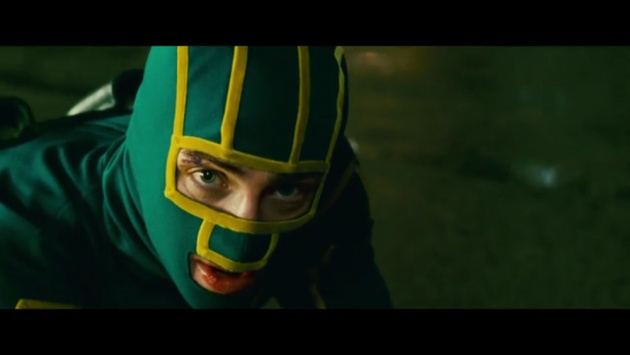 (Kick Ass Trailer screen cap from YouTube)
He even makes his own MySpace profile (which was big in 2010 I guess, not that big in the Philippines, or at least to me. Multiply was the in thing then, but perhaps MySpace had a marketing deal with the movie makers...?). He finds stuff to do that way. He does this for free and keeps his real identity secret too.
Because of the viral video of him fighting and protecting someone against gang members, Kick Ass became famous. And then one day he meets two really skilled "superheroes" who got inspired by him, Big Daddy with the Batman-like costume and Hit Girl with the purple wig. That's when the real fun starts...
♦ Review and Short Background of the Movie ♦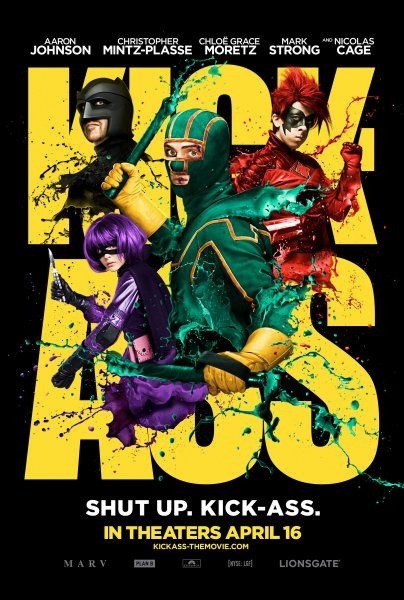 Who indeed wouldn't want to be a real life superhero and save the weaklings and the bullied and the victimized people in the world? A lot of guns, goons and gold are everywhere we just don't see them that often if we don't live in their evil world. This is why the movie is so appealing to me, not because I want to live a dangerous life, but because a lot of people prefer to just sit and watch than help other people or the world become better.
This film is rated R though and it's understandable because the language and the blood and gore are not for the young, weak and/or softhearted. It is full of rage and anger. It is full of revenge.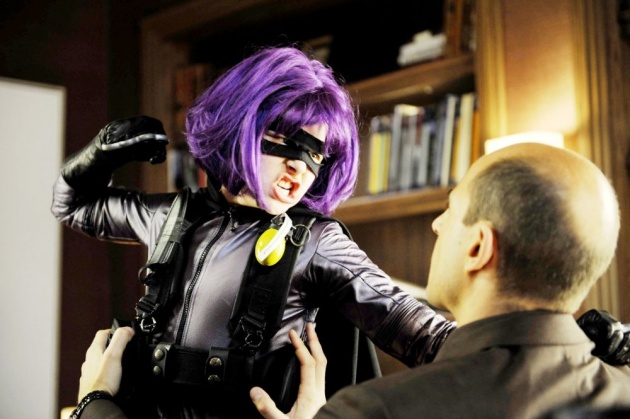 (Photo credit: Kick Ass via aceshowbiz)
No point in not spoiling it anymore because hey, it's been 8 years since the movie came out. Why I never got to see it is a mystery. Oh wait, I was already working the night shift then thank you very much, but I did hear about the movie then right up until I watched it.
I've been holding some pet/animal art contests in Steemit and guess what a contestant submitted? A goat which he turned into Hit Girl. Sweet. That definitely and finally made me watch the movie.
And yeah getting back to the review, I did find some of the scenes too much because of all the appendages or body parts getting cut off but that in itself is where the beauty of it is. Even the then child actress said no one should do what she did in the film because it's a movie so kids that age aren't supposed to do those stuff (unless they were raised to be violent like her character).
Who would think an 11 year old blond little girl would be able to kill lots of men in one place huh? I think Hit Girl is right up The Matrix people's alley. Yes sir. Haha. Except for all the blood and gore. (Oh wait, there's a 12 yr old Mathilda in The Professional too. Natalie Portman was a bad ass pre-teen in that movie as well.) Oh yeah.
Heroes don't really supposedly kill bad guys but hand them over to the police to be judged in a court of law and sentenced to prison if found guilty. That's what Batman does but Kick Ass is not really Marvel or DC. Well it was a comic book published by Icon which is owned by Marvel but still the comics and it's characters even if made into a movie is owned by Mark Millar. And you know, Mark Millar is a pretty kick ass story teller too, having written Wanted which also got turned into a movie. (For me, that movie is the next best thing after Fight Club.)
(Photo credit: Kick Ass via aceshowbiz)
Suffice it to say that Hit Girl, trained and raised by her former good cop Big Daddy, is a vigilante. Vigilantes take the law in their own hands and have no qualms killing and hurting bad guys. Therefore the movie is not about superheroes, like in the usual super powered characters in comic books who do not kill bad guys at all, it is more about vigilante heroes. So if you decide to watch it, in case you haven't yet, don't be surprised when you see her slashing them baddies up and shooting them all over the place
The only famous actors in the movie then are Nicholas Cage who plays her dad and Mark Strong as the drug/crime syndicate mob boss. The acting of the rest of the cast is okay, not too bad, not too over the top but not too deep either. It's kind of where Chloë Grace Moretz made a mark in the Hollywood movie industry too because hey, all that action? = Sweet.
It's more of an action fantasy flick which is right up my alley. Mmmhmmm. Geek stuff is ♥.
The soundtrack is great too. Hooks you in to whatever's happening onscreen.
Overall because it's such a fun fantasy action adventure movie, I give it a 10 out of 10.
Here's Manny the Movie Guy with his own movie review of this film.
* * * * * * * * * *
♦ Movie Summary for Kick Ass 2 ♦
So you've read about Kick Ass, now we go over to the sequel Kick Ass 2 which takes place 3 years after the first movie. The movie opens to Mindy or Hit Girl target practicing with Dave or Kick Ass, with Dave being the target with a bullet proof vest. This is sort of a reminiscent scene which her father used to do to Hit Girl during her childhood training days.
(Photo credit: Kick Ass 2 via aceshowbiz)
Moving on from that we see Dave, bored at school because he hasn't been doing any Kick Ass-y stuff in 3 years. Mindy goes to the same school as him by the way but she does not attend school at all and constantly skips class to continue her vigilante work and self-training or physical exercise. Eventually out of boredom Dave finally convinces Mindy to teach him all the skills he needs to be a better superhero.
Meanwhile, their enemy Chris or the former Red Mist accidentally kills his mom thus making him the sole heir to the crime syndicate left by his dad. He then takes on a new villain persona called Motherf*cker. (Yeah, really.) And from there begins his sinister plan to kill Kick Ass to avenge his father.
♦ Film Review ♦
If you want some action and lots of it, you go for this one. The last 30 minutes or so are full of kick assery that you'd probably enjoy every minute of it.
(Photo credit: Kick Ass via aceshowbiz)
The early parts of it deals with the typical high school world and also have some Mean Girls vibe to it but they gave it a kick ass-y twist of course. Haha. It's such a comic book-y movie ya'll even though it tries real hard to inject the real world into the storyline. The first movie was way better at this than the sequel.
The superstars of the Kick Ass 2 are the young main actors playing the vigilante/heroes/villain of course, even Jim Carrey was a bit unrecognizable in it.
(Photo credit: Kick Ass 2 via Impact)
The acting is okay. The music is cool and the villains? Oh well the Mother Russian is one tough chick, real strong and bad ass in a bad way. A very worthy opponent to Hit Girl.
As for the movie rating, I give it an 8 out of 10.
Will there be a Kick Ass 3 movie? Well in 2017 Mark Millar tweeted about it, sadly Chloe said she's done with the character.
The Moral Story
What's the moral story in each movie? Well, probably for geeks to stop living in the dream world trying to be a superhero with no real super powers, refrain from being a vigilante and live for real like a grown up. (Yeah right.) It also shows you what revenge does to people, it can be a never ending cycle but sometimes some people are just wrong in the head like the Motherf*cker character in the end, or maybe he was just being the impulsive young villain that he was.
Real powerful bad guys are out there to control the world behind the scenes. They have control because they have big big money. Yeah yeah I know some are called Illuminati and such or whatever.
Good people die to fight for all the bad in this world. For me, the real "fight" starts when we die, you either go to hell or heaven based on what you've done on Earth so let's all fight the good fight before it's too late. Better to die early fighting for the good of the world and go to heaven than die doing nothing to help the world progress...
(Photo credit via Pixabay)
We can all do something even a small thing for the good of our fellowmen and the environment. We can be firemen, policemen, doctors or even scientists and artists to be able to make a change for the good of the world. Brave souls do something good everyday even if most people will ridicule or hate them for it, why can't we do it too?
Okay so what superhero persona shall I be? It's funny I feel like I am just a keyboard warrior. One day I'll get some action. I need some hardcore physical training first. How about you?
For my other movie review blogs, click below:
If you're not a Bitlanders member yet, sign up and click here
and be appreciated for what you post plus earn extra $$$.
All images are copyright of their respective owners.
Written for Bitlanders by ArtGirl. All rights reserved
© Art x Stephanie Rue