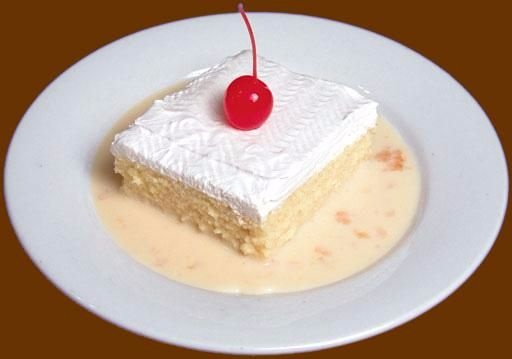 Ingredients
-3 eggs
-1 cup of sugar
-1 teaspoon of vanilla
-1 cup of flour
-1 1/2 teaspoons of baking powder
-1/4 cup fresh milk
-1 can (14 oz) condensed milk
-1 can (12 oz) evaporated milk
-1/2 pint whipping cream
-Fruit (strawberries or peaches) or flowers and extra whipping cream for decoration.
-Preheat the oven to 350 F (170 C) degrees
Preparation:
Beat the eggs and sugar in a medium bowl until fluffy (aprox. 3 min), stir in vanilla and beat well until smooth. Sift flour and baking powder three times. Add one third of the dry ingredients into the batter, mix well. Pour in the fresh milk and incorporate the rest of the flour mix. Pour batter into prepared pan.
Bake for 25 minutes or until cake tester inserted into the middle comes out clean. Let it rest for five minutes. Remove cake from pan and pierce surface all around with a fork or toothpick. Blend condensed milk, evaporated milk and whipping cream. Pour half of the milk mixture over the warm cake slowly until absorbed (put the other half of the mixture in the fridge). Let it rest until cool and refrigerate for a day.
Frost cake with whipping cream and garnish with fruit or flowers. Enjoy!