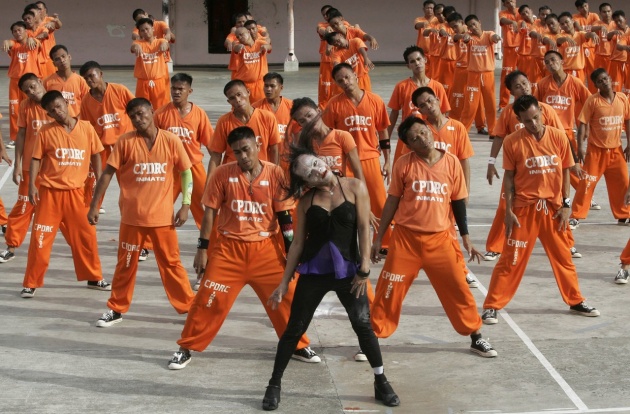 Remember this YouTube sensation? The group of Filipino inmates dancing to Michael Jackson's "Thriller" inside a prison courtyard? Well, they are bound to be movie stars!

According to the Huffington Post, the movie will be called "Dance of the Steel Bars" and was shot in the Cebu provincial prison, the same place where more than one thousand inmates danced to "Thriller." Some of the inmates will appear in the movie as well.

This B-movie extravaganza stars Patrick Bergin (remember him?), the mean husband of Julia Roberts in "Sleeping with the Enemy." Filipino heartthrob, Dingdong Dantes, co-stars.

The melodramatic plot? Bergin is Frank Parish, a retired U.S. firefighter and philanthropist wrongly jailed for murder in the Philippines. Ala "The Fugitive" no?

In prison, Parish befriends Mando, played by Dantes, a murdered who doesn't want to embrace his penchant for dancing because it's too gay! And then, there's Allona (Joey Paras), a tranny who teaches and uses dance as a form of prison rehabilitation.

Wow, it's like "The Fugitive" meets "Step Up" by way of "The Crying Game." HA!

Marnie Manicad co-directed the fictional film with television reporter, Cesar Apolinario. The screenplay is written by Cris Lim from a story by Manicad, her husband Jiggy, and Apolinario.

"Dance of the Steel Bars" will be released in the Philippines on June 12 of this year. Hopefully, we'll get to see the film here in the U.S. because gosh darn it, I want to dance!