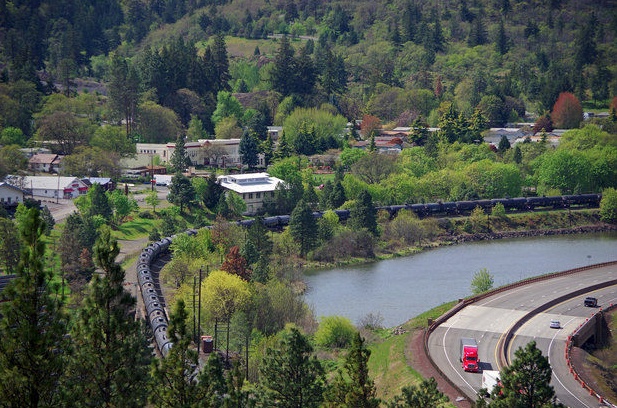 With millions of gallons of oil now moving through the Columbia River Gorge each week, Oregon Gov. John Kitzhaber has proposed a big expansion for the tiny interstate agency overseeing the 85-mile-long scenic area.
Kitzhaber is proposing to nearly double Oregon's spending on the Columbia River Gorge Commission, adding $768,000 to allow the five-employee agency to hire four more people to plan the gorge's future -- including how to address risks like the rise in oil shipments.
Unless Washington Gov. Jay Inslee matches Kitzhaber's proposal, the agency – funded equally by both states -- won't get the money.
With Inslee's budget due out Dec. 18, Darren Nichols, the commission's executive director, said he isn't expecting a matching increase from Washington.
"The governor (Inslee) has made it clear personally and through his advisors that he's in a challenging position from Washington's education obligations," Nichols said.
Inslee's budget faces a major challenge addressing a voter-approved initiative requiring smaller class sizes. An Inslee spokeswoman said it was premature to discuss what the commission would get. A Kitzhaber spokeswoman didn't comment.
The commission is tasked with protecting the gorge as well as planning for urban growth within it. Because it's an interstate agency, Nichols said he believes it could allow the two states to address the safety of oil and coal transport through the gorge, whether through lowering speed limits, improving crossing safety or adopting an outright ban on oil or coal movement. Individual states are preempted from most regulation of railroads.
"All of those options need to be on the table," Nichols said.
It's not clear that the agency needs to nearly double its staff to accomplish that.
Michael Lang, conservation director at Friends of the Columbia Gorge, said his group supports an increase for the commission. But it doesn't need as much as it's seeking, he said. "They could carry out the responsibilities for less than that," he said.
Legislators should demand "strict accountability" on how the funding is used, Lang said, to ensure it's being used for the goals the agency says it will.
One position would be used to plan for oil and coal train risks, Nichols said. The others would enable other long-term planning initiatives.
"If Gov. Inslee is willing to match, it gives us the capacity to address the fossil fuel conversation," Nichols said. "Without it, there's no way we can take it on."
The gorge is the Pacific Northwest's main route for mile-long oil trains carrying volatile North Dakota crude to West Coast refineries. As many as 19 trains a week each move more than 1 million gallons of oil along Washington's side of the Columbia River.