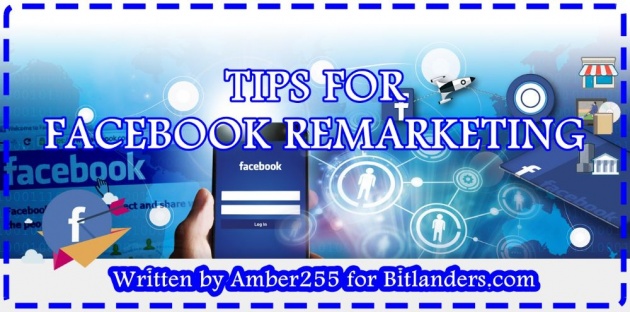 Tips For Facebook Remarketing - Photo credit: socioblogger.wordpress.com, Edition by Amber255 via Bitlanders.com
Experienced sellers know that a NO of a customer can be a big deal if the conversation continues. The same can be applied to the Internet: a visitor who has left the site can be retrieved and converted to a buyer. It is for this purpose that remarketing is being developed, the basic principles of which we will discuss here.
Most interested people just did not have enough time to dig into the content, and then forget the site. That is why repetitive advertising can become an effective reminder to get back already interested visitors who have not yet been firmly committed to becoming customers.
Most importantly, your remarketing ad will reach the visitor when he is visiting other sites. For this reason, remarketing is one of the most targeted advertising methods that allows you to catch your ex-visitors on the Internet.
So, let's talk about social remarketing, and if to say more correct, about Facebook remarketing.
Remarketing (also known as retargeting) is the tactic of serving targeted ads to people who have already visited or taken action on your website.

Credit: dynamicyield.com
What Is Remarketing?
Remarketing is a repeated marketing process that allows you to display ads for users who have already visited your site. When it comes to business, we can say that remarketing is an advertising that follows visitor.
It is no secret that the majority of users in the first visit to the site did not fulfill the order. Part visitors decide to compare prices with competitors, while others simply do not have a definitive decision. This doubting audience is a real gold mine! Your potential customers who visit your site, already know who you are, what goods/services you sell, and there is a high chance that they were only one step away from the order. Now you just need a clever promotional strategy for those visitors that will encourage them to open the wallet and finish the order.
Facebook Ads Remarketing Tutorial for Beginners - Video credit: Surfside PPC via YouTube.com
There are two concepts for this purpose: remarketing and retargeting. People often use both terms alternately, although, in reality, they are not same.
Remarketing, as a term, is traditionally used to describe further communication with users who left the website through e-mails. If the regular email marketing is carried out through general newsletters sent to all potential customers, sending remarketing emails to specific user segments, are more personal and effective.
Retargeting is genuine remarketing. In general, it is an advertisement by various formats that reach users after they leave the site and browse elsewhere on the Internet. It can be both text, image and video ads, but all have the same goal: remind you of a product or even service that a person has been interested in and prompt you to buy.
The main goals of the retargeting: retrieve visitors who have left without buying; increase conversion rate; increase brand awareness.
The confusion was mostly made up by the Google AdWords platform, where repeated marketing is called remarketing. This is because the remarketing term is more widely known in the world.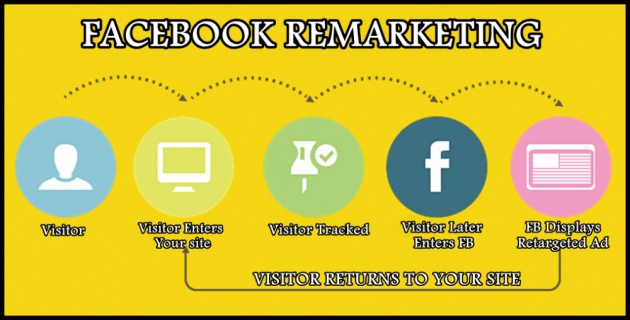 Facebook remarketing basic principles - Photo credit: made by Amber255 via Bitlanders.com
Remarketing Principles and Types
Remarketing, at first sight, may seem tricky, but in fact, it works quite simply.
When a user visits your site, a cookie is automatically stored on his computer, a small text document that allows the website administrator to distinguish the computer number and see his online activities. If a user leaves the site without buying anything and continues to browse the web, your ads will also be shown to him on other sites.
Repeat ads can be based on user actions that they performed or did not perform on your site. For example, for a visitor who has left a product page, can be shown one ad, and the one who left after signing the newsletter, show different ad. Available options offered by remarketing platforms are a lot.
Remarketing is divided into two types: standard and dynamic. The main difference between them is the content of the advertisement.
Facebook dynamic ads automatically promote products to people who have expressed interest on your website, in your app or elsewhere on the Internet. Simply upload your product catalogue and set up your campaign one time, and it will continue working for you for as long as you want –finding the right people for each product and always using up-to-date pricing and availability.

Credit: facebook.com
Dynamic remarketing is generated automatically. For example, a visitor views a product in an e-store: in the case of dynamic remarketing, the user will see the advertisement with exactly the product reviewed!
In the case of standard remarketing, your own self-generated promotional message without the product information will follow the visitor.
How To Set Up Your Facebook Pixel For Beginners - Video credit: Jason Wardrop via Youtube.com
Remarketing Channels
Currently, the most popular remarketing channels are Google and Facebook.
On Google, a remarketing ad will appear in banner ads on popular sites. All the biggest portals or blogs have such advertising space.
Facebook remarketing - another remarketing channel. Obviously, promotional messages will be broadcast on Facebook and its affiliate websites. Most people check this social network at least a couple of times a day, and others get lost in it a few hours a day. Is it not a great opportunity to show your ads in the spotlight of potential customers?
True, Facebook has an important functional advantage. The remarketing audience can be segmented into very precise groups: by age, gender, city, etc. For example, you can advertise on the site only for people age of 25 to 34 years or for women living in a particular city.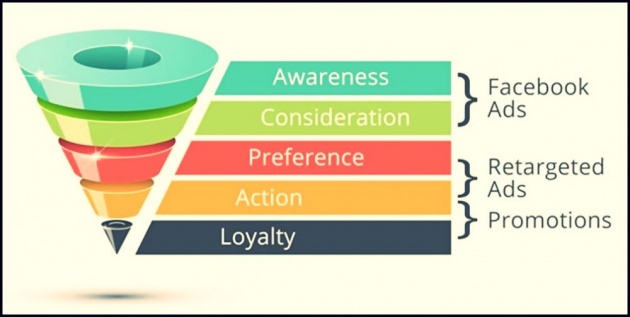 Facebook Remarketing sales funnel - Photo credit: onlinesalesguidetip.com
What Do Facebook Remarketing Ads Look Like?
Facebook remarketing ads look like the other Facebook ads. Because the remarketing audience (your site visitors) is just one more of the Facebook audience, you can choose from all forms of advertising: from post to video.
Only dynamic remarketing will automatically display the products previously viewed by your site visitors, so the creative options are limited here.
How to start using Facebook remarketing ads? You need visitors, and Facebook Pixel that should be installed on your site.
While remarketing is not a new thing for a long time already, and inevitably will be potential customers who will face it for the first time. When people see the same ads on different sites, they may get the impression that you're catching them online. As a result, it's very important to be creative: don't display your ads too often and change their content or at least design from time to time. There is also the likelihood of slipping and paying for showing an ad to a person who has already bought the product from another company, or maybe from your own physical store.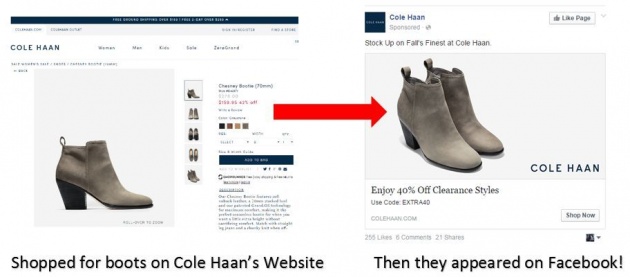 Business advertising on Facebook - Photo credit: plus.google.com
What Is Facebook Pixel?
Facebook advertising arsenal has a bunch of powerful tools. Nevertheless, one of them has exceptional versatility and can become an indispensable part of the advertising strategy for any business. We are talking, of course, about the Facebook Pixel code.
The Facebook pixel is an analytics tool that allows you to measure the effectiveness of your advertising by understanding the actions people take on your website.

Credit: facebook.com
The audience can be collected according to the address of your website page. For example, capture people who visited the contact page.
The Facebook Pixel code has easy installation. Facebook provides detailed instructions, and popular blogging platforms have long been offering various extensions to accomplish this task. Usually just enter pixel id number, and the code starts working on your website.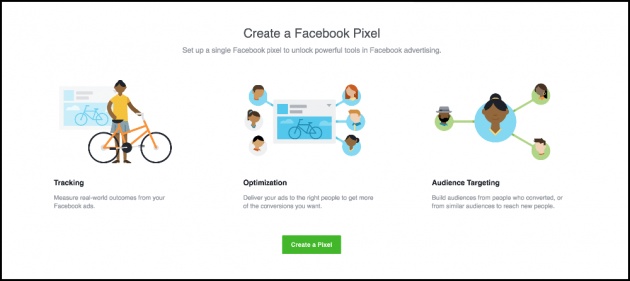 Facebook Pixel - Photo credit: twitter.com
True, things are getting harder in order to take advantage of all the functionality offered by Facebook Pixel. After a normal installation, the code follows only one event - the page views of the user. Registration of more complex events (purchase or registration) requires programming knowledge and individual IT solutions on the site.
With the successful introduction of Facebook Pixel, you get extremely valuable information that can help you achieve impressive results on Facebook.

How to use the Facebook Pixel - Photo credit: allyouneediscontent.com
How Is Facebook Remarketing Works?
Standard remarketing ads are the same as other Facebook ads. We just select the remarketing audience in the audience settings.
Dynamic remarketing on Facebook has a separate campaign type: Product catalog sales. With this campaign, ads will automatically show products that the visitor has already reviewed.
You can also collect the audience without using the Facebook Pixel:
1. Importing phone numbers or emails database.
2. Use remarketing for the sake to engage the audience on your brand Facebook page (people who commented, liked your posting, or wrote messages to you).
If you ask about the price, talking from my experience, clicking on a remarketing ad can cost anywhere from a few to a few dozen cents. It depends on the size of the audience and its willingness to engage in advertising. So, the return on this ad is one of the highest. Especially for e-commerce business.
Some can say that it will be boring to see the same ads again and again. If you will be creative - really not. And if you obtrusively push the same message, visitors not only will get tired of that, but they completely can get angry and never come back.
It's important not to be limited to just one form of advertising and to regularly update content based on the results.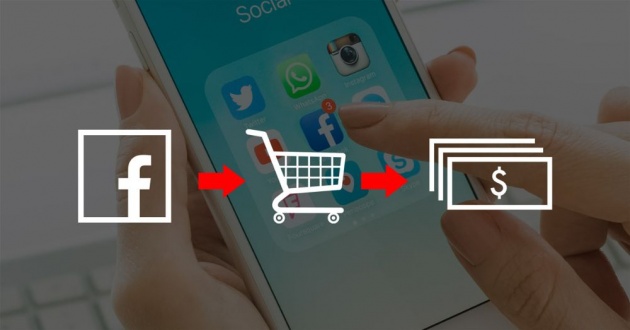 Social remarketing - Photo credit: blog.boldcommerce.com
Facebook Remarketing Advantages And Benefits
Facebook remarketing operation principle is very similar, but thanks to Facebook audience segmentation capabilities, visitors to your site can be filtered based on all the features described above: age, gender, place of residence, hobbies, education, marital status, workplace, etc.
Also, you can display all the usual Facebook promotional forms on the Facebook social network for your former site visitors. This greatly expands the potential of remarketing. Thanks to Facebook remarketing you can not only recover up to 50% lost visitors to the site but also direct them to your fan page. This way you can bring together a highly targeted fan audience, which in theory should be very active and interested in the information on your fan page.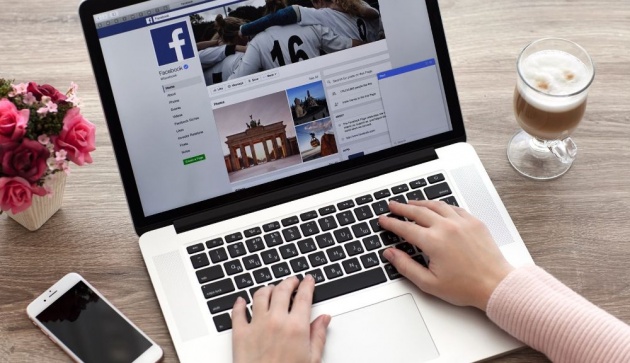 Business advertising on Facebook - Photo credit: alsaa8.net
If your site has a fairly mixed audience, but you only want to reach a certain part, Facebook remarketing can be an ideal solution.
For example, you sell men's and women's shoes. You posted a sale of women's shoes in your store. This campaign can also be posted on a fan page, but you probably will not get a lot of interested people. You can order standard Facebook ads filtering by gender, place of residence, etc., but the same filters can be customized for a targeted audience already built up of former site visitors. Such an advertisement will be highly effective because only potential customers interested in your products will know about the sale.
So, thanks to Facebook remarketing, you can get back up to 50% of lost visitors to a website or fan page, keep up-to-date with all Facebook promotional forms that help to increase your brand awareness and loyalty of customers. Facebook remarketing is an effective way to remind repeatedly about yourself.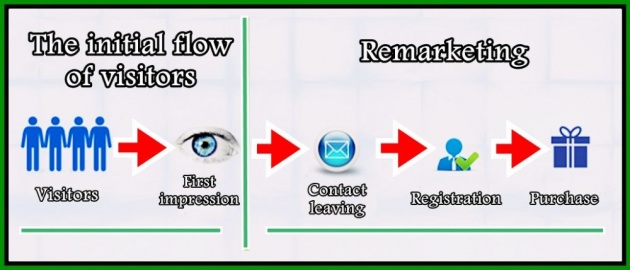 Facebook remarketing basic principles - Photo credit: created by Amber255 vis Bitlanders.com
On The Final Note
The continuously growing circle of loyal customers is the goal and guaranty of the success of every business.
Remarketing directly affects your campaign's return on investment (ROI), regardless of the advertisement campaign's strategy: brand-oriented, results of the campaign, or other. Thanks to Facebook remarketing campaigns, you can increase your campaign's conversion rate and increase your quality score, which reduces the cost of your campaign.
Remarketing is beneficial to both parties, as it provides another opportunity for the advertiser and the consumer to find each other for the needs of products, services or other information.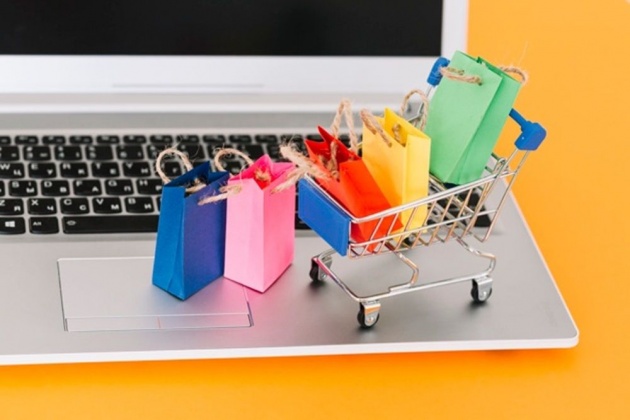 Business advertising on Facebook - Photo credit: freepik.es
In general, remarketing works best if it is not used alone, but as part of a wider digital marketing strategy. Remarketing is great for raising the conversion rate, but it's not a traffic increase tool. Thus, the combination works best with one or more means to attract traffic, and then remarketing is applied to squeeze the maximum from this flow.
In short, Facebook remarketing - it's the ability to display ads in the Facebook site environment only for visitors to your site. Increase your brand's loyalty on the social network. Sel your goods from the second time!
SUCCESS!!!
***************************************************************************************************
Thank you for stopping by and reading my blog.
2018, All Rights Reserved.
You are very welcome to join Bitlanders and share your valuable knowledge and opinion.
***************************************************************************************************