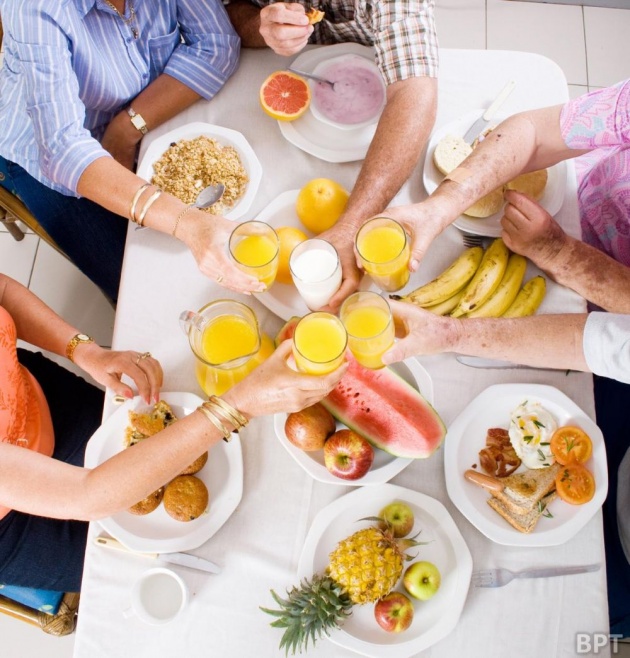 (BPT) - No one questions that fruit is an essential part of the diet. But did you know that more than 70 percent of Americans do not eat the recommended amount of fruit? One hundred percent juice is a convenient way to help you get the important fruit nutrients you need.
Juice doesn't just taste good, it also fulfills an essential part of the daily diet. Nutritionist and registered dietitian, Diane Welland of the Juice Products Association provides information on what's so good about juice.
How does juice fit into a healthy diet?
Because the majority of Americans aren't eating the recommended daily amount of whole fruit, they're missing out on many important nutrients. Fruit juice is an easy way to make sure you're getting key nutrients like potassium, vitamin C, folate, magnesium, riboflavin and niacin. Some 100 percent juices are also fortified with vitamin D and calcium.
How much fruit juice should a person drink each day?
Recommended serving sizes vary with a person's age. The American Academy of Pediatrics recommends 4 to 6 ounces of 100 percent fruit juice for children ages 1 to 6 and 8 to 12 ounces for those ages 7 to 18. As an alternative to whole fruit, the USDA's Dietary Guidelines for Americans consider one-half cup of 100 percent fruit juice to be equal to one half cup of whole fruit.
Does fruit juice contain sugar?
There is no added sugar in 100 percent fruit juice - it contains only the natural sugars found in whole fruit.
Does drinking juice contribute to weight gain?
Fruit juice is definitely part of a healthy eating plan. New scientific studies show that juice drinkers have better quality diets than those who do not drink juice. Other studies indicate that children and adolescents can drink juice in appropriate amounts without gaining weight.
"I recommend that parents follow the guidelines of the American Academy of Pediatrics, when it comes to serving sizes," Welland says.
Welland suggests adding fruit and fruit juice into your diet in subtle ways like incorporating juice into traditional recipes. Fruit juice can add new flavors to any recipe from snacks like ice pops to savory dinners. This Orange Cranberry Oatmeal Recipe showcases how easy it can be to incorporate juice into family favorites.
Orange Cranberry Oatmeal
Makes 4 servings
Ingredients:
2 cups orange juice
1 cup water
1/4 teaspoon salt
1/8 teaspoon ground cinnamon
2 cups oatmeal (quick or old-fashioned, uncooked)
1/2 cup dried cranberries
1/4 cup chopped toasted walnuts
1 cup low-fat or fat-free vanilla yogurt (optional)
Additional dried cranberries (optional)
Directions:
In medium saucepan, bring orange juice, water, salt and cinnamon to a gentle boil. Stir in oats and cranberries. Return to a boil; reduce heat to medium. Cook 1 minute for quick oats, 5 minutes for old fashioned oats or until most of liquid is absorbed, stirring occasionally. Let stand until desired consistency. Spoon oatmeal into four cereal bowls. Top each serving with 1 tablespoon walnuts and, if desired, 1/4 cup yogurt and additional cranberries.
Need it in a pinch? Microwave directions:
In 3-quart microwaveable bowl, combine all ingredients except yogurt and nuts. Microwave on high 4 to 6 minutes for quick oats and 7 to 9 minutes for old fashioned oats or until most of liquid is absorbed. Let stand until desired consistency. Top each serving with walnuts and, if desired, yogurt and additional cranberries.
For more information on the health benefits of 100 percent juice or to find family friendly recipes made with juice, visit www.JuiceCentral.org.