Fracking is an issue that touches on every aspect of our lives — the water we drink, the air we breathe, the health of our communities — and it is also impacting the global climate on which we all depend.
With the upcoming People's Climate Marchand United Nations Climate Summit in New York City, it is more important than ever that the climate effects of fracking are addressed. This is why today, Food & Water Watch released The Urgent Case for a Ban on Fracking. With mounting evidence about the dangerous impacts of fracking and the immediacy of the impending climate crisis, this report lays out the urgent case for a ban.
Fracking affects not only the millions living within a mile of fracking sites who experience health problems, polluted water, earthquakes, explosions and declined property values, but it also affects billions globally who are affected by climate change.
As the fracking boom began in 2009, we became alarmed about the threats fracking posed to our water resources – from tap water that could be lit on fire thanks to methane leaks from fracking wells into water sources, to spills of chemicals and fracking waste that pollute waterways. While many environmental groups were hopeful about natural gas's ability to offset carbon emissions and act as a "bridge fuel" to a renewable energy future, we were skeptical about the trade-offs for the rest of the environment.
Over the next few years, scientific evidence mounted, showing not only that fracking won't help moderate climate change, but that it has the potential to unleash massive amounts of methane that will worsen the climate disaster. After looking at the growing evidence of the inherent problems with fracking, and realizing how inadequately the states were regulating the oil and gas industry and enforcing those regulations, Food & Water Watch became the first national organization to call for a complete ban on fracking in 2011.
Since 2011, more than 150 additional studies have been conducted on a range of issues (from water pollution to climate change, air pollution to earthquakes) reinforcing the case that fracking is simply too unsafe to pursue. Neither federal nor state officials can effectively prevent the multitude of damages through regulation.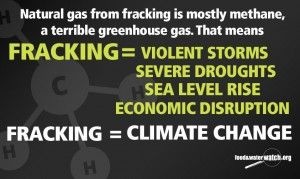 Mounting evidence shows that fracking is inherently unsafe, contaminating water, polluting air, and threatening public health. Fracking damages local infrastructure, decreases property values and causes a range of social problems. And most critically for the survival of people and ecosystems, fracking exacerbates and accelerates climate change. We are facing a climate crisis that is already having devastating impacts and that is projected to escalate to catastrophic levels if we do not act now.
President Barack Obama came into office touting fracked gas as a "bridge fuel," yet mounting evidence suggests that rather than serving as a bridge to a renewable energy future, it's a bridge to a climate crisis.
Despite what the oil and gas industry claim, there have now been over 150 studies on fracking and its impacts that raise concerns about the risks and dangers of fracking and highlight how little we know about its long-term effects on health and our limited freshwater supplies. It's time for President Obama and other decision makers to look at the facts. It's a matter of our survival.