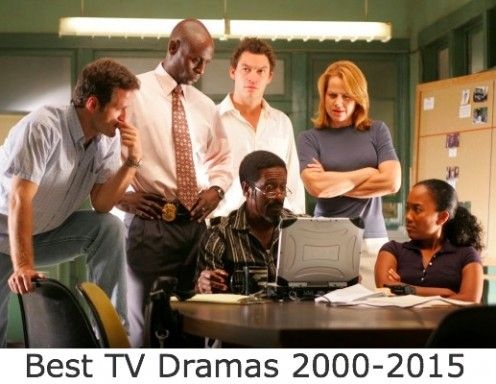 Top 10 Best Drama TV Shows 2000-2015
Since its inception, television has excelled at comedy and struggled with drama. The limited time structure and constant commercials made it difficult to develop a compelling dramatic arc. Today that is no longer the case. With the burgeoning cable TV market, many assert that we are witnessing a golden age of dramatic television that began in the late 1990s.
With the critical and mass market success of The Sopranos in 1999, HBO proved that cable networks had power to excel with dramatic series in a way that commercial networks could not. Shows could be shown in full, with no commercials and no censors for graphic content. The cable network FX stepped it up in the early 2000s and delivered a string of groundbreaking hits that tested the boundaries of basic cable TV, including The Shield and Nip/Tuck. AMC soon followed with Mad Men and Breaking Bad, and now anything is possible in this new world of dramatic TV.
Dramas today have a strong serial nature, which means you have to watch every single episode to get what's going on. As the 2010s roll on, even the Internet is a viable content producer, with Netflix making some of the first online dramas to receive Emmy nominations (House of Cards.)
Now let's take a look at the top dramas of the last 15 years that sparked an ongoing revolution in television.
The wire
For years it has been debated: The Sopranos, Breaking Bad, or Wire—which is the best show of our times? Clearly The Wire is king. The Wire is more than a TV show, it's a visual novel. Every single scene is loaded with complex nuances that command our full and undivided attention. Some think this show is simply about drug dealers and the detectives who chase them, but that's not even a quarter of it. The Wire is the story of Baltimore, Maryland. It shows the city and everyone who inhabits it: drug dealers, cops, politicians, children, teachers, lawyers, killers, addicts, drug distributors, the working class, the news media, and everyone in between.
It's filled with layers and layers of intricate storytelling, unbelievable acting, and literary-quality script writing. There are no throwaway characters. Of 197 characters, every single one is used differently and all are humanized no matter how deplorable their actions. The show may be a bit too much for some—the slang is sometimes hard to understand, the plot gets extremely difficult to follow (if you don't pay attention), and the realities the show represents may be too much for some. But this show is simply holding a mirror up to America and saying, as boldly and as objectively as it can, "This is what you have become." The Wire may be the greatest work of fiction to be released this century so far.
Breaking Bad
Breaking Bad is the latest cultural phenomenon to take America by storm. The impact it will have on television and American culture remains to be seen. The story of Walter White (Bryan Cranston) as a high school chemistry teacher who gradually turns into a meth kingpin, is one of the greatest transformations in television history. It is also one the most quotable shows in recent history with the single greatest TV cast ever assembled.
This show is coated with a subtle yet stark darkness that is hard to shake off. The overriding theme seems to be that "Family is all." Each character on Breaking Bad is motivated to act for the good of their families, sometimes in unthinkable ways. The show had a cult following from the start that grew tenfold by its epic finale. Clearly one for the ages, Breaking Bad will be hard to imitate.
The Sopranos
The Sopranos is the show that opened the floodgates for modern TV dramas. This is the one that started it all. If you've never seen this groundbreaking show, you've certainly heard of it. You may think it's all about Italian-American mobsters killing and extorting people in New Jersey. In fact, the show is much more psychological than that. The series follows mob boss Tony Soprano (James Gandolfini) as he consults a psychiatrist after a series of panic attacks. Through his sessions we hear his swirling tale of family, power, and philosophical dilemmas you would never expect a show about gangsters to cover. The show became a cultural phenomenon from its start and was one of the most popular shows of the 2000s. It set the bar high for every drama that followed and is considered one of the best-written TV shows of all time.
House of Cards
House of Cards is a brilliant political drama based on a British series of the same name. The American version made a name for itself as the first online-only TV series to win an Emmy in a major category. Academy award-winner Kevin Spacey stars as career politician Frank Underwood, a shrewd guy who begins the series as a U.S. Congressman out for revenge after he is passed over for Secretary of State. The show revels in its stunning visual design, alluring music, and Shakespearean plot. The show is addictive to binge-watch. Ever since the loss of Breaking Bad, House of Cards is the best thing TV has to offer.
Boardwalk Empire
A period drama, this flawless work of art executive-produced by the great Martin Scorsese himself, is an amazing display of great performances, beautiful cinematography, and sharp authenticity. Based on accounts of crime bosses and political corruption in the 1920s, the show feels completely authentic to the time period. Even the music was recorded in the Roaring Twenties. Boardwalk Empire shows just how wild and untamed the 1920s really were and does so with a literary quality. Steve Buscemi, as the corrupt treasurer of Atlantic City, and the entire cast are excellent.
Mad Men
This period drama set in 1960s New York City gives an insightful look at the development of American society in one of its most transformational periods. Don Draper (Jon Hamm), a successful advertising agent, is a representation of the men on the top during the 60s. Men who had at it all: money, respect, a wife at home, and a woman on the side. Yes indeed, it was a glorious time for men in the 60s, but this series shows the darker side of the Swinging Sixties. Behind the veil of success there are deception, lies, heartache, and pain caused by those in charge. Mad Men uses these themes and many others to show how society was changing, for better and for worse, in a time period when nothing remained static. With four consecutive Emmy wins for Outstanding Drama Series, this show sets a standard that will be difficult to equal in the future.
Game of Thrones
Fantasy has been a no-no in American television since the 1970s. However Game of Thrones is thriving off fantasy elements in a way no show ever has. This drama, based on the novel series A Song of Fire and Ice by George R. R. Martin, is thrilling fans with its elaborate story, imaginative setting, and superb acting. The show has a fan base the likes of which a TV series has never seen and its shocking exploits are only bringing it more critical acclaim. The show explores themes such as royalty, civil war, family, and social order all in a middle-Earth setting. It is unlike anything television has ever seen and is constantly satisfying its viewers with twists and turns.
The Shield
The Shield was truly the first basic cable show to break every rule in the book. When I first saw this gritty crime series about corrupt cops in Southern California, I thought my cable provider was giving me a free HBO preview. The show's powerful display of crime, violence, and sex is unlike anything seen before outside of premium cable. The lead character Vic Mackey (Michael Chiklis) was one of the first true anti-heroes in American television. Together with Tony Soprano, Mackey sets the standard for future anti-heroes. This show blew the lid off of cable television, proving that it is possible to do nearly whatever you want in a modern drama series.
Dexter
Dexter tested the waters of what audiences could accept in a hero. It was a revolutionary concept: A serial killer who only kills other serial killers. When it first came out, viewers couldn't get enough of Dexter Morgan (Michael C. Hall), whose complex backstory and intriguing personality captivated the devilish side in us all. Dexter is a perfect example of how a modern drama can get away with things that wouldn't have been possible a decade earlier. Although some say the show went on a bit too long and ended with a weak finale, no one can deny that this show changed the landscape of crime shows and television in general.
24
This high octane series combined elements of political thriller, espionage, adventure, and explosive action in one. It was also one of the few network shows that could compete with the cable giants. 24, which follows the exploits of counter terrorist agent Jack Bauer (Kiefer Sutherland), came out at a time when Americans felt vulnerable for the first time since World War II. 24 explored the dangers of terrorism and the dedicated yet sometimes questionable agents who will stop at nothing to keep this nation safe. From its inventive use of split screens to show dual action, to way events unfolded in real time, 24 broke many rules and set many new standards in dramatic television. Fans couldn't get enough of this show, which is probably why it returned for 12 episodes in 2014.