The family looking for some shells at Lumayag Sand Bar
Every common employee has been dreaming of a long weekend. It becomes a get away from all the stress one could get from working all week long or shall I say all year round. Thank goodness for holidays and we can get additional days off aside from the regular weekends. Thinking about holidays makes me thankful I am not anymore included in the BPO - Call Center Agents Business because they don't have holidays except for the vacation leaves. I do understand how they feel when these instances happen. I have been there, done that!
So why am I stating this? Well because a week ago, employees in Cebu and the entire Philippines had a long weekend! In fact it was a four day weekend for me and my husband! September 9 which was Friday was a Cebu regular holiday in celebration of the Osmeña Day and the September 12 which was Monday was the Eidul Adha.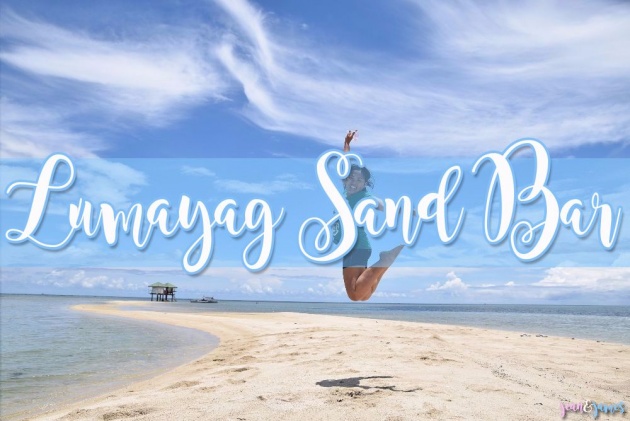 And so the best way to make use of this long weekend is to go home to Bohol. Going home to Bohol takes a lot of time and effort so it is best to go there when we have a lot of time available thus we decided to stay there for the weekend. Traveled on Thursday evening with my brother and husband and arrived Bohol Friday early morning.
My parents who are in Bohol don't get to go out to other places since they are the only ones home so we thought it would be a good idea to get them a day off and just chill at any area near our town. Since Anda is always our go-to place whenever we are in Bohol, we thought we should skip that and just go somewhere else which is not too mainstream. That being said, I had a better idea which is the Lumayag Sand Bar in Mabini, Bohol.
WHERE IS MABINI?
Mabini is a very small town, a fourth income class municipality in fact. It has 22 baranagays and their livelihood includes farming and fishing since they have coastal area as well as a wide land area at the same time.
Coastal area of Baybayon, Mabini, Bohol where the fishing is their number 1 livelihood.
Mabini is just a town away from Guindulman but its roads are partly cemented so there are really parts which are rocky and bumpy which makes traveling a bit challenging.
What I always remember about Mabini was the major food poisoning event which occurred way back in 2005. I won't forget this because the native delicacy, Cassava had killed 30 kids in San Jose, Mabini. When that event happened, almost all the schools in Bohol stopped selling cassava cakes and anything made of cassava flour. Although this was only history, I can't still stop my memory from recalling that sad day.
Anyway, although the town has its own sad memory, it is now starting too give a name of its town. While checking their website, mabinibohol.gov.ph , I bumped into their tag line : "Alimango Country". But we were not there for their crabs but instead for the sand bar named "Lumayag".
WHY VISIT LUMAYAG?
Sometimes, when I travel I had the tendency of not showing it off to other social media. Why?
Because there might be a tendency of the place getting exploited with the number of tourists and we all know what happens when there's a huge number of tourists, there will be garbage around since we can't control all the people. That is why I sometimes hold myself from sharing but then since Lumayag is a starting tourist spot. I hope that this blog would somehow help encourage others to also pay a visit to this beautiful island.
Below I have listed my top three reasons why the beach bums and other tourists should visit Lumayag.
1. Sand Bar is Always BEAUTIFUL!
View of the Lumayag Sand Bar
Who has not heard of the Kalanggaman Island? It has a beautiful stretch of sand bar too which has becoming famous now due to the photos shared on social media by those who had visited the said island located in Leyte.
Although Lumayag is not as big as Kalanggaman Island, the sand bar here shows a good alternative for those who are far from Leyte. Just a ten minutes boat ride from the Baybayon or the main island shore, one can already get to the nice little island made of nothing but sand. The waters are blue and clear and there are starfishes all around. Not to also mention the shells that we found in there. My mother had fun looking out for shells and had even brought them home.
The beauty of a sand bar can still be seen in this part of the town. The Philippines indeed have more than just plain beaches and waterfalls. Sand bars are also countless in our country because of its archipelago.
I need to also mention that jump shots are really the best photo that can be taken because it somehow gives the notion that something has been celebrated. Just like how my brother had made a great pose while doing the jump shot.
My older brother @jjeeppeerrxx-nartleb together with his brother in law in a cool jumpshot!
Hubby's signature jump shot!
On the other hand, soaking in the waters and playing with the sand is also one of the other things that you can do in the area. My father and mother together with the youngest in the group had fun there.
My sister's brother had a lot of fun too burying himself under the sand! I would have done that if the sun wasn't too bright that day. Glad I had sun block lotion on before coming but at the end of the day, my skin is still burnt even until this day because of too much sun exposure. I guess everyone of us has been sunburned that day.

2. Giant Clams are AWESOME!
One of the 18 Giant Clams in Lumayag.
One good reason to visit here is to personally see Giant Clams up close! I never thought that I would be able to see these creatures in my life but I did and I didn't shell out a huge cash amount to do so. Normally, giant clams can be spotted in Palawan where these clams originally came from.
For those who are not aware, Giant Clams are the creatures which makes the very expensive pearls. Recently, the largest pearl had been reported from Palawan. This was considered giant pearl as it weighs 34 kilograms. The fisherman who found it has been keeping it under his bed for ten long years before he handed it personally to the local government unit in Palawan.
This giant pearl had been formed within a giant clam which he found while fishing as his boat's anchor lodged into the pearl. This giant pearl is 30cm wide (1ft), 67cm long (2.2ft). It is now on display in the atrium of the New Green City Hall in Puerto Princesa. It was Pearl of Lao Tzu which was the reighning biggest pearl but then it will be changed to this newly discovered giant pearl. It is also significant that all known giant pearls came from Palawan. It is indeed true that our country is blessed with natural resources.
They have different colors and different variety.
They'll close when get shaded by something. One of them closed when the boat's shadow gave it shade. They seem to love the sun.
But going back to the Giant clams in Lumayag, there are 18 clams alive but originally, there were 20 of them. One died and another one got stolen. This was the reason why there were Bantay Dagat officers who are staying at the vicinity to protect the clams. These clams came as well from Palawan and had been bought to a price of Php 20,000 per clam. It was shipped through a C120 aircraft and placed into the waters of Mabini.
I can still remember how they look underwater and how marvelous to see it in my own eyes these creatures. In due time, they'll start spitting out pearls but that would take time. For now, they are happily staying in the waters and are being protected. They will also soon multiple in God's perfect time.

3. Tourism is a Major HELP to Locals
The boat and fishermen who brought us to the Sand Bar Island.
As for the final reason why one should visit Lumayag, I would like to state that tourism is one great factor in boosting the country's economy. There are lots of tourist spots in the country, I can name a few, Chocolate Hills, Kawasan Falls, Mayon Volcano, Whale Sharks in Oslob and a lot more. In fact, I won't be able to complete them in a day because again, our country, the Philippines has been blessed with lots of natural resources.
These resources are enabling the community to benefit from it. From manpower for tour guides, boat drivers and lot more. I would like to also see the town of Mabini benefiting from this beautiful sand bar island. It is possible and I know that posting the photos my husband and I had taken in social media will raise awareness that there are also other places that one can go to aside from the mainstream ones. Places where they can own the spot just like how we owned it by ourselves. There were no other people around, just us and the Bantay Dagat personnels.
This is where the Bantay Dagat personnels stay to watch over the giant clams.
When traveling to a sand bar, it is also evident that there will be almost no shaded area but that is actually the beauty of the place: SAND! Don't forget to apply sun block and bring umbrellas or head caps. The boat rental is at Php 750 only for the whole day. The boat drivers will take you to the sand bar and will wait until you get back to the main land.
There were also life jackets they are willing to let you borrow and you can give donation to the locals. I commend that they didn't ask for a per head rental for the life jackets.
When checking out the giant clams, we rode the bigger pump boats owned by the Bantay Dagat so I personally gave them tips too which they greatly appreciate.
Hopefully this act will help the locals in the area also earn a living from it. So for those who want to
experience sand bar and personally see giant clams, Lumayag is a must try!
That's all for today! Hope you had fun with today's travel blog.
Copyright 2016 Jean Beltran-Figues
All rights reserved.