K-POP is undeniably taking over the world now. It is getting known globally and trending not only in Asia, but also in Western area. First and foremost, for the benefit of those who don't know what is K-pop, I will give you a simple explanation about it.
What is K-POP?
The term K-POP is the shortened form of Korean Popular Music or just simple Korean Pop originated in South Korea. It is consisted of all genres of pop music within Korea and is often known with experimentation of different styles and genres of music such as rock, experimental, jazz, gospel, Latin, hip hop, R&B, reggae, and electronic dance music (EDM).
Have you heard the worldwide trending Oppa Gangnam Style with billions of view in YouTube? That is just one example of thousands of songs produced by K-pop. But please don't stereotype and think that all K-pop songs are always like that, always catchy and upbeat, K-pop also do ballad and heartfelt songs.
In addition, when you say K-pop, you can imagine how colorful and unique their fashion is, with those colorful hair and crazy hairstyles! You may think it is weird but it is quite normal and trendy in South Korea and for all K-pop fans. They just don't sing, they also dance and rap while performing, and some group members compose, produce and even choreograph! Their good looking faces and sexy bodies are just BONUS!
A typical K-pop groups are also called "IDOLS". Every group usually has the vocal line or lead singers, dance line or lead dancers, rapline or main rappers and last but not the least the visual and the face of the group. It also has a leader and the maknae, a korean word which means the youngest among all members. When you ask me about the number of members, they can be as many as 18 or more!
Still curious about K-pop? You can watch the video below, it is the compilation of different K-pop artists and their hit songs.
Video credits: Unique Llama via YouTube.com
TOP 5 LIST
Before I start to tell my TOP 5 K-POP groups, I would like to clarify that this is just my personal preference and I don't mean to discredit the talents and how great the rest of K-pop groups that are not listed down. I love all the groups because I know how hard they trained before debuting. Moreover, I have so much respect and admiration towards the K-pop's 1st generation that spread K-pop in the world. Basically, my list will be composed of my bias groups and will be ranked according to my favor.
Image credits: EXO Official Website | EXO official poster in The War Album
About
The globaly known EXO is a South Korean-Chinese boy group based in Seoul. The group was formed by S.M. Entertainment and officially debuted on August 4, 2012. The twelve members were divided into two sub-groups; EXO-K (Suho, Baekhyun, Chanyeol, D.O., Kai, Sehun) who perfoms music in Korean language and promotes in South Korea; and EXO-M (Kris, Lay, Luhan, Tao, Xiumin, Chen) who performs music in Mandarin and promotes in China.
EXO began their career by releasing their first two prologue singles entitled "What Is Love?" and "History" in 2012. In the same year, "Mama" was launch as their debut single followed by extended play "MAMA". In 2013, EXO-M and EXO-K jointly promoted Exo's first album "XOXO" with the two singles "Wolf" and "Growl" the latter became the lead single of repackaged version. Their first album was a breakthrough hit which has sold over one million copies, making Exo the best-selling Korean artist in twelve years.
Sadly, in 2014 during their extended play "Overdose", Kris, followed by Luhan from EXO-M left the group due to their individual reasons followed by Tao in 2015. The nine members still continued promoting their albums both in Korea and China. In the succeeding years, EXO became a quadruple million seller as their albums consecutively sold over million copies. The second album "Exodus" (2015) with single "Call Me Baby", was re-released as "Love Me Right". The third album which is "Ex'Act" (2016) with singles "Lucky One" and "Monster" with repackaged album "Lotto" were loved by million of fans. And the latest album, "The War" (2017) with lead singles "Ko Ko Bop" and "Power" was trending all over Asia. Every winter season, EXO always give their fans a gift by releasing WInter Special Albums and these include "Miracles in December", "Sing For You", and "For Life".
In 2018, they had their first Japanese album "Exo Countdown" featuringof their lead single "Electric Kiss".
EXO Members
EXO-K
Suho (수호) -- Leader, Lead Vocalist
Baekhyun (백현) -- Main Vocalist
Chanyeol (찬열) -- Main Rapper, Vocalist, Visual
D.O. (디오) -- Main Vocalist
Kai (카이) -- Main Dancer, Lead Rapper, Vocalist, Visual, Center
Sehun (세훈) -- Lead Dancer, Lead Rapper, Sub-Vocalist, Visual, Maknae
EXO-M
Xiumin (시우민) -- Lead Vocalist, Lead Dancer, Rapper
Lay (레이) -- Main Dancer, Vocalist
Chen (첸) -- Main Vocalist
Ex-Members of EXO
Kris (크리스) -- Leader (EXO-M), Main Rapper, Vocalist
Luhan (루한) -- Lead Vocalist, Lead Dancer, Face of The Group
Tao (타오) -- Lead Rapper, Vocalist
Me and EXO
I can still recall, I heard the term EXO many times before on television, the media always had the news about this group whenever they do concert here in the Philippines. I am aware that they exist but of course I don't pay attention that much. Even so, I already knew the group 2NE1 back then, and actually listened to their songs during their time. After couple of years, I don't know why and how, I started to like and always listen to BIGBANG songs. I really liked them a lot so I started watching every shows and performances they were in. Until the day came that I was watching BIGBANG reaction videos on YouTube, suddenly, the EXO reaction video was recommended. I tried to watch the video and I liked their music, I listened to their songs, and the rest was history. I stanned them very hard without knowing how BIG they are in South Korea. EXO is very down-to-earth and very respectful not only to their seniors but also to their juniors. They even treat their fans as their own family. I am also a witness of how strong their friendship is!
For me, all the members are visuals, all members' vocals are no joke that even the dance line and rap line can sing so well. They do not stay with just one genre, they are not afraid to do and be different.
All I can say is I wish I have known them earlier. I wish since their debut, I am already supporting this group. However, it doesn't matter that much because I can be the fan that will support and love EXO 'till the ever end.
EXO-L Fandom
If there's EXO-K and EXO-M there should be EXO-L. It is said to be the one who connects and always in between the letters K and M (in the alphabet, it's K-L-M). L in EXO-L also means LOVE that means EXO will forever love their fans and vice-versa. The official fan color is "Cosmic Latte", which essentially means the average color of the universe. EXO is the universe and EXO-Ls are the stars.
Image credits: Koreaboo | EXO-Ls Rainbow Ocean at EXO'RDIUM DOT IN SEOUL Concert
My EXO Bias
D.O has been always my bias eversince I became an EXO-L. Even at times where Xiumin, Chen and Sehun tried to biaswreck me, I am still faithful to D.O. He is the most geniune person have ever seen, and his dedication to his crafts made me fall in love with him even more. I can't really explain well how much I love him. I adore him and love everything about him especially his good personality and good heart.
Favorite EXO Song
I really listen to all of their songs from all of their albums. That is how I love the songs of EXO. I can't even choose one when it comes to favorite but just to follow the term SONG not SONGS. I will choose "Promise". My reason is that's the first song that came to my mind and the song is about EXO promising EXO-Ls after the three members left the group and the fans.
Even after time, I couldn't say anything
and just swallowed my words
Words saying, I'm sorry, I love you,
please believe in me like you do now

I'll hug you, I'll hold your hands
If we can be together forever
I'll give you my all

I promise you

--Promise by EXO, 2015
Image credits: SHINee Official Website | SHINee official picture in 1 and 1 Album
About
SHINee, given a title as "Princes of K-pop", was formed by S.M Entertainment and debuted in May 2008. This boy group is composed of five members namely Onew, Key, Taemin, Minho and the late Jonghyun who just passed away in December 2017. Shinee is known with their main music style which is contemporary R&B but they are also known for their experimental sound, combining different genres such as funk rock, hip hop, and EDM.
They debuted with their extended play called "Replay" having same title single "Replay" followed by their first album "The Shinee World" with single "Love Like Oxygen". Their first album was repackaged with title "Amigo" with its self-titled title track. SHINee became the trendsetter amongst Korean teenagers. The following years had been their years as well because of the success of their other singles "Juliette" included in their second ep, "Romeo"; "Ring Ding Dong" from the third ep "2009, Year of Us"; and "Lucifer" from the their second album with repackage version of "Hello".
In 2012, their mini album "Sherlock" with its title song "Sherlock" gained so much attention even after hiatus. In the next year, they released their third album in series: Part 1 which is "Dream Girl – The Misconceptions of You" and the part 2 "Why So Serious? – The Misconceptions of Me" and was re-released with "The Misconceptions of Us".with "Selene 6.23" chosen as the album's title track. Moving on, the boys had their fifth ep " Everybody" with same title single "Everybody". THis boy group continued to rise at high, and their fourth full album "Odd" with the lead single "View" was released in 2015, followed by re-released version of the album "Married to the Music".
They also ventured into the Japanese music scene with their J-Pop albums "The First" (2011), "Boys Meet U" (2013), followed by "I'm Your Boy " (2014), "D×D×D" (2016), and "Five" (2017).
SHINee Members
Onew (온유) -- Leader, Lead Vocalist
Jonghyun (종현) -- Main Vocalist
Key (키) -- Lead Rapper, Lead Dancer, Vocalist
Minho (민호) -- Main Rapper, Vocalist, Visual, Face of The Group
Taemin (태민) -- Main Dancer, Lead Vocalist, Maknae
Me and Shinee
It all started by watching the k-drama called Descendents of the Sun starring Song Hye Kyo and Song Joongki. Onew was one of the supporting roles in the said drama and I was actually impressed by his acting skills. I loved the drama so much so I searched the internet to know more about the casts in real life. And that's how I met Onew of SHINee, I found out that he is actually an idol and I immediately searched for his singing performance in YouTube. His voice has a unique timbre and he can sing so well in English. Then I watched a video compilation of SHINee vocals and I was surprised with how all of the members sing so well! Personally, I love Onew but I loved Jonghyun's voice the most! I stalked them until I am tired stalking (hahaha). I became fonder of them after watching them in variety shows and are considered as the king of variety shows.I have known them deeper and I like their indiviual personality. Plus, I adore their friendship.
Shawol Fandom
Their fans are called Shawols which is just a shortened version of the word "SHINee World". It has no hidden or deeper meaning, it is just said that fans thought SHINee World is a little bit long. Furthermore, SHINee's Official Fan Color is Pearl Aqua.

Image credits: Onehallyu.com | SHAWOL's Ocean at SHINee WORLD I'm Your Boy Special Edition in TOKYO DOME
My SHINee Bias
I can't really decide who really is my bias. It is really hard to choose among very talented idols especially SHINee. But for now, I should say my bias in SHINee is Onew since he is my first love in SHINee. He is also clumsy and strong that made me fall for him more. Meanwhile, my biaswrecker is all of them!
Favorite SHINee Song
My favorite song would be "View" because I love view! (corny). I love the chorus lyrics and the beat.
The sky is beautifully spread
In the ocean, time is in a bottle
I dream of peacefully walking (by my side)
Whatever it is you imagined, I'll show you everything
Now tell me yeah yeah

--View by SHINee, 2015
Image credits: BIGBANG Official Website | BIGBANG official picture in MADE Series
About
BIGBANG, the "Kings of K-pop" debuted on August 19, 2006, under the label YG Entertainment. "BIGBANG made YG", says the CEO of YG Ent., that's how big and successful BIGBANG is in the industry. The group is well known of their diversity in using music genres, which includes hip hop, electronic, R&B, etc. Members G-Dragon, T.O.P., Taeyang, Daesung and Seungri were admired because they produce their own records. The lively and energetic stage performances during shows and concerts influenced other K-pop artists.
They started off with their debut album "Bigbang Vol.1" and its single "La La La" in 2006, which seemed not well loved by Koreans. Despite of that, in the succeeding years, success followed after the release of their notable hits including hits "Lies" from the album "Always" (2007), "Last Farewell" from album "Hot Issue" (2007), "Haru Haru" from "Stand Up" (2008), their single "Sunset Glow" from the album "Remember" (2008). The group's attempt to make music in Japan was also a success, releasing four studio album namely "Big Bang" (2009), "Big Bang 2" (2011), "Alive" (2012), and "Made Series" (2016). The popularity of BIGBANG in Japan is indisputable Even during their hiatus, many of their songs are still on top of separate music charts. Their hit songs include "Loser", "Good Boy", "Bang Bang Bang", "Fantastic Baby", "Let's Not Fall In Love", "Bae Bae", "Zutter", "Sober", "Last Dance", and "Fxxk It".
See full discography of BIGBANG here.
BIGBANG Members
G-Dragon (지드래곤) -- Leader, Main Rapper, Vocalist, Face of the Group
T.O.P. (탑) -- Lead Rapper, Vocalist, Visual
Taeyang (태양) -- Main Vocalist, Main Dancer
Daesung (대성) -- Lead Vocalist
Seungri (승리) -- Lead Dancer, Vocalist, Maknae
Me and BIGBANG
I honestly can't remember how or when did I meet BIGBANG. Though how much I think hard about to recall, I really can't. It is not because they're not special for me, the reason is because I have memory gap. And I just realized now that I've had watched their collaboration song with 2NE1, "Lollipop". Looking back before, their popular song invaded my country. Whenever I switch on the television and radio, I can always hear "Wow! Fantastic Baby!" and I see myself dancing to the beat. I didn't know at first that it was K-pop song. Fastforward to the time when I started watching and listening to BIGBANG, that was when I realized that they owned that hit song! If you think that song is lit, they have more songs that are more lit than "Fantastic Baby". My favorite album from them is the "MADE" album, which means all of the songs from it is on my playlist.
Behind the camera, I really admire their friendship especially during the hard times. They were always there for each other.
By the way, they have the weirdest fashion in K-pop but they can slay it so it's okay. For me, I consider them as LEGENDS in K-POP.
V.I.P. Fandom
BIGBANG's fandom is called V.I.P. which literally means "very important person". Fans are so lucky that they are not just an ordinary people in the eyes of their idols. The fandom color is yellow and fans always wear yellow crown with matching crown lightsticks. They truly look very very very important, isn't it?
Image credits: BIGBANG Official Facebook | VIP's Ocean at BIGBANG JAPAN DOME TOUR 2013 Concert
My BIGBANG Bias
In my honest opinion, I hope no one gets offended since we all have different tastes. I don't know why I really love G-Dragon despite of having a bad boy image. I am not attracted to bad boys, but GD is the exception. I am also aware that he is a "chic boy", but I can't stop falling for his smiles. I guess, it is the charisma of one and only Kwon Ji-Yong. Plus, those facts that he really is a king with those sexy and swag moves, he is a rap god, he is very talented in composing, and he sings good. He is the real deal. Let's not forget, he is RICH. (hahaha)
Favorite BIGBANG Song
I love all the songs from MADE series. So I were to choose from the album, I chose "Bang Bang Bang". I do zumba with that song. Kidding aside, I love the choreo, the drop, the beat, the crazy transitions and all.
I'll set this place on fire, to burn up your heart
I wanna make you go crazy
B.I.G Yea we bang like this, everyone together

Like you've been shot

BANG! BANG! BANG!

--Bang Bang Bang by BIGBANG, 2015
Image credits: Red Velvet Official Website | Red Velvet official picture in The Perfect Red Velvet Album
About
This girl group from S.M Entertainment debuted on August 1, 2014 with four members namely Irene, Seulgi, Wendy and Joy with their digital single "Happiness". After couple of months, their fifth member Yeri was added on March 10, 2015. Their mini album "Ice Cream Cake" with double title-tracks "Automatic" and "Ice Cream Cake" marked as Yeri's first appearance. Red Velvet already received success since then, and in September 2015, they released their first full-length album "The Red" with title song "Dumb Dumb". In 2016, their second mini album "The Velvet" and their third mini album "Russian Roulette" with lead single "Russian Roulette" were both given much love, same goes with their mini album "Rookie" with lead single "Rookie"(2017).
In addition, "The Red Summer" marketed as a special "summer" mini-album release in July 2017. It's title track "Red Flavor" became the South Korea's national anthem in the year 2017. It is considered as their biggest breakthrough hit ever since then. "Perfect Velvet" is their second album with "Peek-A-Boo" serving as the album's title track. With this album, they were considered as K-pop girl group with the most number-one albums on the chart. Recently, the repackaged album "The Perfect Red Velvet" was revealed to the public with the title "Bad Boy".
These talented ladies showcase their music with contemporary R&B, electropop, and ballad genres and their career run is still on top.
Red Velvet Members
Irene (아이린) -- Leader, Main Rapper, Lead Dancer, Vocalist, Visual, Face of the Group
Seulgi (슬기) -- Lead Vocalist, Main Dancer, Center
Wendy (웬디) -- Main Vocalist
Joy (조이) -- Lead Rapper, Lead Vocalist
Yeri (예리) -- Lead Rapper, Lead Dancer, Vocalist, Maknae
Me and Red Velvet
Red Velvet and EXO are under the same agency which is the S.M. Entertainment that's why I am already familiar this group. I actually met them first when they had cameo role on the drama Descendants of the Sun, they performed their song "Dumb Dumb". To tell the truth, I am not that impressed with their performance that time so I didn't bother to search them on the net. Maybe I was just too focused on the drama that's why, but I discovered that Onew and Red Velvet is from the same agency as well.
Thanks to actor, Jin Goo! After seeing him enjoying the "Dumb Dumb" dance even in variety shows, I became immersed with the song as well. I got curious, then finally searched Red Velvet's all abouts and other songs. However, I didn't give them much attention after that. A year or two have passed, my friend told me about this group called "Red Velvet" and she started to build up the group to me. She had always been telling me how gorgeous they are and how talented they are, sent me clips of them showing off their great vocals and dancing skills... and my friend succeeded! Red Velvet got my heart finally. This girl group also occupies large part of my playlist of their songs. Though, I haven't listened yet to all of their songs, I always listen to their title songs in every album.
ReVeLuv Fandom
Many expected their fandom name to be related to cakes as well. But no, thank you.. ReVeluv is the perfect fandom name for Red Velvet. It was derived from Red Velvet + Love that means Red Velvet and fans are in love with each other. It can pass as term of endearment for Red Velvet and fans. The official fandom color is Pastel Coral. Many fans love it and even the color name is pretty, just like the color itself and of course just like the pretty Red Velvet members.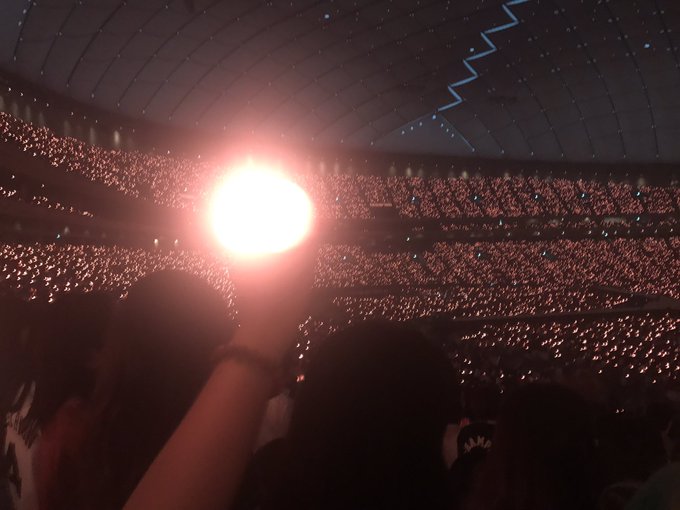 Image credits: Little Dwarfs via Twitter.com | Pastel Coral Ocean at SMTOWN Live World Tour VI in Osaka
My Red Velvet Bias
All of them can be my bias actually but of course I prefer to choose only one to be fair. My bias is Joy. She is the hottest girl I have ever seen! I just appreciate her beauty and I wish I could be hot and pretty just like her. All of them are really beautiful but there is something about Joy that makes her extra special for me. She has so much appeal that even the Court of Appeal is jealous. (corny joke strike 2!)
Favorite Red Velvet Song
I got love at first sight with this sexy song called "Kingdom Come". R&B at its finest and to the highest level! Their vocals were highlighted on this song. I am really speechless because I just love it so much.
I'm colored with you
You fill my heart
Baby I will love you till kingdom come
I won't wake from this dream baby
Forever, I got you, you got me
Love you till kingdom come

--Kingdom Come by Red Velvet, 2017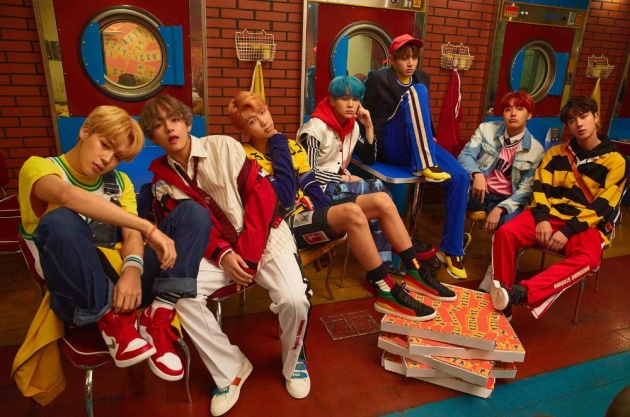 Image credits: BTS Official Website | BTS official picture in Love Yourself "Her" Album
About
BTS is the abbreviated term of the Korean term "Bangtan Sonyeondan" which means Bulletproof Boy Scouts. They are also known simply as Bangtan Boys. BTS can do hip hop, pop, electronica, rock, R&B and EDM. This very famous group is composed of seven members namely RM, V, Suga, Jin, Jungkook, Jimin, and J-Hope. They were formed by Big Hit Entertainment and debuted on June 12, 2013.
Their first album is called "2 Cool 4 Skool" with the lead single "No More Dream". After that, they continue to release their albums every year. In 2014, they released "Dark & Wild" (2014) with "Danger" as the title track. In 2015 they dropped "The Most Beautiful Moment in Life, Part 1" with lead singles "I Need U" and "Dope"; while "The Most Beautiful Moment in Life, Part 2" having "Run" as its lead single.
In 2016, their popularity started to rise with their album "The Most Beautiful Moment in Life: Young Forever" having three singles "Young Forever", "Fire" and "Save Me". Followed up by their first million seller album, "Wings" (2016) with lead single "Blood Sweat & Tears" that made BTS more known especially in South Korea.The following year, a repackaged album of "Wings" called "You Never Walk Alone" (2017) was anticipated by many fans especially with the singles "Spring Day" and "Not Today". 2017 is really the year of BTS with huge recognition not only in their native land but from also in Western countries. Added to the fuel, it was the fifth extended play "Love Yourself:Her" with the title track "DNA", their name became even bigger and had a large social media presence.They are now considered as one fo the groups that are known worldwide.They deserved everything because this talented men worked really hard from the beginning.
BTS Members
RM / Rap Monster (랩몬스터) --Leader, Main Rapper
Jin (진) -- Vocalist, Visual
Suga (슈가) -- Lead Rapper
J-Hope (제이홉) -- Lead Rapper, Main Dancer, Sub Vocalist
Jimin (지민) -- Lead Vocalist, Main Dancer
V (뷔) -- Vocalist, Visual
Jungkook (정국) -- Main Vocalist, Lead Dancer, Sub Rapper, Center, Maknae
Me and BTS
BTS is everywhere. I met this popular group because every time I watch random videos from YouTube, I can always read the name BTS on the comment section. That's why I got curious why and what is with this group? Why they have so many fans? So I searched for them, I got the chance and watched their hit songs, it was Fire! Yes, literally, the first song I've seen is their "Fire" and I was so impressed from that moment, the dance moves are in sync. They surely are one of the best dancers in K-pop acts. They have lit songs and saw their nice friendship. I am just a human, and fell in love with them. Nobody can resist these young and talented boys.
Nowadays, I know they're so popular worldwide, that's why I am so proud of them.
A.R.M.Y Fandom
In military terms, ARMY means a group of force organized for fighting on land to protect the land. Meanwhile, Bangtan boys have their own meaning of ARMY, it stands for "Adorable Representative M.C for Youth." It also has a deeper meaning that BTS and ARMY are always together and will stay forever. Silver-gray is the color of the fandom.
Image credits: BTS Official Facebook | ARMY Ocean at BTS 4TH MUSTER <HAPPY EVER AFTER>
My BTS Bias
My bias in BTS always changes from time to time. At first it was V, I watched him on the drama Hwarang, and started to like him. But then, I switched to Jin for only a short time because I liked his weirdness. From Jin, I was back to V because he is so extra. Until, Jungkook biaswrecked V, then I stanned Jungkook. Now, I realized that J-Hope had been on my bias list ever since, I started to like him because I've seen that he is just a simple and quiet guy but he still knows how play around and be silly sometimes. And when he stars to dance, my eyes would only stick to him. I know he is an average when it comes to visuals but I still like him and I still see him as visual of the group. Lastly, J-Hope is my bias because why not.
Favorite BTS Song
For the first time hearing this song "Spring Day", it became my instant favorite from all BTS songs. It's a painful yet beautiful song.
Yeah I hate you
Although you left
There hasn't been a day that I have forgotten you
Honestly, I miss you
But now I'll erase you
Because that will hurt less than resenting you

--Spring Day by BTS, 2017
That completes my Top 5 K-pop list. All K-pop artists including girl groups, boy groups, soloists, duo, and trios, I believe they're all equally talented. It's just that each of them has different styles in music, individual choices of genres, and distinct tastes. I've just chosen those 5 groups just for the sole reason of they suit my personality and we are common in style when it comes to music. But of course, I really appreciate, love and respect all of the K-pop artists, especially the groups from the first generation. They were the ones who spread K-Pop to different places in the world, and the junior groups are also continuing their legacy.
I salute all of them, really. They all deserve all the love and support in the world. Just continue supporting your idols and don't hate on other groups. I discourage fanwars that destroy the fun and art of being a k-pop fan.

To end this blog, I am glad to share to you guys this video collaboration of 125 different K-pop artists singing this wonderful song "You are Miracle ". It's a Friendshiop Project of SBS in 2013.
Video credits: SBS Now via YouTube.com
Thank you for reading guys. Here's a querlo for you about music and singers.
☄mhaiiiself 2018