On the 29th of April 2012, we set out for Naran at 8:50am. We took breakfast at about 10:00am at Kabli Hotel near Lari Adda Mansehra. We were quite hungry at the time of breakfast. So we took a heavy breakfast which afterwards served as lunch also. We resumed our journey at 10:45am. On the way there was superb natural beauty. The effect of the devastating earthquake could still be seen in all the buildings.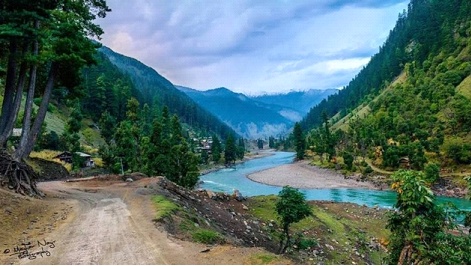 (image source : www.google.com)
We reached Balakot at 12:15pm. All of us were very eager to Visit this place. This was the town that was completely razed to the ground in the October 2005 disastrous earthquake. This was the epicenter of this earthquake, the parallel of which has never been witnessed by the people of our country.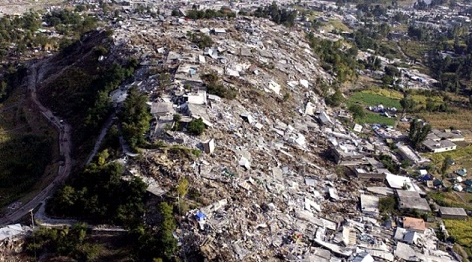 (img src: www.google.com)
We spent about 45 minutes in Balakot. At Balakot we got the information that the road to Naran was blocked by glaciers and the vehicles could go only up to Kaghan. This was a rather disappointing information for us. The most charming part of this tour was the prospective visit of Naran and Saif—ul-Malook Lake. According to the schedule we had to reach to Naran before night and then set out for Saif-ul-Malook Lake early next morning. However all our planning was dashed to the ground. Only one among us, Rehmat Ali, had been to Saif-ul-Malook Lake and he was all praise for the beauty of this area. When we assembled again near the vehicle, after our Visit of Balakot, we discussed the matter together. Some of us proposed to return. Some others, especially the Principal (Sb), saidthe Kaghan is also a famous place and now that we have come so much near to it we should see this place. Besides, we also doubted the authenticity of the information so we decided to go kagan and judge the situation for ourselves.
We set out for Kaghan at 1:00pm. The road runs side by side the angry river kunhar. There are majestic mountains and the river forces its way through the rocks of the mountains. The flow of the river is very fast. It is gushing through the rocks. Its path is also very narrow, confined by the mountains.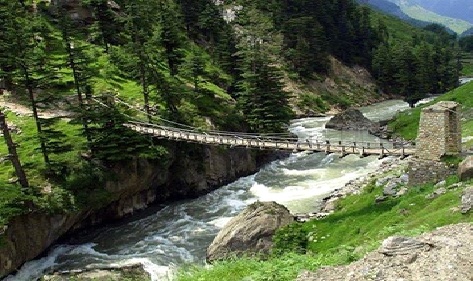 (img src : www.google.com)

The road is also very dangerous. At some places the road is at alarming height when one sees the river kunhar deep below in the base of the mountains. The mountains on the way are simply awe-inspiring. There were houses, very high in these mountains, which were rebuilt with sheets provided by the government. Some these houses were on the flanks of very steep mountains. One just wondered why these people were residing there. I was extremely fascinated by the natural beauty and serenity of this area. One could see nature at its best. Seeing the beauty of this comparatively less famous area could not bring the natural beauty of Naran and Saif- ul—Malook Lake even in the wildest of my imaginations. My disappointment increased for not being able to visit Naran and Saif—ul- Malook Lake as the beauty of this area seemed to be just a prelude to the scenic beauty of those areas. Some of them remarked that they should not have come ahead and should have returned from Balakot. We offered Zuhur prayer at a place called Farid Abad at 2:30pm. There an NGO worker advised us not to got to Kaghan, but instead turn back, go for about 10 kilometers and turn to Shogran, which is a very beautiful place. However we continued our journey and reached Kaghan at 4: 15pm. First we searched for hotels. Only one hotel was open and that was also very expensive. They demanded Rs. 4000 to accommodate all of us for one night. There were only two cafes for meal. There were only a few shops.

On the way to Naran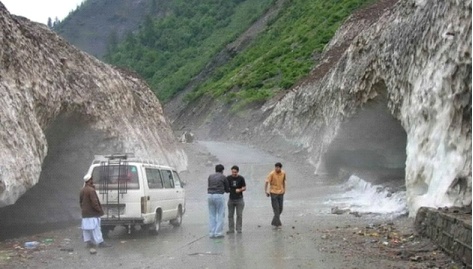 (img src: www.google.com)
The place was also not distinguished by natural beauty from the adjoining area. So we did not find Kaghan to be as beautiful as it is famous to be. However, its fame may be due to the fact that it is more populous than the nearby areas. It was decided that we should begin our back journey as soon as possible. There was tiring journey ahead of us. The road was dangerous as well as lonely and deserted. The night was approaching. On that day we had already traveled for about 7 hours. We were very tired, and more importantly, the driver was very tired. However it was safe, as well as more useful for us, to get out of this area as quickly as possible. It was useful for us so'that we could give more time for our visit to other areas.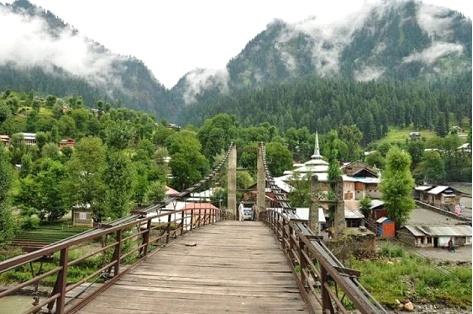 (img src : www.google.com)

We started our back journey from Kaghan at 4:45pm. We offered Asar prayer at place called Mahanderi at 5:30pm. We had not taken lunch and most of us were feeling hungry. So we took a cup of tea each at a nearby hotel.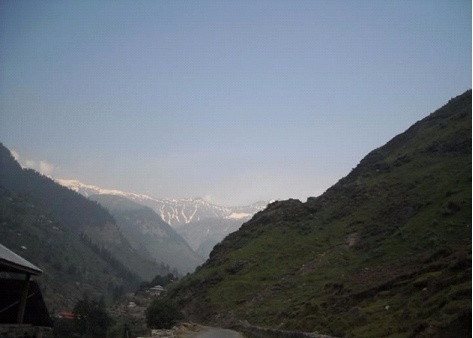 (img src : www.google.com)
The Principal (sb) was not feeling well. His forehead was feverish and he was feeling sick. His condition went on deteriorating as we advanced. At one place he asked to stop the vehicle. He went down and vomited. Then he lay on the seat.
We reached Balakot at 8:00pm. From then onwards the road was not so dangerous. First of all we tried to find medical treatment for the Principal (sb). It was easily found. His B.P was alarmingly low. We took dinner. at Balakot.
Naran and Saif—l-Malook Lake were thus dropped out of the schedule places . to be visited. Some of our colleagues expressed the desired to go to Muzaffar Abad from Balakot to make up for this deficiency. When this desire was communicated to the Arrangement ' Committee they inquired about the distance and the condition of the road leading from Balakot to Muzaffar Abad. They got the information that the road was not in good condition. It was already late and we had to cover all that distance in darkness. It was quite risky. So the idea to go to Muzaffar Abad was dropped and it was decided to go back to Abbottabad.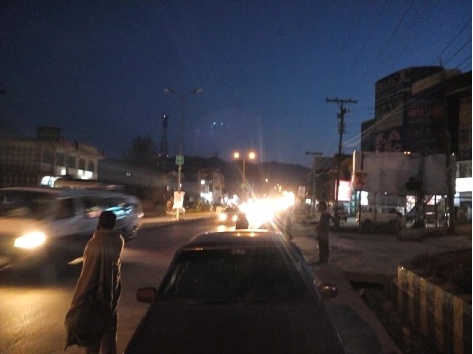 (img src ; www.google.com)
We set out for Abbottabad at 9:00pm and reached there at 12:00am. All of us were feeling very sleepy. I was quite afraid on the way when the Driver had said that he was feeling sleepy. However nothing undesirable happened. We faced a lot of difficulty in finding accommodation in hotels. First we went to the hotel Where we had spent the previous night and there was no accommodation available. The Arrangement Committee proposed to spend the night in the vehicle. However, the idea was strongly opposed by the Principal. At last we found rooms in three separate hotels very late at night. This day ended not with mush too cheer about.