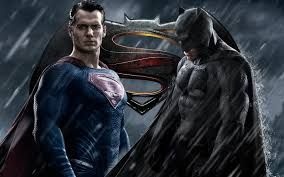 Not to be outdone by the premiere of the second 'Force Awakens' trailer – 'The Force is strong in my family' – on Thursday 16 April 2015, Warner Bros has released the teaser for Batman V Superman: Dawn of Justice, a movie that distances itself from the Christopher Nolan trilogy not just in the casting of Ben Affleck as millionaire Bruce Wayne – he looks like he fetches his own newspaper rather than is a pampered oligarch – but in the omission of Nolan's Syncopy logo. This trailer goes creative on the voiceover front as a number of well-known actors opine that an alien saviour from the sky (there is only one sky, right?) should be treated with suspicion.
From the trailer, we deduce that Metropolis has been turned overnight – am I'm guessing a long night – into Gotham City. There's no sunlight here, just a defaced statue of Superman daubed in red paint, 'False God' – well, this will be I guess a PG-13 rated movie, so none of the rude worlds that you would normally associate with graffiti.
The creative decision not to show any actors speaking on camera does give us a chance to see what Affleck looks like when he is brooding. As we saw in Gone Girl, in which his character pleaded in a weasel-like tone, 'I didn't kill my wife' – or should that be Weselton (to quote a line from Frozen), he looks like he is pondering a Sudoko puzzle rather than has the fate of humanity on his shoulders.
Personally, I fear for Bruce Wayne: he takes advice from an off-screen Claus Von Bulow (Jeremy Irons), or is he Alan Rickman's brother from Die Hard With A Vengeance? Amongst the voices we hear are Jesse Eisenberg as Lex Luthor ('Devils come from the sky' – really, you have actual proof, I thought Hades was an underground kind of place) and Holly Hunter as Mrs Incredible – I kept expecting her to bawl out Dash and Violet.
After some flying vehicle shooting at the ground stuff, we see Batman using a voice distorter ask Superman 'do you bleed?' right before (I guess) Superman asks Batman if he is available for children's parties. This is a trailer that shows Superman looking at the sky whilst everyone else is wearing sunglasses – so I suspect his taxi has arrived to take him back to rebuild Krypton (I wonder if there is an intergalactic Uber service; he can hitch a ride with ET) – and a bunch of men kneel as he walks past (but Kal El's dad was a scientist on the council, he has no military rank – never mind).
So key questions are asked by this most teasing of teasers. Will Superman need a blood transfusion? (Good luck with that.) Why does he just float in the air – it's very disconcerting, but an unnecessary use of digital effects. (Maybe the VFX guys insisted upon after pressure from their union.) How can Batman see if his eyes are like torches – hold a flashlight away from you directly in front of your eyes and find out if that aids your vision. It all seems rather static, putting 'tomb' in the word cartoon. (Khartoum is a place, I know that.)
Batman V Superman: Dawn of Justice opens worldwide on 25 March 2016, except maybe in countries that might have an issue with Wonder Woman.