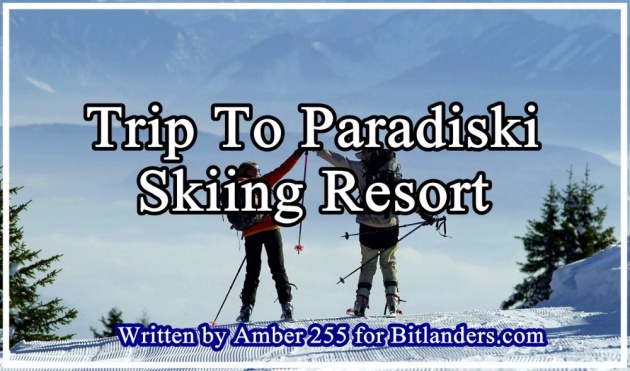 Trip To Paradiski Skiing Resort - Photo credit: tv3.lt, Edition by Amber255 via Bitlanders.com
I sorted out my photos in a Google cloud and found many photos from the Paradiski skiing resort. The memories flooded me with a big wave. Wow, how I would want to be there now. I love skiing, but this year, it looks, I could not get a vacation for this. Anyway, photos reminded me how I love it and there is new writing from me.
I dreamed about mountain skiing since childhood. And at 18, my dream came true - we went to the skiing resort with family. The first try I failed, of course, I fell down with my face forward to the snow, then got up and went on straight legs down the slope with a loud shout. I learned it little by little. Now, skiing is one of my favorite entertainment during winter time. I fell in love with this feeling when you fly from the mountain at the speed of light.
France has over 300 ski resorts located not only in the Alps but also in the Pyrenees. French mountain resorts are usually chosen by those who value quality and are able to pay for it. However, there are also some minuses: during the season, both the airports near the Alps and the roads are often clogged. In addition, some of the major ski resorts in France has no aura of the small mountain town and are more reminiscent of traditional cities.
Paradiski Skiing Resort - video credit: Paradiski via Youtube.com
Some Info About Paradiski Skiing Resort
Paradiski Ski Area consists of three mountain resorts: Les Arcs, La Plagne and Peisey-Vallandry. This region has ski tracks of 425 km. In the entire Paradiski region, a one-day ski ticket valid for this season costs about EUR 53 for adults and EUR 290 for a 7-day ticket. You decide if it is a too big or normal price for you. We paid for a week.
Paradiski has a total of 242 tracks: 12 green, 129 blue, 66 red and 35 black with 157 lifts. And no, I do not remember those numbers, but I still have the brochure. It says that the height of tracks is between 1200 and 3250 m, and two glaciers with 626 snow cannons guarantee constant snow.
Paradiski is not only a large but also a modern resort with excellent infrastructure and high-quality elevators, praised by skiers around the world. 50 years ago, there were pastures on the Paradiski track. Now it is a modern, luxurious, spectacular ski area connecting two ski areas - Les Arcs and Paradiski.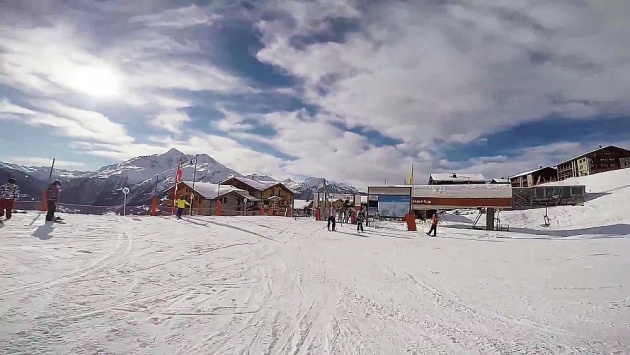 Paradiski skiing resort - Photo credit: Amber255 via Bitlanders.com
It is definitely a huge resort (the third largest in the world), which sells at a record high of 2.5 million ski passports per season and can accommodate and accommodate over 100,000 people at a time. Yes, there are lots of skiing out there throughout the season, but modern equipment and great infrared facilities are able to serve even such number of people. After all, so many people come and then return every season for sure not to stand in the queues and ski down on the tracks.
In fact, after visiting Paradiski in the magnificent valley of Tarentaise, it is hard to believe that 50 years ago there was nothing except the bare mountains, the cows and the notorious lead mine.
I would say, it's a whole new resort, established just a couple of decades ago, and in 2003, combined into a common Paradiski ski arena. The trails here are suitable for all: children, adults, and seniors. The blue, red, black, off-road, snow parks - here is everything from A to Z! After last winter, this resort enters my TOP 5 ski resorts.
The trails are well maintained, the mountains are high, the trails are high, so the snow lasts for a long time. The numerous snow cannons at the slightest frost blow the snow into the tracks without stopping.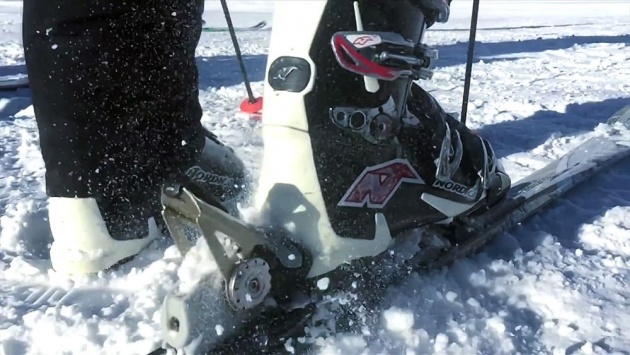 Paradiski skiing resort - Photo credit: Amber255 via Bitlanders.com
Our Journey To Paradiski
People' trips are different, so their impressions are different, and the assessment is also different. But I'll tell you about our dream team's week in this resort.
First of all, we, eight persons, friends from different part of Europe, landed at Geneva airport. The first joy of meeting, warm hugs, laughter, and joy to see faces that we saw only through phone video calls for a long time. If you have read my first posts, you know that I have lived in Italy and then in the UK. So, finally, we met again after a few years and went to a skiing resort to spend a week together. Thanks to Mikel who decided to gather us together.
The microbus already waited for us outside the airport. It appeared that in the night from Friday to Saturday they had a big snowfall across Switzerland and France. Our driver informed us that near 80 cm of fresh snow fell overnight in Paradiski. So, imagine what the snowbanks there were around. We sat into microbus together with two more couples who went to the same Edenarc apartments. Anyway, without any hurry via serpentines, we reached the middle of the mountain, where our residence is located at the top of Les Arcs 1800.
Skiing at Paradiski resort - Photo credit: Amber255 via Bitlanders.com
A Few Words About Les Arcs Resort
Les Arcs is the second largest ski area in Paradiski, with La Plagne combined with the world's largest lift, Vanoise Express, with lifts up to 200 people. Les Arcs, in terms of quality and variety, is one of the leading ski resorts that after establishment, immediately got a huge success. It is built according to the best French traditions, where the utmost convenience is the most important, which means excellent equipment and a great variety of tracks.
This area consists of four resorts: Arcs 1600 (for family), Arcs 1800 (main resort), Arcs 1950 (newest and most luxurious), and Arcs 2000 (sports). All of them got names according to the approximate height which is possible to reach the resort. We chose Arcs 1800, the main resort.
Les Arcs, we have finally found our dream ski resort and we now come back every year.

Credit: snowplaza.co.uk
Les Arcs also boasts an impressive number of tracks. In total, there are 106 tracks, most red and blue. There are not many green tracks for beginners. However, the good part is that everyone can find something for themselves. For example, if it is your first day, go boldly to Arcs 1800 and sit on the Carreley or Villard's ski lift. You will get into the easy blue routes, which usually do not have anyone trying to reach the speed of light, and you will have plenty of space for learning.
Experienced will most enjoy Aiguille Rouge - 7 km horizon and 2 km vertical landing.
The Apocalypse Park, located between Arcs 1600 and 1800, attracts snowboarders to Les Arcs. It is not only popular for its figures but also because of its very comfortable J-bar lift. For years, it was the most advanced snow park in the Alps, compared to the main Avoriaz mountain park. Three jumping lines have something to offer to everyone from learner to professional, as well as there is no lack of handrails, boxes, walls, and jump through water opens at the end of the season. All that you may miss here is a half-pipe, which is only in the plans so far.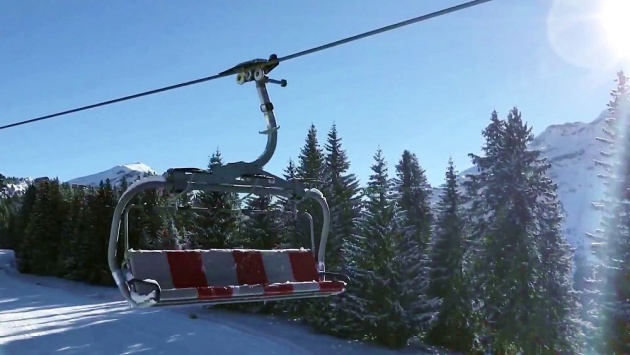 A trip to Paradiski skiing resort - Photo credit: Amber255 via Bitlanders.com
Edenarc Residence And First Day At The Resort
The convenience in France is that most of the residences are just near the ski slopes. Our residence was no exception. Edenarc is a gigantic 4 * and 5 * apartments' complex built on a hill. It has brand new, spacious apartments with kitchens, new furniture, impressive views of the windows.
It features a swimming pool from which you can swim out to outside, sauna area, and jacuzzi. One of the buildings has a spacious lobby and reception, and a restaurant with a lounge area, where you can spend the cozy evenings. Not in vain, this is one of the best residences in the entire Paradiski region.
On the first day, we arrived early enough, around 12 of noon. We got our keys to the apartments even without waiting for the 15th hour, at which starts the check-in there. So, we left our luggage and all together went out to wander around. From the residence down to Les Arcs 1800, tourists can go skating on the slopes or use a specially designed pedestrian ski lift, which will carry you down, if I am not wrong, from 08:30 to 23:00. It is convenient for anyone wishing to just take a walk to the town, which is actually made up of pedestrian streets between various residences and shops.
When we went down the hill, we went to pick up the ski passports so we could just skate the next day. Well then everyone scattered everywhere, some returned to the residence, others went to the groceries, and we went to look around places for night parties. We went to one bar, to another, we got to know the best places for parties.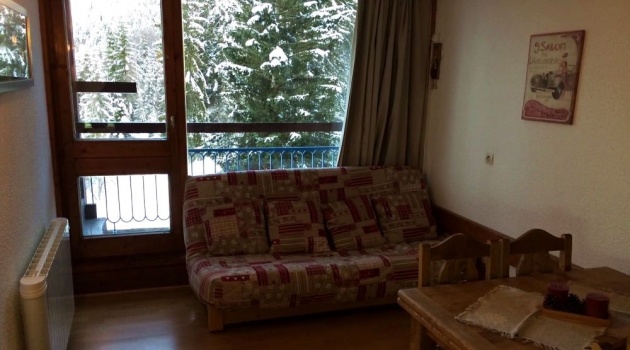 Edenarc apartments - Photo credit: Amber255 via Bitlandes.com
Skiing In Paradiski
It's just fun to wake up in the morning and see endless wilderness of white mountains through the window, illuminated by the sun, full of fluffy snow that fell down the day before. But the fun started when friends came out from another room and reported that this sunny day, the thermometer shows -20'C outside, and on the mountain, due to the wind, we can feel even -24'C cold.
It's fun; we thought what to do here now: to ski or not to ski. So we did not hurry, calmly without any rush we went to eat breakfast, dressed up with all the warmest clothes, therm clothes and went out to ski about 11 am. The weather warmed up to -15'C, so it was already possible to ski.
There are various lifts - open chairlifts and closed bubbles, all the network to all the sides. Extremely fun on the wide tracks and fluffy off-road tracks - a big joy to return to the mountains. On the first days we were skiing on the Les Arcs side; there are 200 km of slopes, glacier, the peak of Aiguille Rouge, snow park. Downhill on the right side of the mountain, towards Vallandry, there are fewer people, and the tracks are perfectly leveled. Lift up to the top and ski down without any man, with no one - it's the endless fun!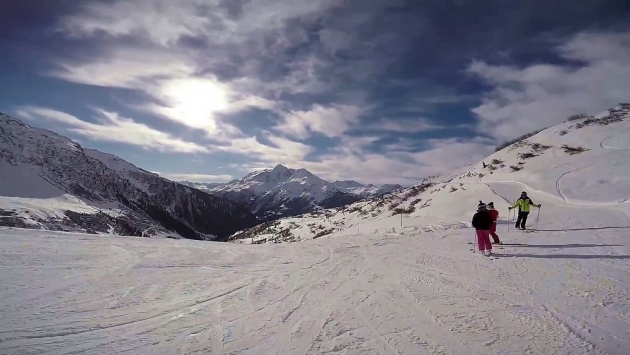 Les Arcs 1800 - Photo credit: Amber255 via Bitlanders.com
All our holiday's week, the weather was just perfect, and the sun shone to us every day; we had a thick snow cover on the mountains, although it was just a beginning of January, and the temperature didn't fall below -10'C, so skiing was a pleasure.
At the end of that week, we went to La Plagne side. There was a different skating. An incredible network of tracks interwoven with each other. It looks like an adjacent mountain, and the tracks are like in the meadows: no trees and clear fields with wide tracks!
Once we headed to the Bellecote glacier, where the tracks are more complex and steeper, more challenging and more adrenaline. Only at the beginning is very much lifting to reach the top. You ski a little and look that you again need to lift up, but going back, you can ski for a long time!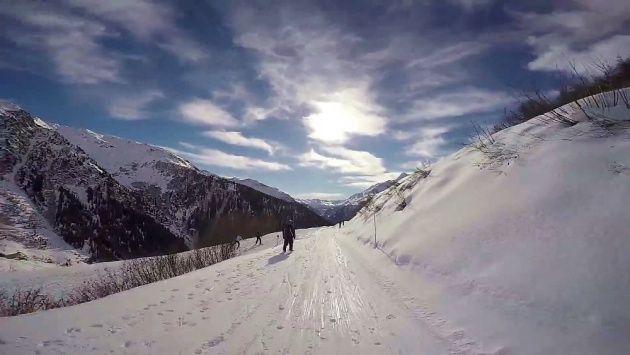 France ski resort Paradiski - Photo credit: Amber255 via Bitlanders.com
The Food And Drinks
When going to the mountains, one should not expect to save on food and drinks. These are mountain resorts, and you have to be disposed of that they are always more expensive. Everyone says, France is terribly expensive, so yes, more expensive, but not terribly expensive if you don't eat fried pigeons.
A pizza or a burger with potatoes on the mountain will cost around 10-12 euros. Some meals may cost more, depending on what the dishes you want to eat. Coffee cup, vin chaud (hot wine) will cost about 4 EUR. Hot chocolate with cream cost 4.70 EUR. Beer in the mountain costs differently, about 6-7 EUR.
Food prices in stores, compared to the prices of my country Lithuania, are higher somewhere between 20-30%. You need to find a bigger shopping center and buy food there, not in boutiques where they sell wines, cheese, and two kinds of other food items.
Of course, some people prepare food in their apartments as it has a kitchen area. Some eat at bars, restaurants. We did combine this and that, but the lunch we always ate at mountains' bars.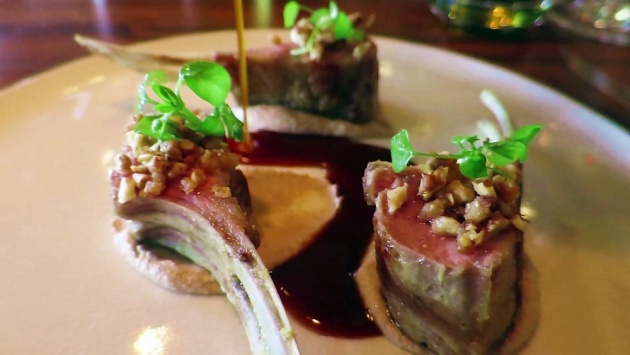 French food at Paradiski restaurant - Photo credit: Amber255 via Bitlanders.com
Apres-ski And Nightlife
Most hard-core skiers know what is après-ski, but for those who don't know - it's a social activity after the day of skiing. Austrian resorts are the most famous for their après-ski, with dancing on tables with ski boots, where beer and other drinks splash on all sides; everyone celebrates the holidays and enjoys every moment. When I first saw it, I honestly got shocked.
But that time, when I visit Paradiski, I can't say that it was worse. Yes, we were there at the time when the British came from the University of Oxford Brookes, and the parties started in the morning, then they slightly went for skiing, over lunch they started a rampage, and then moved to the evening and night until morning.
In the middle of the week, we found the apres-ski bar on the mountain. Skiing down from the L'Arpette top of 2413 m down to Les Arcs 1800, crossing the snow park. It is actually called L'Arpette bar. The British had brought their DJ, which played every day. Everyone came dressed in costumes, painted faces, and cheerful. Dancing on the tables and music started at around 14:30 and continued until sun landed, and music turned off about 17-18 o'clock because people still somehow had to ski down the track.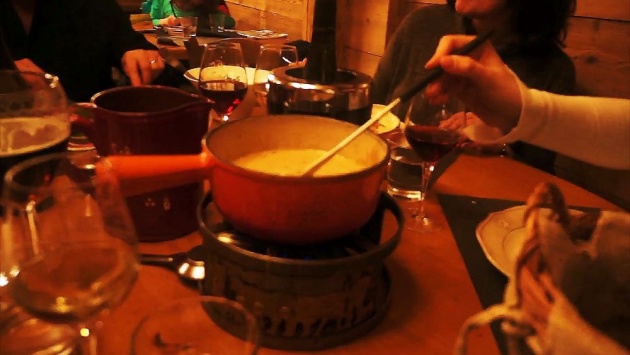 Fondue party after skiing - Photo credit: Amber255 via Bitlanders.com
The tracks were illuminated, but the lifts were no longer working. It seemed funny when about 6 pm from the mountain, a rocking gang of skiers and snowboarders, dressed up in diverse animals and characters: unicorns, tigers, cows, chickens, elk, fairies, and other creatures flooded the tracks.
Downhill to the town, it was also possible to find excellent après-ski places, which gradually turned into night bars. Some of the most exciting ones are Before Cafe and Red Hot Saloon. Surprised only strange working hours, up to 2 hours night. The pubs and bars then closed, and nightclubs opened, where parties can be extended to 4-5 hours in the morning.
The best places to spend night till morning: Club 73, where you can enjoy great dance music and good cocktails. After 2 hours at night, the club is full. For those who like to dance, there is also the Carre Club, which British youth loved too.
So, in the Les Arcs 1800, there is no shortage of places for parties. The only inconvenience is going back to the residence after the party. The lift to the residence is open from 08:30 until 23:00 So those who love to stay quiet in the evening will have no major problems if you return to the ski lift by 22:55 and go back to the residence.
Just don't be late, because if you arrive at 23:00, the lift switches off already, and even any - please, turn it on for a minute - did not work here. I say it from my experience. So, at the end of the party to return to Edenarc at 4-5 hour in the morning, you will have to walk up the mountain.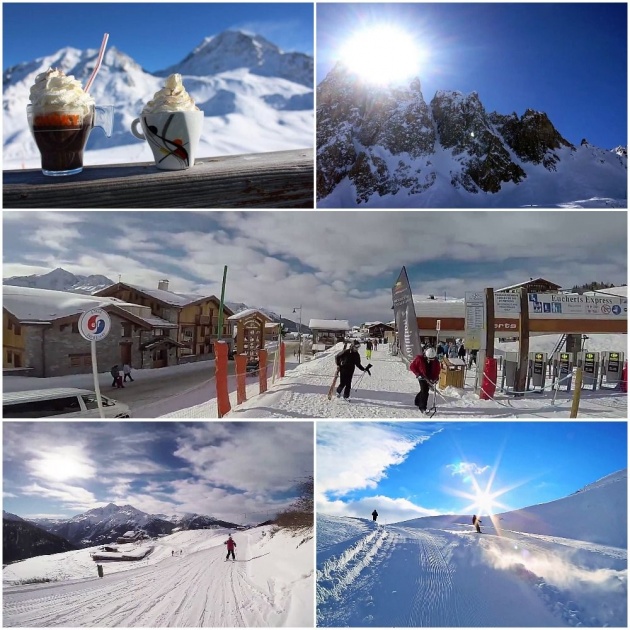 Memories from Paradiski skiing resort - Photo credit: Amber255 via Bitlanders.com
On The Final Note
So, to sum up, the trip was great.
The feeling that covers you during the descent is difficult to describe or put into words. You almost fly, adrenaline in the blood rolls over, and I begin to understand what happiness is. You should try - this is not just a sport or entertainment, but a good tempering for the whole organism, the development of the ability to quickly make decisions and respond to all dangers.
Adrenaline - just splashes out, you just don't notice the cold, and you want to find a bigger mountain, climb higher, go faster! In general, who are able to go for skiing - try it.
You know, there are resorts that are fun and good, but then you think that there are so many other non-tried resorts - I'll try other places better. With Paradiski everything is somewhat differently; here you can go not one and not two times.
We will come back for sure.
A pair of skis are the ultimate transformation to freedom - Warren Miller

Credit: azquotes.com
**************************************************************************************************
Thank you for stopping by and reading my blog.
2019, All Rights Reserved.
You are very welcome to join Bitlanders and share your valuable knowledge and opinion.
**************************************************************************************************