INTRODUCTION
Hello Everyone! Welcome to my Fourth Blog where I will be introducing my favorite movie at the moment which is entitled Trolls. I actually mentioned this movie on one of my microblogs and I really love it, not only me but including my two little brothers Cj for Carl Joseph and Cd for Christoffer Donn. We watched this movie for I think almost 50 times already, amazing isn't it? (LOL). One of the reasons why I personally love this movie is because of their soundtracks especially their version of True Colors which is originally sung by Cyndi Lauper. I will share below the soundtrack of this movie! I am pretty sure those who already watched this movie really enjoyed it and for those who have not watched it yet please do grab a DVD copy of it or watch it online cause I'm certain you will surely love this! :)
Photo Source: Teaser-Trailer via https://teaser-trailer.com/trolls-movie-poster/
Trolls is a film directed by Mike Mitchell, produced by Gina Shay and this film is based on the Troll Dolls that was made by Thomas Dam. This film is starring Anna Kendrick, Justin Timberlake, Zooey Deschanel, Russell Brand, James Corden and Gwen Stefani. This film received an Academy Award nomination for Best Original Song for "Can't Stop the Feeling!".
Director Mike Mitchell worked at many companies that includes Disney, Sony, DreamWorks, Nickelodeon, and Universal. He is also the one who Directed the Film Alvin in the Chipmunks: Chipwrecked, Shreck Forever After and he also directed and wrote several episodes of SpongeBob SquarePants.
-TROLLS TRAILER-
Video Source: DreamWorksTv via www.youtube.com
SUMMARY
The Trolls are the happiest creatures the world has ever known. the love nothing than hug, sing and dance, but one day they were discovered by the Bergens. The Burgens didn't know how to sing, how to dance, to hug and they were never happy. They are the miserable creatures the land has ever known. When they saw the trolls that were very happy they wanted that happiness for themselves. The bergens then discovered that they can be happy by eating a troll. So they celebrated once a year every year a holiday they called Trollstice where al of bergen town can eat trolls that they captured and were locked to the Troll Tree.
Trolstice arrived but then the bergens found out that the trolls that was at the Troll tree were fake. So they started searching for the trolls but the trolls successfully escaped from Bergen town with the help of their King named King Peppy. They ran very far from bergen town and found a new place where they started their new ife there.
The Trolls haven't seen any bergen since King Peppy saved them 20 years ago until Princess Poppy celebrated the Biggest, the Loudest, and the Craziest party ever.
CHARACTERS IN THE MOVIE
Anna Kendrick as Princess Poppy
Photo Source: DreamWorks via http://dreamworks.wikia.com/wiki/Trolls
Princess Poppy is the daughter of King Peppy and is to be queen one day. She is the Happiest and most positive troll. She always looks on the bright side of things. She also loves scrapbooking. When the party almost ended a bergen attacked them and her friends were taken. She then told her father that she will go to bergen town to save her friends with the help of Branch.
Justin Timberlake as Branch
Photo Source: DreamWorks via http://dreamworks.wikia.com/wiki/Trolls
Branch is a troll who hates dancing, singing, hugging and scrapbooking. He doesn't relax and loves silence. He is a total opposite of Princess Poppy. He wasn't like that since birth, he was just so unhappy because her grandmother was taken by a bergen because of him. But at the end of the movie you'll find out if branch will find true happiness again.
Russell Brand as Creek
Photo Source: DreamWorks via http://dreamworks.wikia.com/wiki/Trolls
Creek is one of Princess Poppys friends. Princess poppy has a crush on creek. But creek ended up betraying the trolls and having a deal with the bergens. And that deal is him selling all the trolls to the bergens and in exchange for his own life.
THE BERGENS
Photo Source: Christopher Mintz-please via www.pinterest.com
Christine Baranski as Chef
Chef is a very mean bergen and she is in charge of preparing the trolls for Trollstice.
John Cleese as King Gristle
He is the Father of Prince Gristle, he banished chef because chef failed to let his son which is Prince Gristle eat his first Troll on Trollstice.
Christopher Mintz-Plasse as Prince Gristle
Prince Gristle is soon to be King in the Film. He fell in love with Lady Glitter sparkles which is his scullery maid named Bridget.
Zooey Deschanel as Bridget
Bridget is in love with Prince Gristle for a long time. She is a good bergen. She is the scullery maid of their palace. She pretended to be Lady Glittersparkles to help the trolls and for her to have a date with her crush. Bridget helped the Trolls to escape from Trollstice.
BACKGROUND OF THE CHARACTERS
She is one of the main characters of my favorite movie Pitch Perfect and Pitch Perfect 2 and recently they already started filming for Pitch Perfect 3. Anna Kendrick is from Portland i the United States and was born on August 9, 1985. She is a American singer and an actress.
Justin Timberlake is a famous American Songwriter, singer, song producer and an actor. He is from Tennessee in United States and was born on January 31, 1981. He participated in the movies Shrek the Third, Bad Teacher and Friends with Benefits.
Zooey Claire Deschanel is an American actress, singer and a songwriter. She participated in the movies (500) Days of Summer on 2009 and Yes Man on 2008. She is from Los Angeles, California and was born on January 17, 1980.
He is an actor, radio host, author, activist and English comedian. He is from England and was born on June 4, 1975. He participated in the movies The Emperor's New Clothes and A Royal Hangover.
James Kimberley Corden is a writer, producer, comedian, television host, singer and an English actor. He is from England and was born on August 22, 1978. He is hosting a late-night television talk show airing on CBS named The Late Late Show with James Corden.
Gwen Renée Stefani is a fashion designer, an American singer and a songwriter. She is from California and was born on October 3, 1969. She participated in the movie Gossip Girl.
SOUNDTRACK OF THE MOVIE
Video Source: TheJTPlace via www.youtube.com

TROLLS FILM GALLERY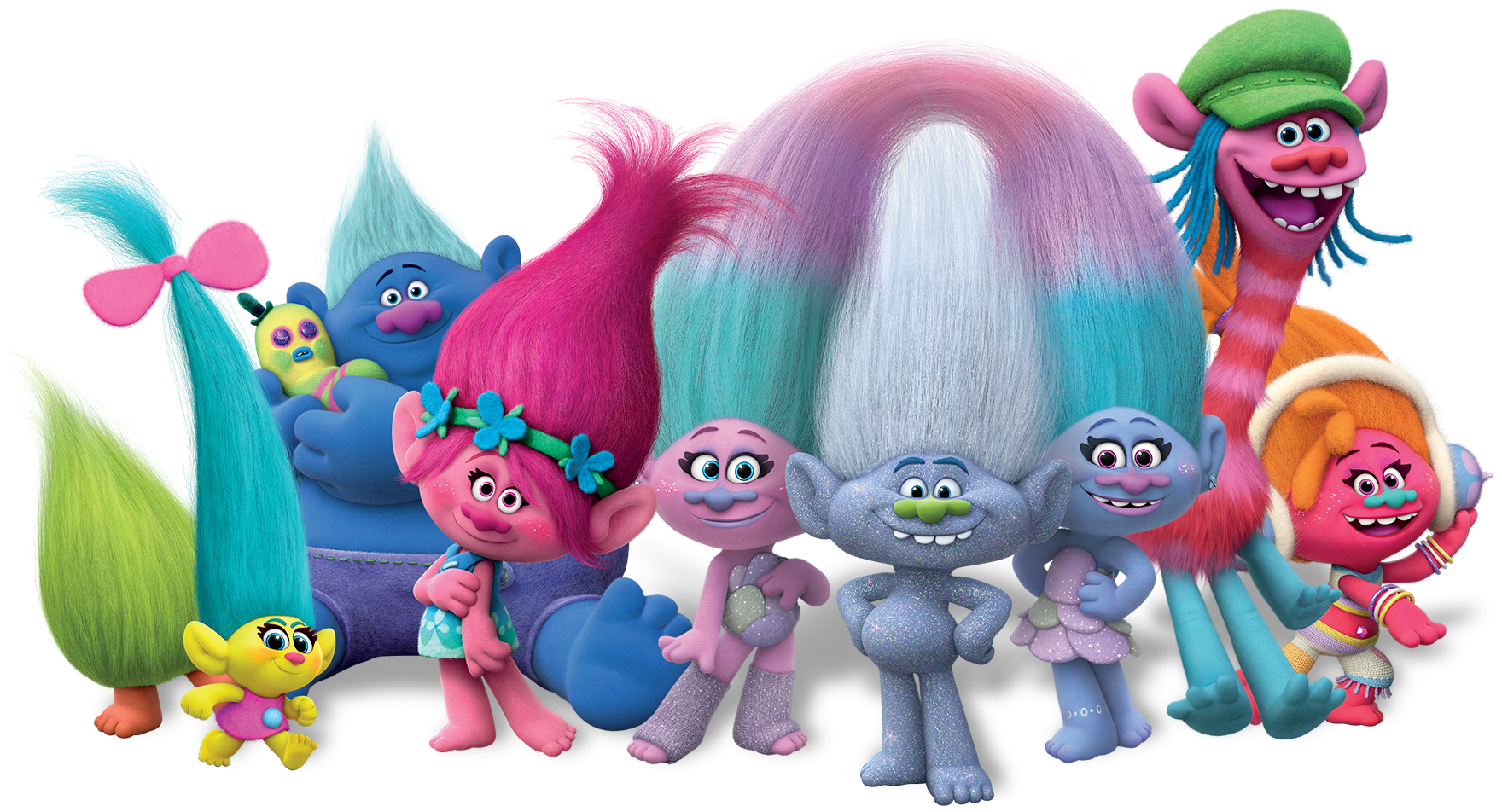 Photo Source: Dreamworkks via http://dreamworks.wikia.com/wiki/Trolls
Princess Poppy and Friends named Smidge, Dj, Biggie, Cooper, Guy Diamond, Satin, Fuzzbert and Chenille.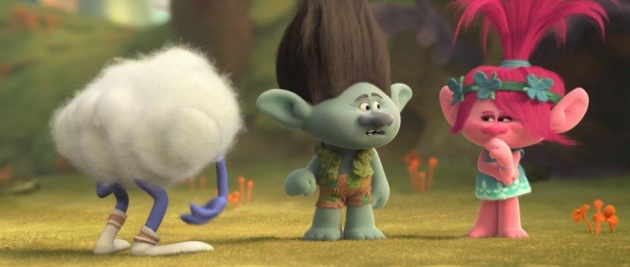 Photo Source: Dreamworkks via http://dreamworks.wikia.com/wiki/Trolls
Branch and Princess Poppy with Cloud. This is where the loud invited Branch to do High Five with him.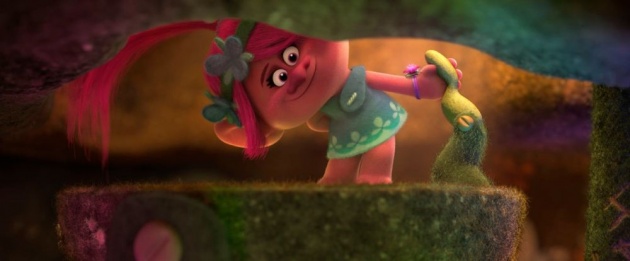 Photo Source: Dreamworkks via http://dreamworks.wikia.com/wiki/Trolls
This is the part when princess poppy asked branch if she could borrow something. Then branch answered "What?", princess poppy replied "Your bunker. Okay everyone, come on in." Then all the trolls went inside branchs bunker.
Photo Source: Fandango via http://www.fandango.com/trolls_159278/movieoverview
Hug time :)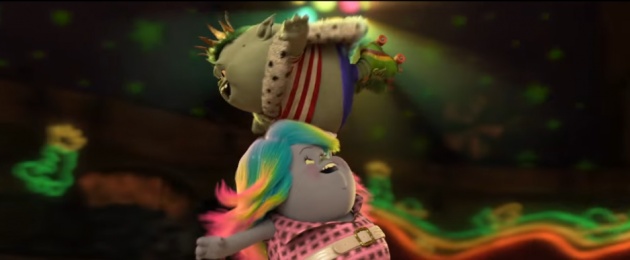 Photo Source: Fandom via http://trolls.wikia.com/wiki/File:Prince_Gristle_and_Bridget_rollerskating.png

This is the part where Lady Glitter sparkles and Prince Gristle danced in the middle of their date.
FAVORITE LINES IN THE MOVIE
Happiness is inside all of us, right? sometimes you just need someone to help you find it. -Branch.

------------

Branch: You don't know anything, Poppy, and I can't wait to see the look on your face when you realize the world isn't all cupcakes and rainbows, because it isn't. Bad things happen, and there's nothing you can do about it.

Poppy: Hey, I know it's not all cupcakes and rainbows, but I'd rather go through life thinking that it mostly is instead of being like you. You don't sing, you don't dance, it's so grey all the time! What happened to you? Branch: Ssh!

------------

I think everyone deserves to be Happy. -Princess Poppy.
Please try to answer survey below regarding your favorite movie.
(embedded sample of QUERLO interactive chat)
Wanna watch Trolls full movie? Just click this ---> Trolls 2016
So this is where my 4th blog ends. Hope you'll like it bloggers! :D Stay tuned for more movie review blogs. :)
Author: Ninski
A grade 11 wanna be blogger who loves to travel, read books and watch Movies.