Is it a typical for foreigner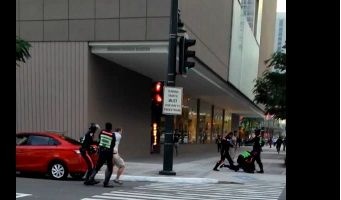 to enjoy life in Philippines, knowing that they are doing the right thing according to the law, these people having a good day playing their skate board, not a bad thing to do that its part of their leisure and fun. Police officer told them that its better to play skate board at the park which they did. But the security guard confronted them that leads into trouble.
2 foreigner bitten by the guard, they got punches and kicks. But according to the source, those guard was fired from their position and work. In the video provided by the source Guard in uniform was caught kicking one foreigners. They are actually brutal arrest the two guy.
This is another shamed on the country why these guards are not being seminar what are the right thing to do.