Video credits: Jean Beltran-Figues via bitLanders.com
A group of teachers flock the front of the Ubay Stock Farm Cooperative Shop to take a group photo together with the Carabao structure, an evidence that they had visited this spot, soon after, we also did the same thing after having our icecream of mango flavor.
I did post a blog about how my first time hand milking a carabao went as well as some information on what the Ubay Dairy Farm do and their processes in terms of producing milk and meat.
Today, let me share to you the products which are produced out from the milk from these Bulgarian x Murreh Buffalo crossbreed.
⚡ UBAY STOCK FARM Cooperative ⚡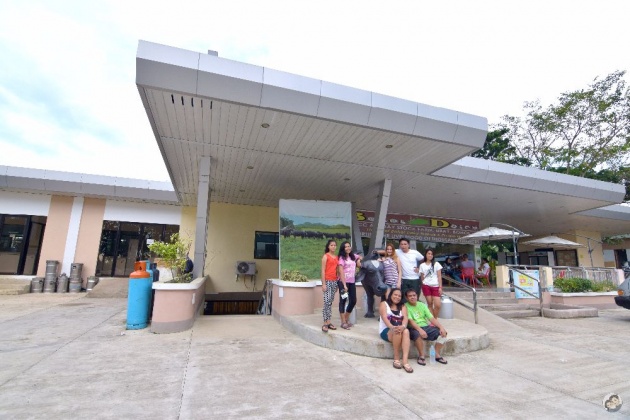 Image credits: Jean Beltran-Figues via bitLanders.com
You must understand that this wasn't our first time to go here, the entire family had bought, eaten and dined in here multiple times but there was no sense of getting to know what and where these products were created from. All of those times that we visited it was only for the main purpose of buying the products, solely.
However, the last visit was very different compared to the past ones and we all will never look into the cooperative ever the same again.
Before, the cooperative was located just a few meters away from the current building. I however don't have an idea as to when the new building was constructed. This new one is way way better and more modern compared to the previous one.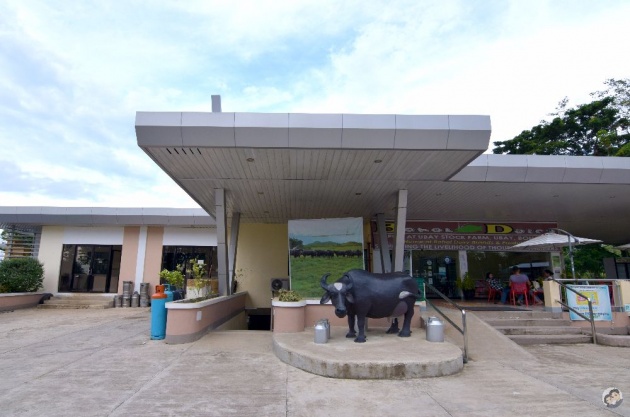 Image credits: Jean Beltran-Figues via bitLanders.com
While the carabao's milk production was still two decades in business, the Ubay Stock Farm had been in the livestock business for over 100 years. It started 1921 and occupying 4,500 hectares (11,120 acres). Note when I published the blog about the Ubay Carabao Farm, there was another part of the farm for the other animals of the farm, this was because the farm has been a research facility for cattle, carabao, goat, sheep and even ostrich breeding. Information reference: wikipedia.org
I remember for our Educational Tour back in high school, we went to their ostrich breeding farm, found a few heads of ostrich but learned when we recently went there that the ostrich had died and now they are just focusing on the other animals instead.
Anyways, this blog is not regarding the farm animals however it is definitely related to them but then again, this is mainly about the products offered at the store.
⚡ PRODUCTS at UBAY STOCK FARM ⚡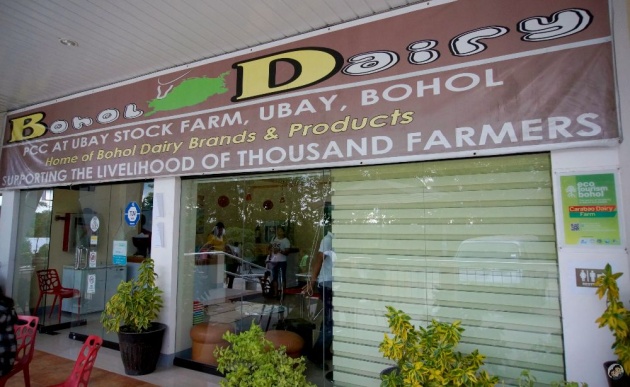 Image credits: Jean Beltran-Figues via bitLanders.com
Before reading on the below products, please note as well that in every purchase of any of these yummy products below from any of the dairy stores within Bohol which sells them, you are also supporting the Carabao Dairy Farmers of Bohol specially those in Ubay.
Carabao's milk, cheese, processed dairy products including known Bohol cheesy sweets: torta, pastillas, cheese puto, chocobao, freshmilk, carabao ice cream. Those are some of the list. Here are the specific list according to the displayed items we found at the store as well as they had listed in their pamphlets at the cashier area which we were given after paying the mango icecream.
1. Pasteurrized Fresh Milk
Image credits: abs-cbn.com
The first of all the products, pioneer is the right term. These are 100% milk, pasteurized to kill off the microbes in the milk, keeping the milk from spoiling and most safer to drink.
The milk product can be used as coffee creamer and ingredient for cakes and pastries.
2. Chocobao
Here's a local term for Chocomilk, a name they had made up themselves from the root words Chocolate and Carabao's milk combined.This is known for its creamy chocolate taste. It is made of processed fresh carabao's milk favored with cocoa which is high in calcium and protein.
This is perhaps their top selling product. We often buy liters of these whenever there is a chance. I also noticed lots of customers are buying this in fact, when we visited the center, Chocobao was already sold out.
3. Mango-Flavored Milk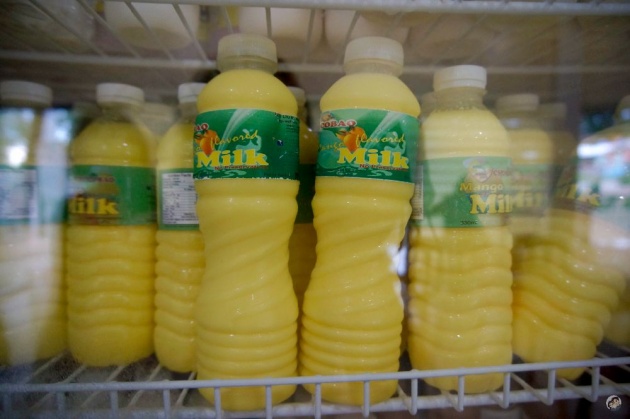 Image credits: Jean Beltran-Figues via bitLanders.com
Who doesn't love mango? The Philippines has one of the best mangoes in the entire world and so it has been used in different products as flavoring too. The carabao's milk is not an exemption.
This is processed from fresh carabao's milk with mango. They take pride as it is rich in poly-phenolic antioxidants that help protect the body against colon, breast, leukemia and prostate cancers.
4. Yogurt Drink
Well, whenever there's milk, Yogurt is also available of course. These are the fermented milk containing live and good microorganisms meant to help regulate digestion and strengthen the immune system.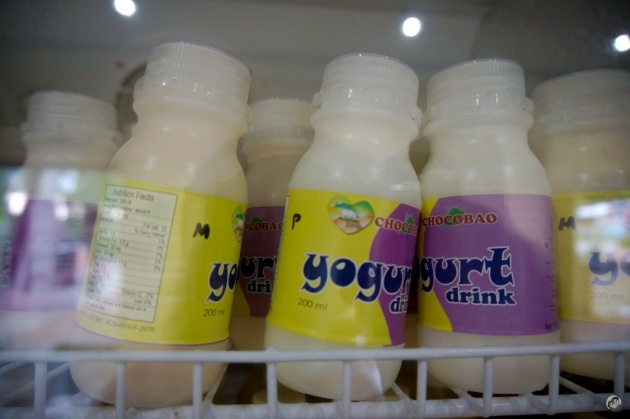 Image credits: Jean Beltran-Figues via bitLanders.com
Yogurt of course is great for salad dressings and also good even if one drinks it solo.
5. Banana Loaf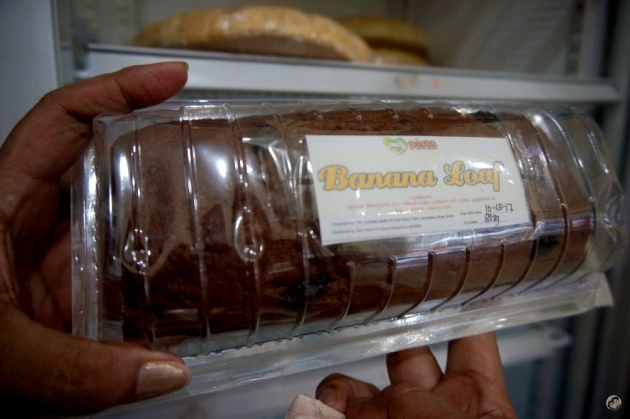 Image credits: Jean Beltran-Figues via bitLanders.com
Now we go to the non liquid products. Because Ubay Stock Farm has more products than just carabao's milk, they also offer other varieties of goodies. Top of the list is Banana loaf.
Banana loaf is often referred as Banana cake. These are sweat bread and very fluffy. They use yellow bananas as the main ingredient, there's of course carabao's milk for richer and flavorful add on.
6. Milk Cake
Here's one which we have tried during our visit, we paired it with the Mango icecream.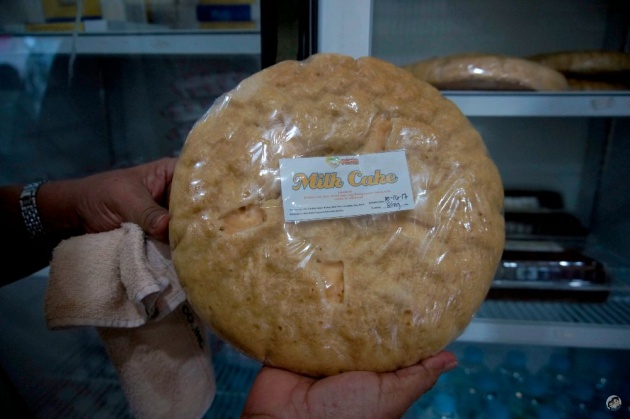 Image credits: Jean Beltran-Figues via bitLanders.com
If you are curious just like us, this is also commonly known as "puto cheese" locally but it is in a bigger size, like a normal 9" plate. It is great for picnics and parties. When we ordered it, they initiated the slicing of the cake, which we definitely appreciated.
7. Fiesta Torta
A very tasty and delightful dessert. It is commonly cooked and prepared during town fiestas and can also be considered as one of the delicacies in the Visayas region. In fact, Cebu has its own version of it in Carcar City made with the local "tuba" or coconut wine.
What's special with their torta is that it has added carabao's milk of course which makes every bite real good.
8. Pastillas de leche
Another goodie for the sweet tooth ones. This is a bite sized sweet delicacy of the Filipinos. I don't know which region started this but it is very popular in the country.
Their version is made with their specialty carabao's milk. It can be bought as "pasalubong" to the family when visiting Bohol and also tourists can bring them back to their respective countries because they are light and can easily be packed within their luggage.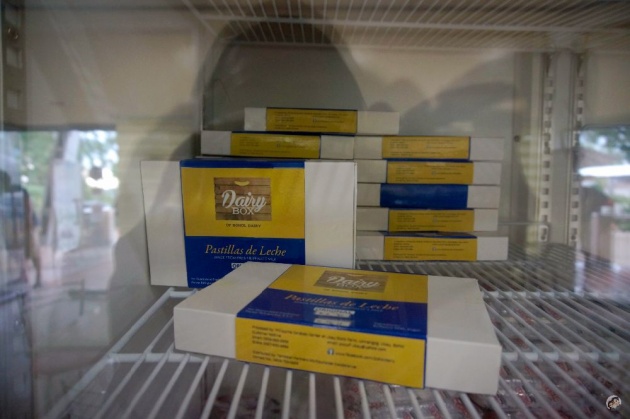 Image credits: Jean Beltran-Figues via bitLanders.com
9. Vinegar-based White Cheese
Earlier there was yogurt, now let me present to you their white cheese. Their white cheese version is naturally white in color and coarse in texture. It can be eaten directly or utilized in many food preparations. One example to that is pizza or bread stuffing.
If we were not going to another location that day, I should have bought one so that I can try it with my salads! Anyways, maybe next time.
10. Caramilk Icecream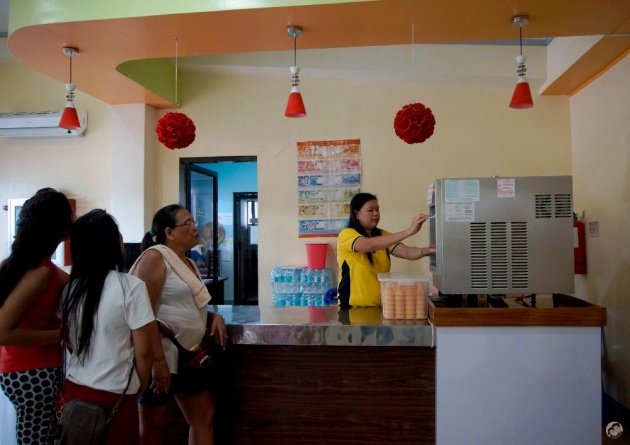 Image credits: Jean Beltran-Figues via bitLanders.com
Last but not the least, their icecream! I learned from the farmers that they are supplying the milk for Bohol Bee Farm's natural and organic icecream which by the way is a huge hit in Bohol that they have to branch out to Cebu.
So I had to try it so that I can compare it to the Buzz Cafe's. I found it savor and it felt nutritious eating it. It is very soft and silky, it melted right away in my tongue. However, I would still go with the Buzz Cafe's perhaps because they had added their honey in it which made it more tastier and sweeter plus they have Malunngay flavor which is my favorite and not to forget, their yummy cone!
There were still other products which were not really carabao's milk related such as virgin coconut oil and banana chips and more which I don't have much information about so I will just leave you a video of the rest below:
Video credits: Jean Beltran-Figues via bitLanders.com
Blog entry written and published by Jean Beltran-Figues, A Pinas traveler and photography hobbyist, find more travel blogs in my blog section, click here.