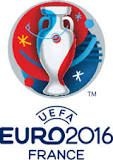 2016 UEFA EUROPEAN CHAMPIONSHIP also known as UEFA EURO 2016 is going to commence from 10 June 2016 to 10 July 2016. The event is scheduled to be held in France. In 1960 the First UEFA EURO took place but back then it was known as European Nations' Cup. Till now the number of contesting team were 16 but now it has been expanded to 24. There are Four Group which consist of Six Teams each. The host team Qualifies automatically. France out bidded Turkey, Italy while Norway and Sweden withdrew their Bids.
ENJOY UEFA EURO FRANCE 2016 INTRO
(Intro Courtesy of Youtube)
No one can argue that Football Isn't the biggest event on the Planet. It is the most Watched/Followed Event. The teams that have qualified for EURO 2016 are
53 National Teams were drawn into eight groups. Each consists of six teams and one group of five teams. The winner of group, runners-up, and the third-placed team qualify directly to the final tournament. The eight remaining third-placed sides contest two-legged play-offs to determine the last four qualifiers.
Draw of UEFA EURO 2016
(Draw Video Courtesy of Youtube)
1. England 2. France (Host) 3. Iceland 4. Republic of Ireland 5. Czech Republic 6. Austria 7. Portugal 8. Spain 9. Switzerland 10. Romania 11. Belgium 12. Italy 13. Northern Ireland 14. Sweden 15. Ukraine 16. Hungry 17. Albania 18. Croatia 19. Turkey 20. Slovakia 21. Russia 22. Poland 23. Wales 24. Germany
UEFA RELEASED TRAILER OF EURO 2016
(Song Courtesy of Youtube)
Highlights package of UEFA EURO 2016 France has also been Embeded here so conveyance of our Viewers which will show you some great football from great football playing nations.
(Video courtesy of Youtube)
Draw Seedings is explain herewith in Picture (Courtesy of Google Images)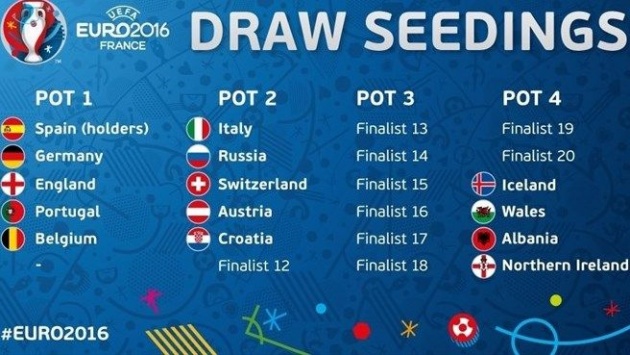 The four groups are as follow :-

10 Beautiful stadiums will be used for this Tournament which is considered as the biggest tournament after World Cup. Initially 12 stadiums were planned to be used but later on due to financial positions. The tournament is much awaited and it gives goose and bumps whenever it is heard that tournament is very near to commence.
The teams that remains firm favourite are Germany and Spain. Spain has dominated between 2006 to 2012 but now Germany has the upper hand. There is no doubt in ability and talent of other teams but surveys/poll shows that Germany are hot favourite to land the Trophy.
The games Schedule has been released by UEFA. The summer will get even hotter once the tournament kicks off. Schedule is given below with picture courtesy of Google Images.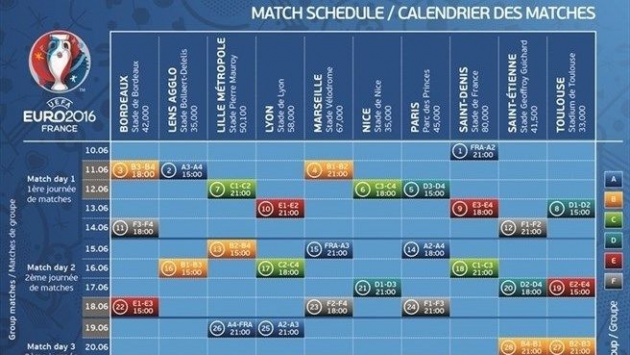 All Images are courtesy of Google Images and all Videos belongs to Youtube. No video or Images in this blog has been owned by me.