There's an image circulating over the internet via facebook that is believed to be a strange image that looks like a UFO.This image was captured by Eleanor Demayuga while they are having a tree planting at Mt. Talisay, Lipa City. According to her, she did not realize that strange image until she uploaded it in her facebook account and she was wondering with the strange image appeared.
She was taking a picture with the beautiful views of the mountains and and the blue sky but this strange image was then captured by his camera. This could be a real UFO or maybe just one of those camera 360 effect?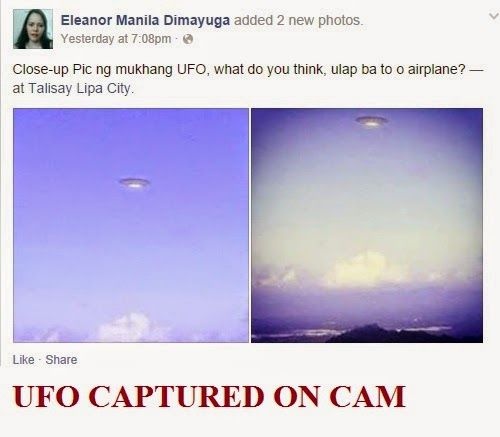 There are different strange images that are known to be the UFO spreading all over the internet, shared at social media but no proven evidence that those things are real. However, UFO are claimed to be real, it could be an alien space ship, a drone for surveillance or possible just a product of our ew technology. This image maybe real or maybe just a an effect of camera, we give some benefit of the doubt. If this is real, this will be the next history of UFO seen in Philippines.
Look closer to that image and its up to you to decide if its real or not. This will be the next viral picture in internet, hope someone who are expert in verifying this strange image if this is really a UFO or not
source: my own site